The advent of selling handcrafted goods online has spawned a plethora of different products and tools to assist home crafters with their work. Some of the most popular handmade items are t-shirts, tote bags, and other apparel with custom phrases or designs. One of the best ways to make these great custom items is with the help of a heat press machine.
Companies like Cricut, who grew famous for their vinyl cutting machines marketed toward casual home users, were some of the first on the market to make compact heat press machines for people to use at home. Their heat press machines are stylish and easy to use, but lack the functionality of some more commercial heat presses. Since there is such a large variety of options available, it is important to consider a few criteria when choosing a heat press machine:
Size: Probably one of the most obvious considerations, the size of the heat press machine will determine what you can and can't make with it. Depending on your crafting needs, a smaller and less expensive machine might work just fine. However, if you ever want to make something on a larger scale you'll be limited. For this reason, I would recommend going with the largest size you can afford.
Surface Material: Some heat press machines have a Teflon coated heat surface. Teflon, known for its non-stick properties, is an integral part of the heat pressing process. If a machine doesn't have this coating, you'll need to purchase additional Teflon sheets to use with it so that things don't stick to each other when hot. This is not only a cost consideration but also a convenience one. Adding and moving sheets around in between presses can add processing time and makes the whole experience more of a hassle.
Controls and Features: Most machines have a temperature control feature that allows user to adjust the heat settings to fit their heat transfer material's recommendations. The displays of heat press machines have a lot of variation. Some have standard buttons, others have LCD screens, and some even have touch screens. Additionally, some machines are multi-functional, allowing you to create a much wider variety of products without having to purchase separate machines. 
Be sure to check out the list below for our top 10 heat press machine picks of 2020!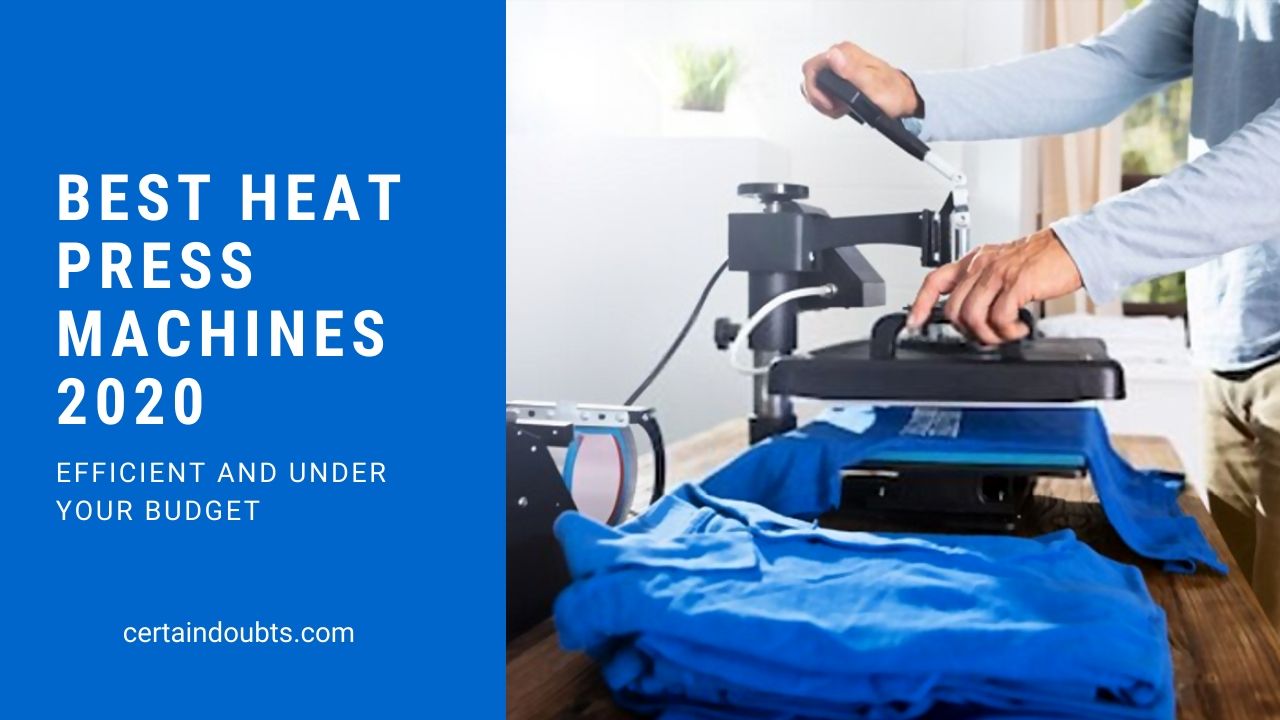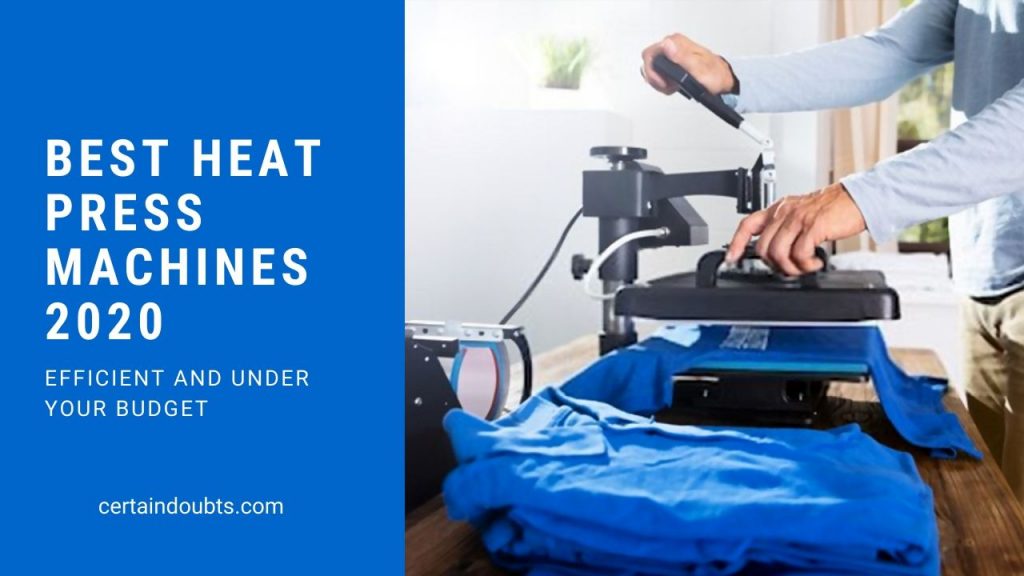 10 Best Head Press Machines 2020 Reviews
1. Cricut Easy Press 2 – Heat Press Machine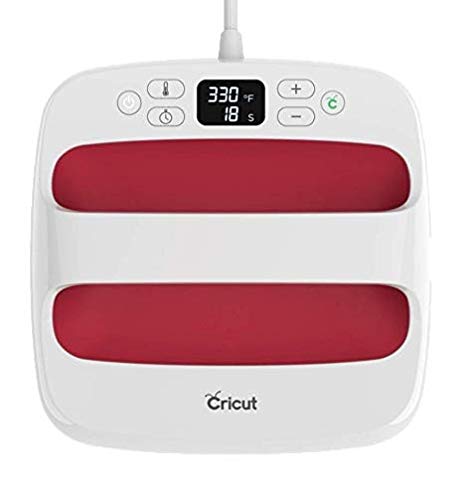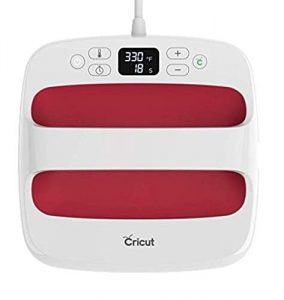 A cult classic brand, Cricut's Easy Press Machine made waves with its compact design and its intense brand following. At 9×9 inches, it is definitely not the biggest heat press out there but is still substantial enough to accomplish most design sizes, including standard t-shirt dimensions. With a wide variety of colors that you won't find in other brands, there is sure to be an option to suit anyone's tastes.
Advertising professional iron-on results in 60 seconds or less, this machine may be small but is certainly powerful. It features an advanced heat plate design with a ceramic coated surface, which is not Teflon and therefore may require additional sheets to decrease sticking. It has a clear screen that displays both the temperature and the press time, and allows you to precisely control the heat up to 400 degrees. While some more industrial strength machines can reach higher temperatures, this is usually more than adequate for the average person's needs. 

Pros
Compact
Lots of colors
Easy to use
Great reviews
Cons
Small
Limited temperature
2. Cricut Easy Press Mini – Heat Press Machine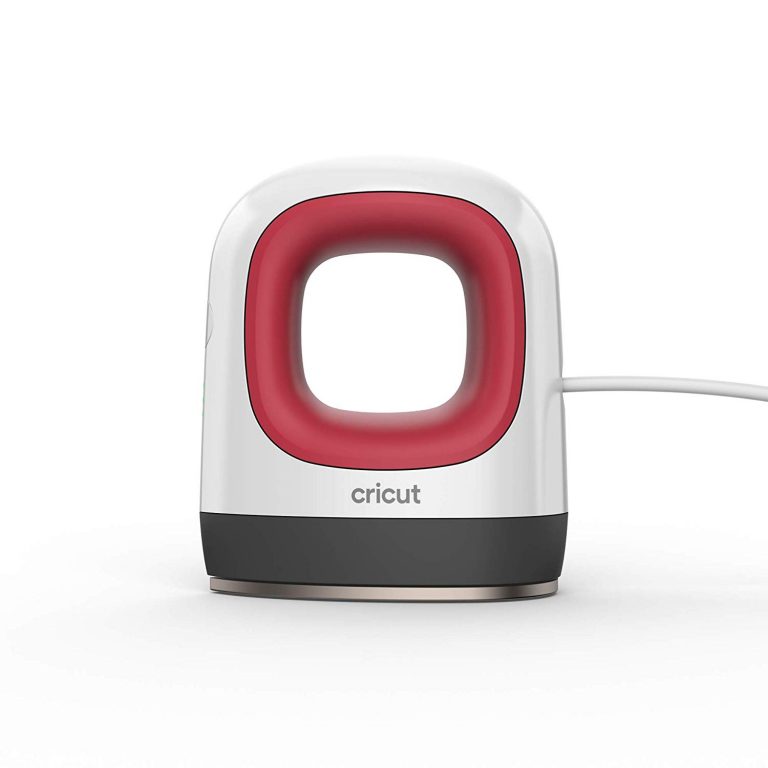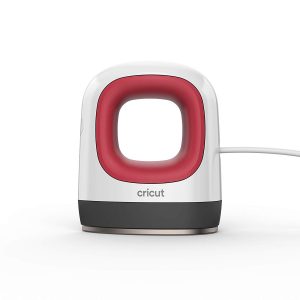 Coming extremely highly reviewed, the Cricut Easy Press Mini has the same great quality as the Easy Press 2 at a fraction of the price (and size). Ideal for unusually small or irregular heat transfer projects, this little handheld press has an even smaller surface area than a regular household iron. Why should you choose this machine over an iron, then? It creates an even, dry heat that is ideal for heat transfer materials. Unlike an iron, this machine distributes an even temperature across its entire surface and has no spots hotter or colder than others. This allows you to precisely and accurately transfer your vinyl or other material without it being uneven or unpredictable. 
If you customize items such as shows, hats, or stuffed animals then this is certainly the best option for you! It features a precision tip to get in between buttons, laces, and other hard to reach areas. The handheld design prevents you from getting burned, and it has an automatic shutoff to keep you safe. With 3 heat settings, you do have some degree of control over the temperature but not as much as most other machines. 
Pros
Compact
Very portable
Easy to use
Cute design
Auto shutoff
Cons
May be too small to be functional for some projects
Limited temperature control
3. Fancierstudio Power Heat Press Digital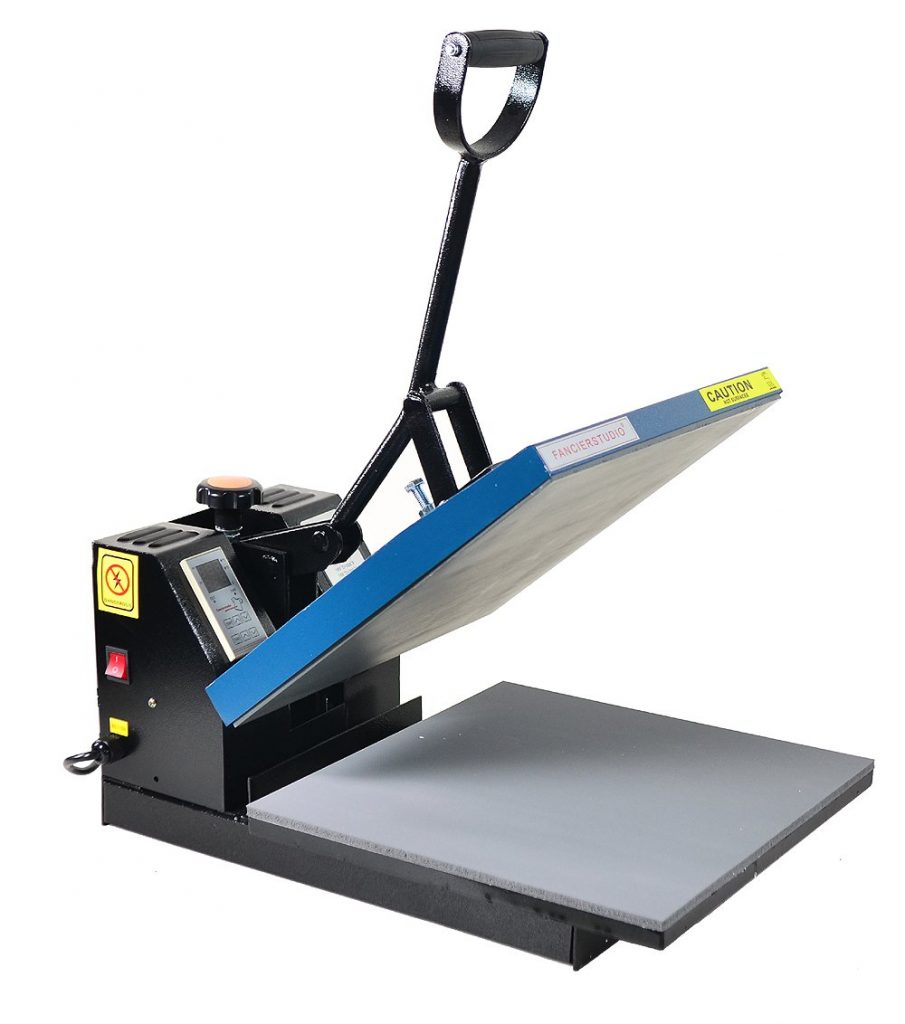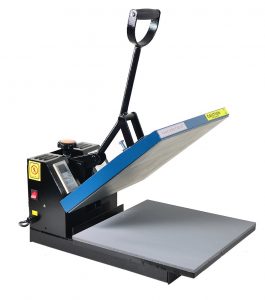 If you need a stronger heat press machine for higher production quantity, check out the Fancierstudio Power Heat Press. Its 15×15 inch surface is large enough to handle any project. With a silicon-gel base board, you can adjust the pressure to your desired level to ensure an even press across the entire surface. A Teflon coating means that you don't have to worry about things sticking, and there won't be any need to mess around with extra sheets! 
Amazon's Choice for heat press machines, this strong and sturdy option features an upward opening hinge to save space. If you're working in a home studio environment or somewhere else tight on space, this is a huge benefit. Set the temperature and time to your specifications, up to 699 degrees and 999 seconds! 

Pros
Large size
Strong
High temperature
4. F2C Pro 5 in 1 Combo Heat Press Machine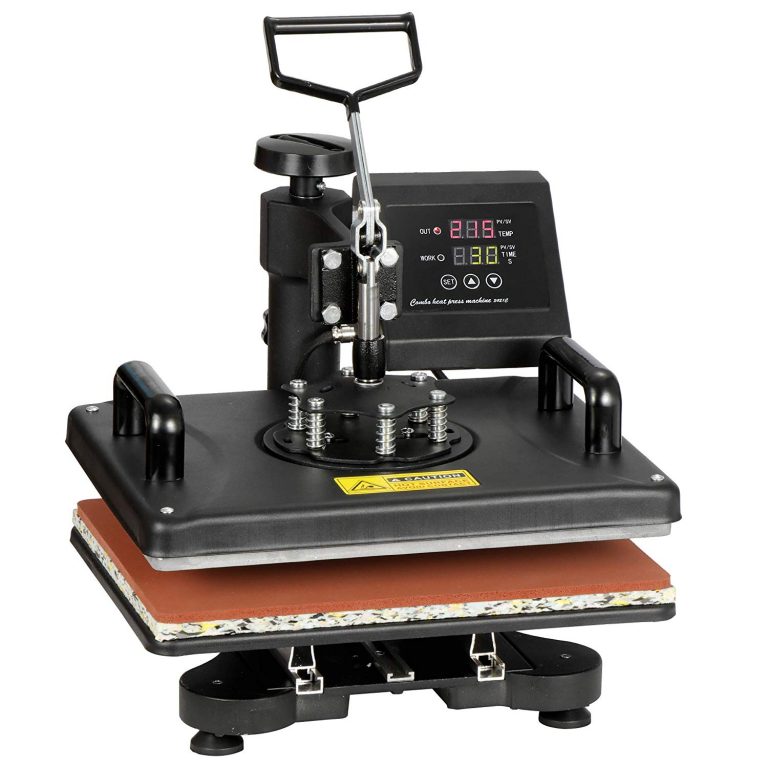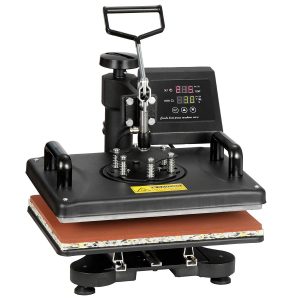 Maybe a simple flat press doesn't suit your needs. The F2C Pro 5 in 1 Combo Heat Press Machine also comes with a hat press, mug press, and plate press in addition to the machine itself. This greatly broadens your options in terms of what can be created, not to mention that it is an amazing value! The full 360 degree rotation of the flat t-shirt press is a professional grade feature that allows you to swing the upper portion around in order to work quickly and efficiently. While this does mean that the machine has a larger footprint than a top opening design, it does greatly increase the speed at which you can produce things. 
A digital LED control panel allows you to set your perfect temperature and timing. Reaching a heat of up to 430 degrees, this press is perfect for working with almost any heat transfer material. The large 12×15 dimension is a large enough surface to make t-shirts and a variety of other items. Since it also comes with a mug press, hat press, and plate press you can maximize your options and your workflow with ease. 

Pros
Good value
5 in 1
Swing away press with 360 rotation
Non-stick surface
Cons
Bulky
Presses besides flat press are not Teflon coated
5. Transfer Crafts T-Shirt Heat Press & Digital Sublimation Machine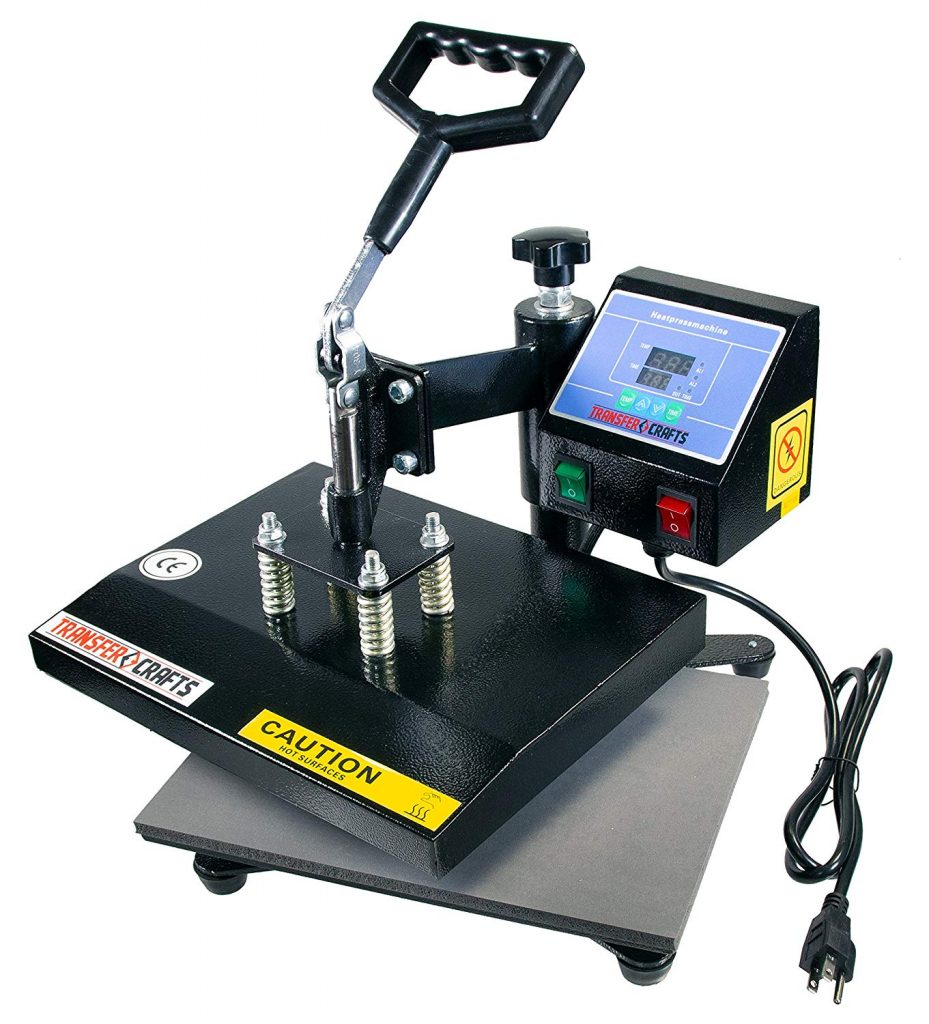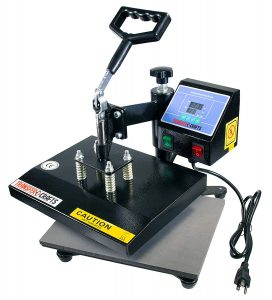 Another heavy duty option, the Transfer Crafts T-Shirt Heat Press and digital Sublimation Machine is designed to work well in a home or lighter professional setting. These types of presses are highly recommended for use over traditional irons as they can regulate heat and pressure so much better and more precisely. With an iron, pressure is highly susceptible to user error and heat is not evenly distributed across the surface. Irons are also designed for use with steam or "wet" heat, whereas heat presses are 100% dry heat which is ideal for heat transfer materials. 
The machine is equipped with electronic controls for heat and time programming. It also emits a loud alarm when the preset time has elapsed, which is a great safety feature. The pressure can easily be adjusted by a knob on top of the machine for the same precise result each time. Reaching temperatures of up to 500 degrees, this heat press machine will work with a wide variety of heat transfer options. 

Pros
Swing open design
Loud timer alarm
Non-stick surface
Cons
Smaller
Moderately pricey
Heavy
6. Super Deal PRO 12″ X 10″ Digital Swing Away Heat Press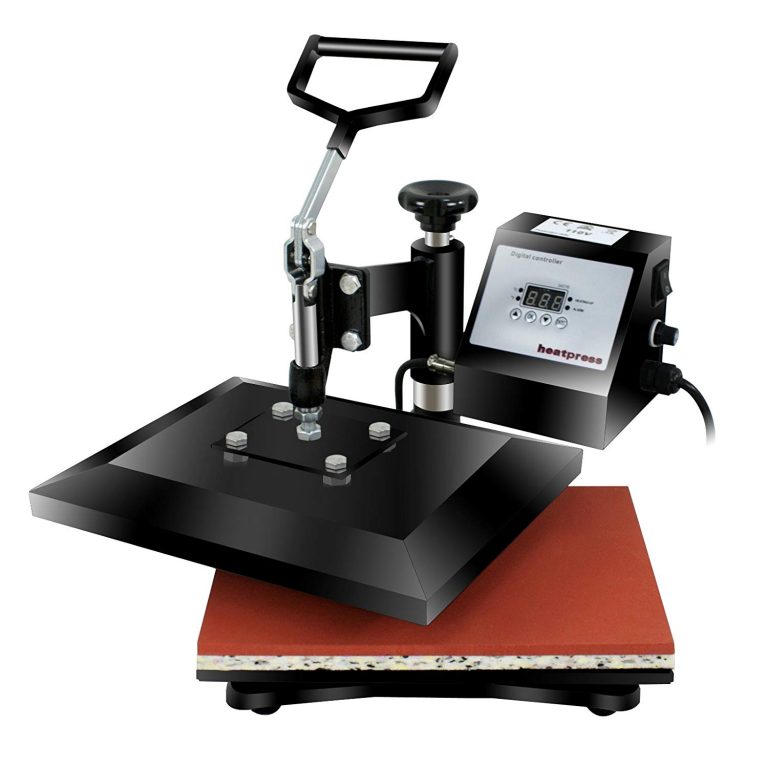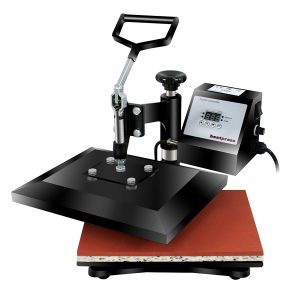 The Super Deal PRO 12"x10" Digital Swing Away Heat Press and Sublimation Machine is an even more advanced choice for moderate professional use. A great choice for home users as well, it is reasonably priced enough for both small business owners and casual crafters alike. The swing away configuration helps save time and is easier to use than a top opening machine. A digital LCD display shows your time and temperature and will make a sound when the time is up to help you avoid overheating your project. 
A 360 degree swing rotating device not only saves you time but is also an excellent safety feature. It minimizes the chance of coming into contact with the heating surface, keeping you safe from burns and other accidents. You can also easily see the entire work surface when the top is swung away, unlike with top openers which tend to obscure the view. Whether you're making t-shirts, other apparel, tote bags, mouse pads, jigsaw puzzles, or even ceramic tiles, this heat press machine is an affordable and highly functional option! 

Pros
Swing sway design
Non-stick coating
360 degree rotation
Cons
Slightly lower temperature maximum
7. RoyalPress 12″ x 15″ Heat Press 5 in 1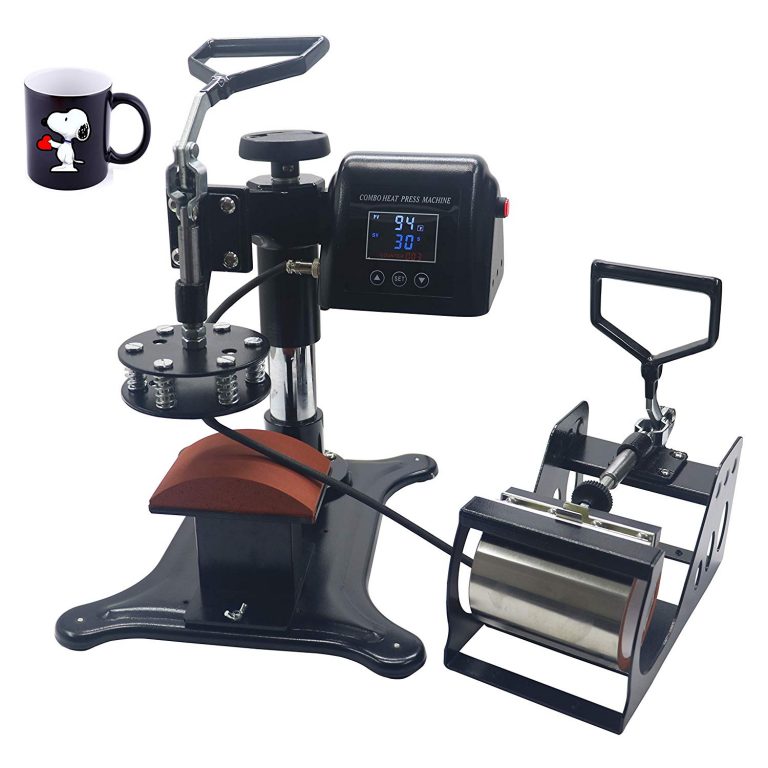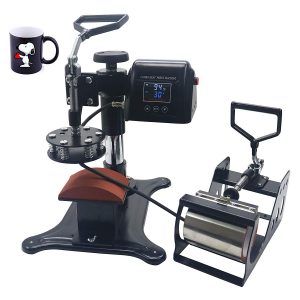 When you don't want to be limited to just flat items, the Royal Press 12" x 15" Heat Press 5 in 1 is the press for you. As the name suggests, this machine can do the work of 5! Its cast aluminum heating plate is Teflon coated for minimal sticking. This coating does not harm cloth or other surfaces and completely eliminates the need for additional Teflon sheets to be used, saving you time, expenses, and hassle. The 12" x 15" surface can handle larger projects as well as smaller ones. Additionally, its thickened heating plate helps provide even temperatures across the surface as well as smooth pressure application.
Unlike some other models, the Royal Press Heat Press uses a color LED screen with intelligent memory. It provides the extra function of calculating production and a triple function controller. It allows users to press at temperatures up to 480 degrees, which is slightly on the lower end but still more than enough for most applications. With a mug, plate, and hat press to work with as well, this machine is great for all you multitaskers out there! 

Pros
Highly functional
Lots of product options
360 degree rotation
Professional quality
Cons
Expensive compared to similar options
8. PowerPress Industrial-Quality Digital Sublimation Heat Press Machine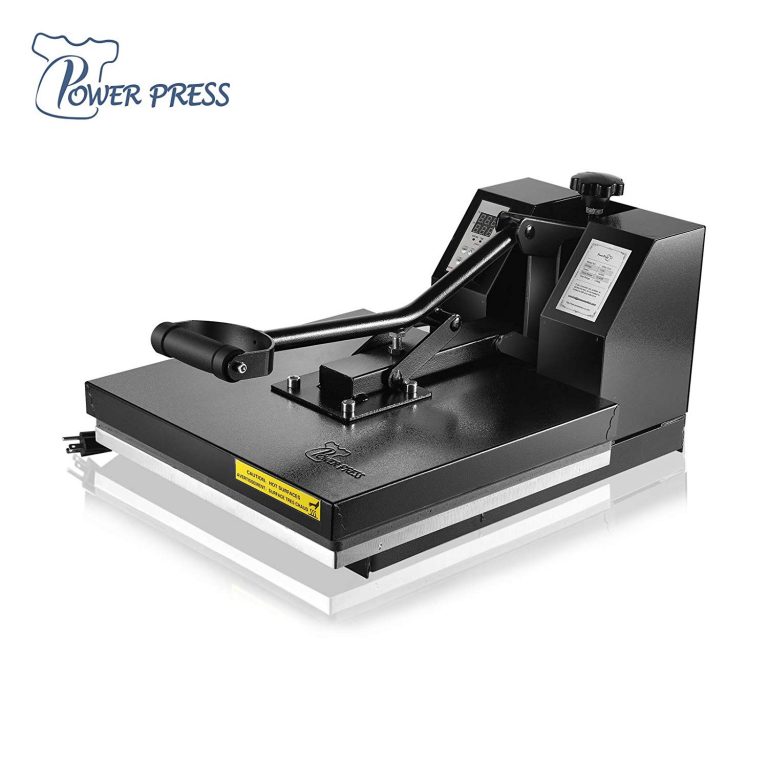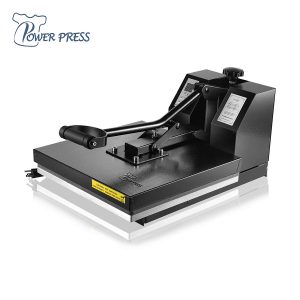 Perhaps you don't need a heat press with a ton of bells and whistles getting in the way. If you already know what you want to make and how you want to make it and are just looking for a powerful machine to help you get the job done, look no further than the PowerPress Industrial Quality Digital Sublimation Heat Press Machine. A 15"x15" surface is enough to get any flat project taken care of handily. The silicon gel board is pressure adjustable so you can fine tune your production to your needs. It also helps to provide even pressure with each run. 
An LCD control board allows users to fully control the temperature and timing of their presses. You can set the temperature anywhere from 32-455 degrees. While it doesn't reach the highest temperatures that some of the other machines on our list do, this range is typically adequate for almost any heat transfer applications. A Teflon coated steel press plate means that vinyl sticking worries are a thing of the past. There is even a handy replaceable fuse to avoid any potential mishaps with overheating!

Pros
Replaceable fuse
Large surface
Teflon coated
9. PlanetFlame Industrial-Quality CE 12″x15″ Combo 5 in 1 Heat Press Machine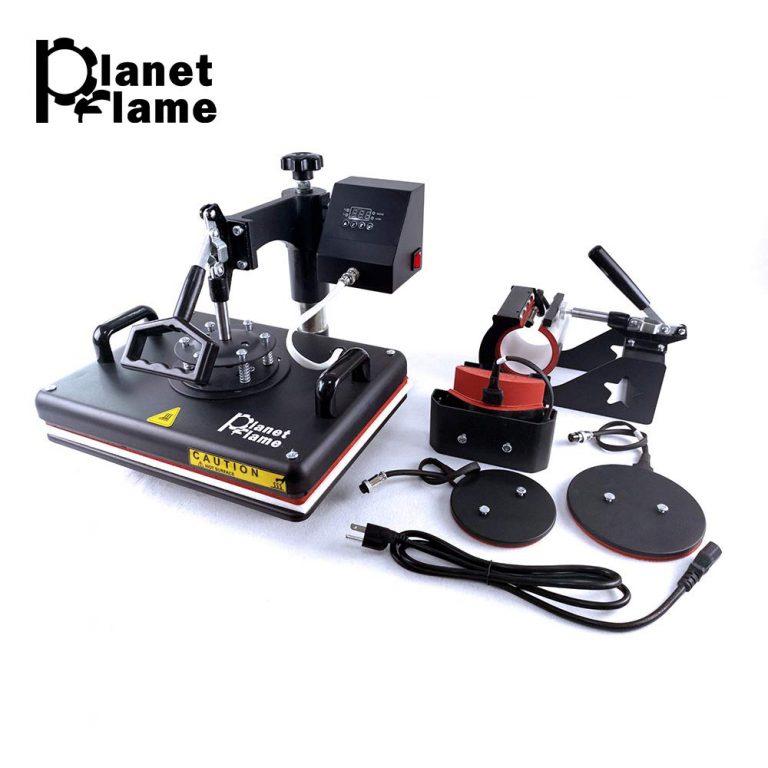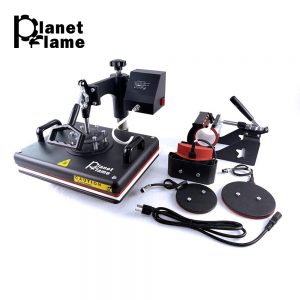 If you're worried about being limited by a simple flat heat press, then check out the PlanetFlame Industrial Quality CE 12"x15" Combo 5 in 1 Heat Press Machine. With attachments for pressing smaller flat surfaces as well as curved ones, you can make anything from tote bags to baseball hats easily. The built in fuse is a great safety feature in case of overheating, and has the bonus of saving you from having to replace a fuse inside your house if you accidentally overload the circuit (don't worry, we've all been there). 
This heat press arrives fully assembled and ready to use straight out of the box so you can get crafting right away. Teflon coated heat plates not only prevent sticking but also ensure a very even heat distribution across both plates. A specialized programmed chip keeps the temperature very steady while in use, which is great for working with more finicky materials. 

Pros
Lots of attachments
Highly reviewed
Swing away opening
10. PowerPress HPM-0000-PK Heat Press Machine Portable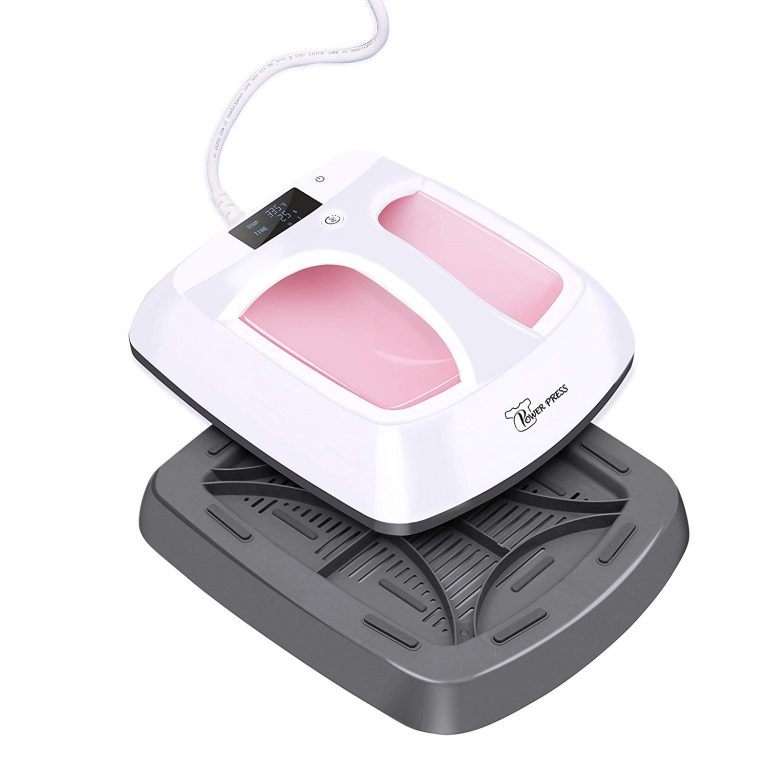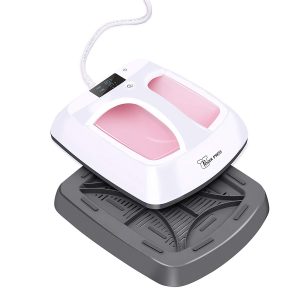 With a sleek and stylish design reminiscent of the popular Cricut Easy Press, the PowerPress Heat Press Machine is a super portable and attractive option for home crafters. Those shorter on space will appreciate its compact design, which does not need to be set up in its own designated space like most larger models. However, the flip side of this is that it is slightly less ergonomic and quick to use since you pick up the entire machine by hand with each press. 
A relatively large plate of 10"x12" is generous for the machine's size. It has an intuitive touch screen control panel and a handy pressure regulating system that uses springs to compensate for human error when pressing by hand. Triple layered heat-resistant material is used in its construction to insulate the case of the machine. Even with hours of continuous work, little to no heat can be felt in the handle! 

Pros
Compact and portable
Great design
Touch screen controls
Hopefully this list has given you some great options to consider when purchasing your new heat press machine. Remember that the
size
of the machine is one of the biggest limiting factors that determines the things you can create with it. Also, the
coating
that the manufacturer puts on the heat surface impacts whether or not you'll need to buy additional Teflon sheets to use when heat pressing. These sheets are not terribly costly, but do slow things down and can be less convenient to work with. Finally, the
features and controls
of the heat press machine can make it either a joy or a pain to work with. A machine with many features might be confusing for someone looking for a simple press-and-go machine, but one with too few controls could be too limiting for someone working on a larger, more commercialized scale.