Whether it is for a date, or for a job interview, going out wearing a wrinkled outfit is certainly not the best option. Then what's the solution? Garment steamers! Garment steamers are a life saver for those who lack the skill, interest, or time to iron their clothes the traditional way.
"Oh no! There goes my favorite dress"- was my regular dialog to self while carrying out the humdrum chore of ironing clothes. How many times does it happen that you brown your treasured outfit because you set the wrong mode or left the iron pressed against the fabric for less than a minute? With me, that has ensued on several occasions. Thankfully, I have never burned myself; but some people have managed to do that as well.
Garment steamers come handy for people who're constantly on the move as they are quite portable and do the job in a flash. Moreover, they do not only remove wrinkles but also remove odors. How you ask? Steam is known to clear away bacteria, so your clothes remain fresh.
Hopefully, you're convinced by now. If not, do read the section on Iron vs Steamers towards the end of this article.
Before we move onto our list of the best garment steamers, here's our buying guide that you must skim in order to make a suitable purchase.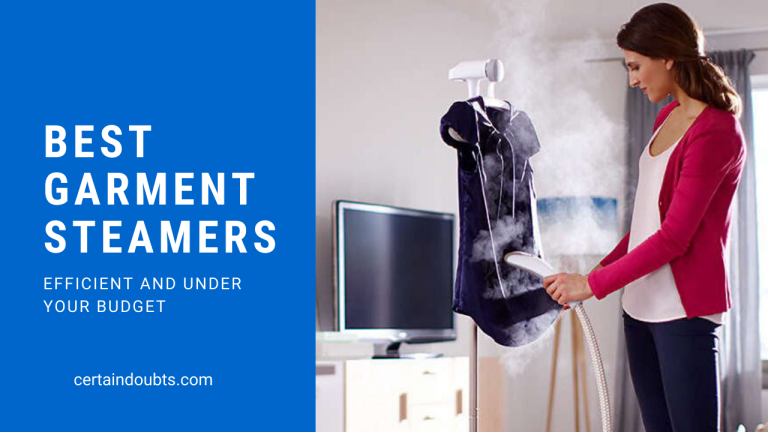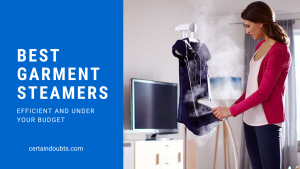 Our List of the Best Garment Steamers:
After a lot of research and reviewing, we were finally able to contrive a list of the best garment steamers that you can get as of today. Take a look: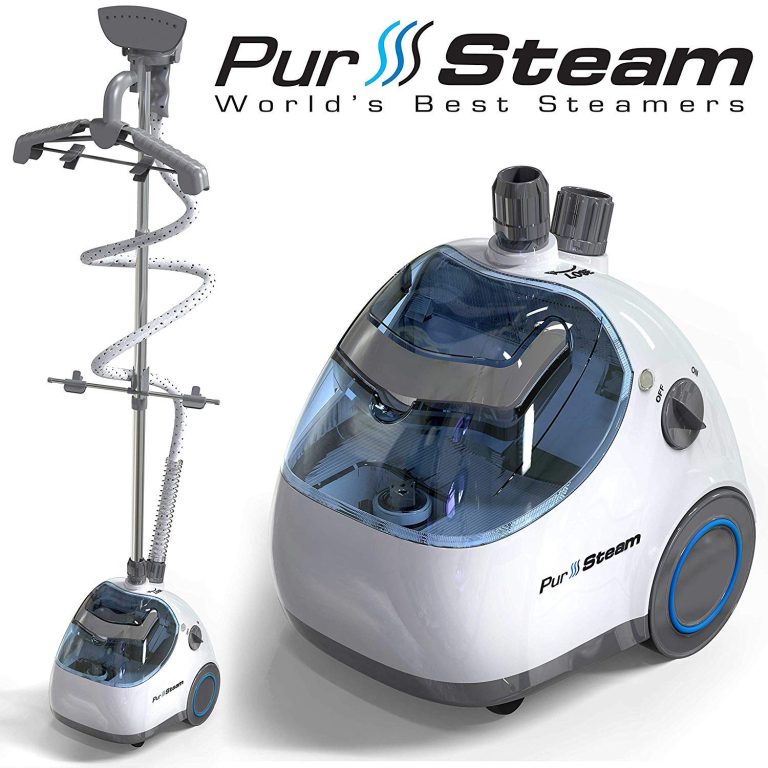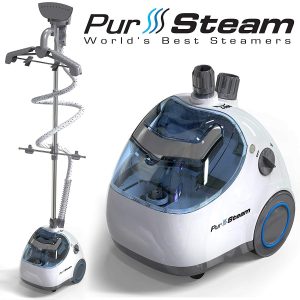 One of the most top-rated steamers, the PurSteam Elite is a stalwart product that is not only powerful but also aesthitically pleasing. It boasts of a huge water holding capacity of 61 ounces that takes only 45-60 seconds to heat up. This in turn gives you a steam-cleaning time of up to 1 hour. It emits steam of up to 240∞F which can quickly relax fibers in all types of fabrics, from wool to silk to linen to cotton, while also killing germs in the process. As far as the wattage goes, this beast comes with 1500W of power. What's more? You get an in-built hanger to suspend your clothes as you steam them for added convenience. You also get a 5-year warranty and an exceptional customer service in case anything goes wrong.
All the good stuff aside, this model does have a reputation of going kaput after 6 months of use. Also, it may not de-crease the wrinkles on cotton shirts or pants very well. That said, the company is nice enough to either replace the machine altogether, or reach out to address any other issue.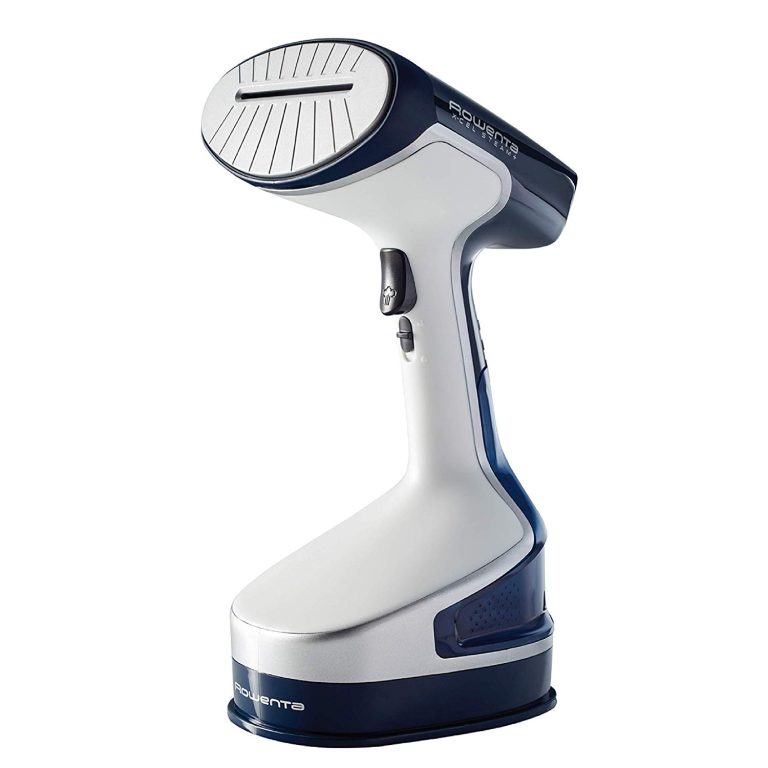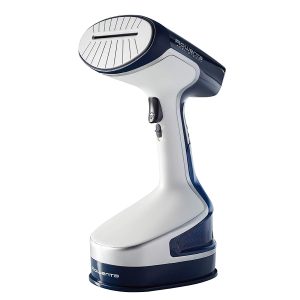 Rowenta is a brand name that is hard to outplay in the garment steamers space. Though the X-Cel is a handheld steamer, it has immense power of 1600W, diffusing 26 G/m of steam. It is ready for steam-cleaning in only 40 seconds, which means that you can get started fast. This machine not only gets the fabrics de-wrinkled and fresh on the double, but also exterminates dust mites and germs. You can adjust the steam using various steaming modes on fabrics like suits, jackets/coats, curtains, and more. The extra long cord (9.84 foot) and on/off button augment your experience further. The X-Cel comes with accessories like fabric brush, crease attachment, and a steam bonnet (to prevent water from ruining your fabrics). In case you don't plan on using a garment steamer on a regular basis, you can also opt for the Professional style of the same model that offers 1500W of power.
The only two problems reported against this steamer are that, (i) It is slightly bulky, which means that it is difficult to carry around and may take up more space and (ii) It has a relatively small water tank, which means that you may need to refill more often compared to other steamers.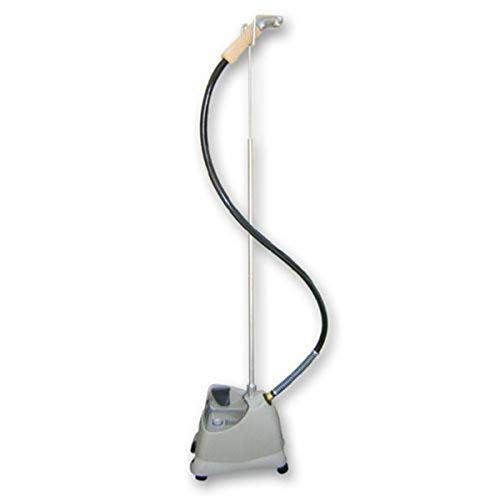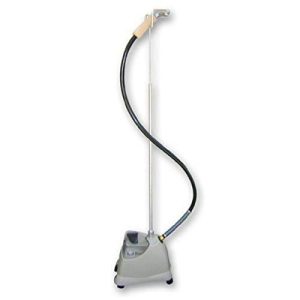 Though not as renowned as Rowenta, Jiffy's J-2000M is quite a hit amongst garment steamer users. It has a 1300W steam head made of solid brass and takes less than two minutes to heat-up. This model comes with a tank that can hold about 3/4th gallon of water, offering a steam-cleaning time of 1.5 hours. To boot, it features a high-impact plastic casing that ensures greater durability and wheels that ensure easy mobility. What's more? It also comes with a long 5 1/2 foot long hose for your convenience. You can use this steamer to get rid of wrinkles in clothes, taking off wallpaper, and steaming bed & table linens. The J-2000M is perfect for either home use and light commercial use.
If you do not wish to spend extra money for the metal steam head, you can also check out the same model with a plastic steam head. Jiffy also has a J-4000 model which offers 1500W of power and a steam-time of 2 hours for each filling. However, it is much bigger and size and is not really required unless these differences in specs really matter to you. The J-2000M does the job sufficiently well.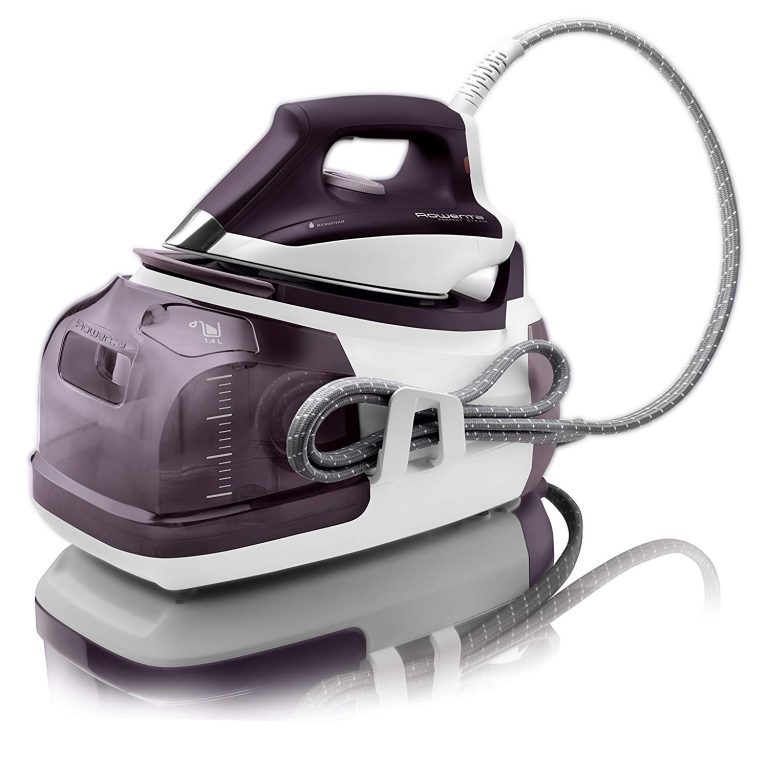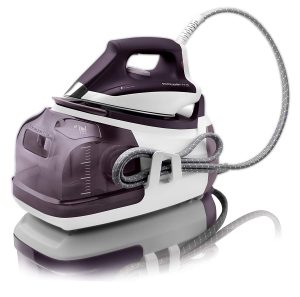 Another mighty machine from the house of Rowenta, the Perfect Eco Energy Station serves as a steamer with all the bells and whistles that one can imagine. It offers an astonishing 1800W of power, a prodigious 5.2 bars of pressure, and 120 g/m of steam for removing the toughest of wrinkles and creases from your garments and drapes. In addition to that, it also produces micro steam by means of 400 holes from a stainless-steel soleplate with a precision tip. This ensures a smooth glide and more precision between buttons and collars, pleats, and other spots that are hard to reach. You also get a super large removable water reservoir that can store about 47 oz. of water, giving you approximately 1.5 hours of steam-time.
The Perfect Steam Station also has a few useful smart features including safety lock for easy storage, water-tank refill indicator, Calc-Away system for easy maintenance, control panel, and an eco-setting to use less heating energy. The best part? This steamer also refreshes your fabrics, thereby saving you time and money that you'd otherwise spend on dry cleaning.
Be warned that there are many complaints which suggest that the manufacturer sometimes sends out defective machines. If you're ordering online, always check the performance as early as possible in order to have it replaced smoothly. Also, given the number of features, this steamer may seem a little difficult to assemble.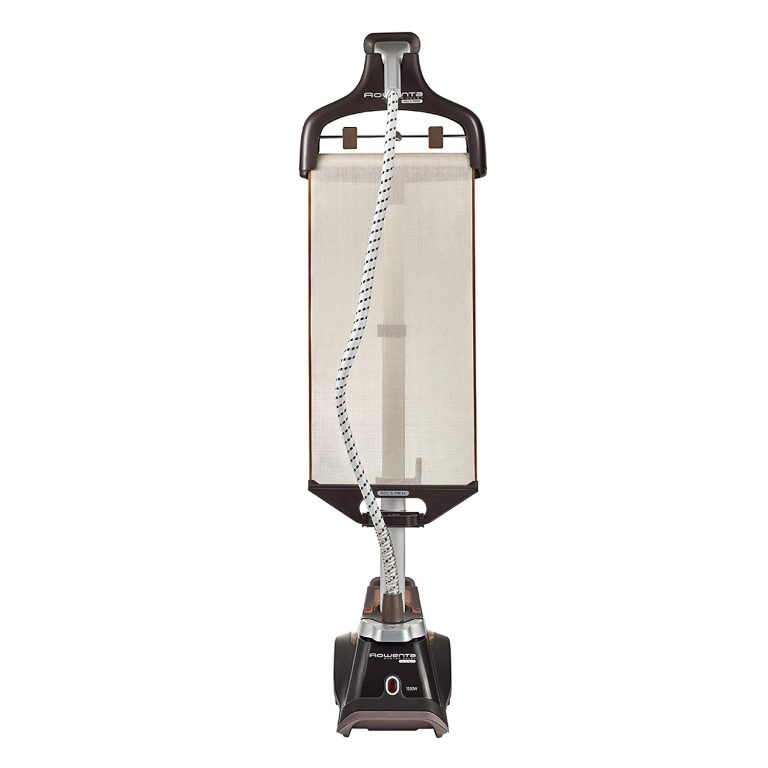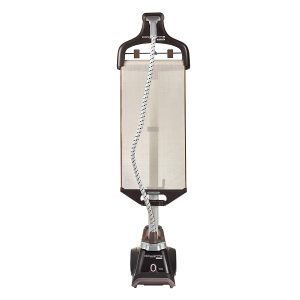 Yet another Rowenta steamer, the Master Valet is a full-size steamer that comes with a built-in hanger, clips, flexible hose, and a stay-cool handle. You also get other accessories like a fabric brush, lint pad, and a steam bonnet. This model is decently powerful and completes the task of steaming relatively fast, thanks to 1500W of power and a steam production of 30g/min that is generated in just 60 seconds. It offers an exceptional water capacity of 81 oz., which allows a steam-time of about 1 hour. As far as convenience is concerned, the Master Valet boasts of a tilt and roll feature that lets you move the machine around on its back wheels while holding the handle. You can even adjust the height as per your comfort using the telescopic pole, and switch on/off the machine using a foot pedal.
Our only gripe is that it does not iron out wrinkles very well on fabrics like cotton shirts. However, it does the job well 90% of the time.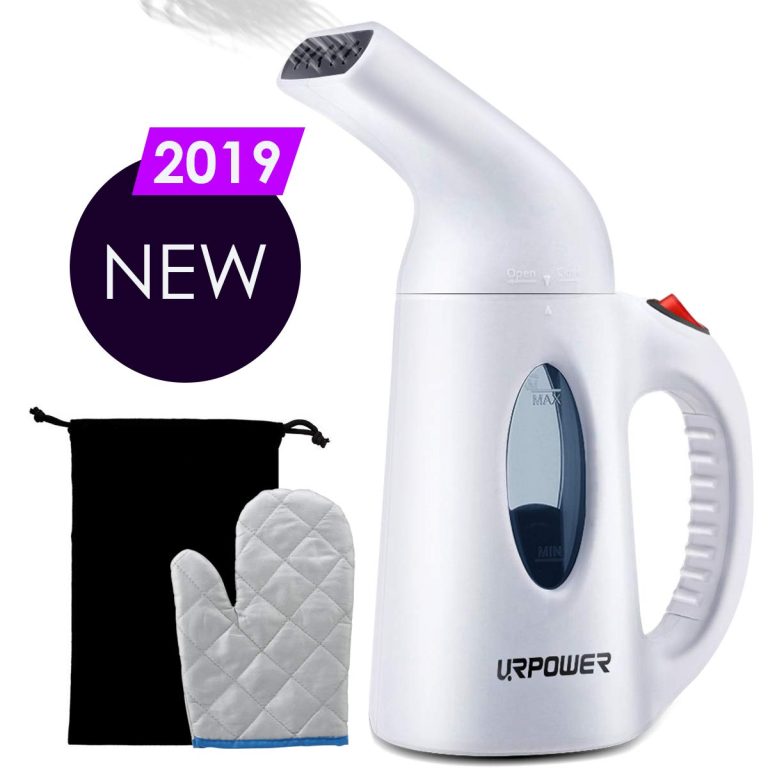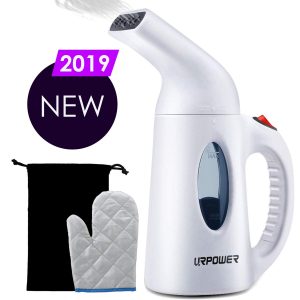 This handheld steamer by URPOWER is super budget-friendly. It is ideal for both, home-use and travel, thanks to a compact design. The steamer can hold about 130 ml of water that heats up in under 2 minutes while offering a steam-time of up to 10 minutes. You can use it to steam-clean your dresses, t-shirts, shirts, and several other fabrics. All you have to do is plug it in, turn it on, and wait for it to get ready for steaming.
When using the steamer, be sure to fill the tank only with cold water (preferably distilled) slightly under the max line, tilt it only up to a 45-degree angle, and turn it off after use. Also, it is recommended that you use a transformer to convert voltage to 110V when traveling abroad.
Though this steamer is great for occasional use, users have posted a couple of negative reviews online. One of the most common complaints is that the steamer spits out hot water despite filling it up below the max line; so be careful when using it. That said, you'd be happy to know that you get a 2-year warranty along with this steamer.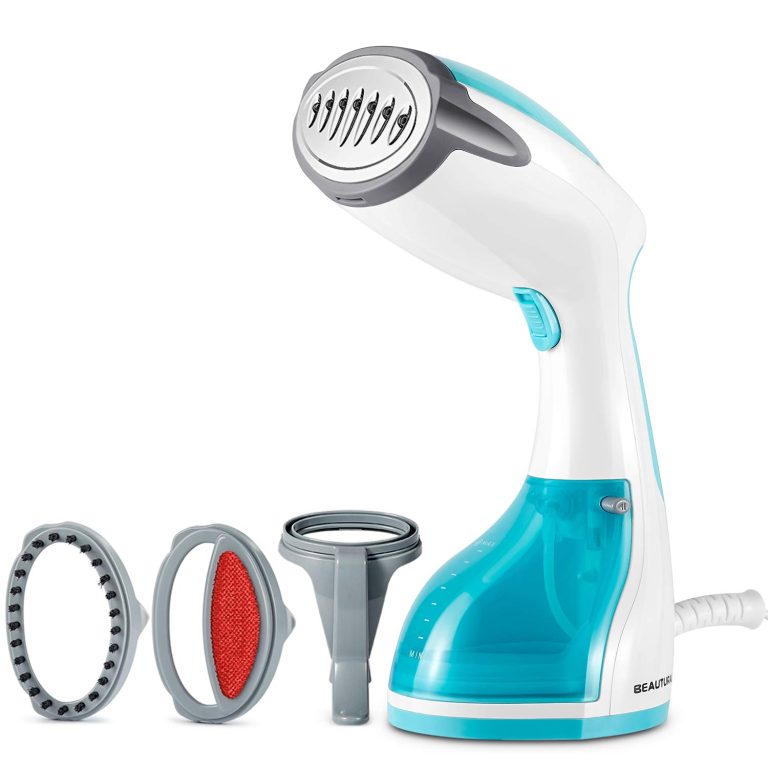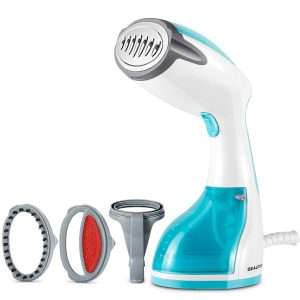 Another budget steamer, the Beautural handheld travel steamer offers 1200W of power, a 260ml removable water reservoir, a quick heat-up time of 30 seconds, and a steam-time of about 15 minutes. This steamer works on fabrics like silk, nylon, velvet, fiber, linen, wool, plush, and polyester. You can use it to de-wrinkle and refresh your curtain, sofas, clothes, toys, bed linen, and much more. The Beautural steamer comes with many accessories including a fabric brush, a lint brush, a measuring cup, and a creaser. To boot, you also get a 90-day full refund and a 24-month free customer service. As far as safety goes, this steamer features a leak-proof design, steam-lock button, and an auto-shut off feature.
This steamer is one of the very few to have received a majority of positive reviews. There aren't any noticeable flaws or cons. It does a pretty good job for its price.
Our Buying Guide for Garment Steamers:
If you're buying a garment steamer for the first time, it can be pretty perplexing to understand which one you should get. We have put together all the aspects that one should keep in mind prior to shopping.
1. Types of Garment Steamers:
There are mainly four types of garment steamers – Floor models (or, standing steamers), Handheld-mid-size models, Handheld-travel size models, and Heavy Duty steamers. Floor models are full size steamers that are ideal for home use. These conventional steamers have a large water tank that needs to be placed on the floor, attached to a nozzle that gives off the steam, via a tube. A large water tank would mean that you can use the steamer for a longer period of time. Also, floor models come with a few holders so that you can hang your clothes and steam them with ease.
Want to take it up a notch? You can look into heavy duty steamers. These steamers are even bulkier compared to floor models and are best suited for commercial use. Aside from steaming clothes, they can also be used to steam clean floors by means of various cleaning accessories.
If you're a frequent flyer, we'd suggest that you consider buying a handheld steamer. Handheld steamers are super light and compact. The only downside of these steamers is that they maybe slightly less powerful and durable.
2. Wattage & Temperature:
It is recommended that you opt for a steamer with a high maximum temperature as it has a greater potentiality of removing tough creases and wrinkles quickly. Moreover, it will also be capable of X'ing-out germs. Usually, steamers with a higher wattage come with a high maximum temperature. That said, this may not always stand true. Sometimes, those with a high wattage come with a middling max temperature. Thus, it is important that you read the specifications carefully.
Another thing to keep in mind is that higher temperatures may damage delicate fabrics. Try to look for a steamer that has various temperature settings. If not, simply move the steam-head a little away from the fabric while steaming it.
3. Performance:
Yet another important aspect to consider is performance. One major way to gauge a steamer's performance is to check the amount of time it takes to heat up. In other words, the time taken to convert water to steam determines the total time it would take to steam your clothes. Waiting for the steamer to be ready for action can be extremely vexing. If you place importance on efficiency, go for a steamer that heats up fast.
Another way of judging performance is by checking the capacity of the water tank. Like we mentioned earlier, a stand-alone steamer (floor model) will normally come with large water tanks whereas small steamers may not have much water holding capacity. If you have a huge pile of clothes to steam on a regular basis, its best to go for a steamer that can hold up to 90 ounces of water, thereby giving you a steam-cleaning time of about 45 minutes. Another advantage of large water tanks is that you wouldn't need to refill very often.
4. Ease of Use:
Some of the best garment steamers are those which are user-friendly in that they allow for a greater convenience. If you're using them for heavy fabrics that cannot be hung off of a hanger, you might need a steamer with a longer hose as it is more flexible.
As far as the steam output is concerned, it is recommended that you look for a steamer that allows for continuous steam outflow. This will ensure that you don't tire your fingers out by pressing down the steam button. Instead, the steamer will emanate steam non-stop with a single press, until you turn it off. It is also nice to have a steamer with different settings for different fabrics. This way, all your fabrics would maintain its original shape and quality.
After-use maintenance is equally important to cleaning efficiency. You must go for a steamer with detachable tanks as they are easier to refill and clean. Alternatively, you may go for one that is non-removable, but make sure that you read through the cleaning instructions thoroughly.
5. Accessories:
When it comes to garment steamers, buy one that comes with a few useful frills. Depending upon your budget, you can either opt for one that is inclusive of several accessories, or buy them later separately as per your requirements. Some of these added features are fabric holders/hangers, clips, long hoses, cleaning brushes, nozzles, steam boards, and wheels. All these accessories do one thing in common; that is, add ease to your steam cleaning routines. Another brilliant feature is auto shut-off which comes handy in times when you leave the steamer on by mistake.
6. Fabric Suitability:
Most of the garment steamers are able to get rid of wrinkles and creases from a vast majority of fabrics including delicate fabrics like silk, wool, chiffon, lace and clothes with pleats, sleeves and ruffles. However, it is always a good idea to confirm this before you purchase a steamer.
7. Price:
Last but not the least, you need to define your budget before going out shopping for a steamer. You'll find garment steamers ranging from $20 all the way up to $200. Normally, handheld/travel steamers are the cheapest as they do not have large water reservoirs and offer mediocre performance compared to full size models. On the other hand, stand-alone steamers tend to be more expensive given their large water tanks and a much greater efficiency at cleaning.
Iron vs Steamer –
The traditional iron vs garment steamer debate has been going on since time immemorial. If you too want to understand the differences and decide which one is better for you, we'll break it down to you as briefly as possible.
Design – An iron uses both heat and steam to remove wrinkles on your garments whereas a steamer only uses steam. Therefore, an iron will need to be pressed against the fabric in order to achieve the desire result. Steamers on the other hand are used at a distance from the fabric since it doesn't require pressure to do the job. As far as looks are concerned, steamers have an upper hand since they do not involve ugly cables or giant iron boards.
Speed – No one wants to spend hours trying to de-wrinkle their garments. Steamers are way ahead of irons when it comes to the time taken to carry out the task. You can simply hang your garments and hover the steamer over them without laying them flat. Plus, when the fabric is hung up, you can see the creases and wrinkles quite easily. Less effort, and less time! Ironing involves flipping the garments over and a lot more effort, but makes better creases.
Safety – Given the basic design and functionality of an iron, it is very easy to burn yourself while ironing your garments. To add to that, it can be very confusing to understand which fabrics you can iron, thereby increasing the chances of ruining them.
Fabric Versatility – Irons typically require you to press them against your clothes. Therefore, they are best for fabrics that you wish to create creases in or press down flat. On the flip side, they aren't the best for frills, ruffles, pleats or sleeves because they cannot be pressed flat entirely, making it difficult to manoeuvre. Irons are ideal for garments such as dress shirts, pants, suits, and jeans. Steamers are usually great for a wide array of fabrics including delicate ones like silk, lace, chiffon, wool, and more. They are also great for heavier fabrics such as curtain, linens, and sofa.
Ease of Use – Steamers can be used by novices, without having an in-depth knowledge or skill to use the machine. Its why you see inept salespersons using them in retail stores all the time. Irons on the contrary, need time and skill to master. Furthermore, steamers can be used to refresh and de-wrinkle garments even after wearing them, without ruining them. Unfortunately, the metal plate of an iron may 'bake' in the grime and sweat from wearing the garment in the day. Lastly, if you're using an iron, you will have to use an iron board; and carrying those around can be a tall order. Steamers are usually much lighter and easier to move around.
In short, steamers are best used as a supplement to irons rather than a replacement. That's because irons can handle cotton shirts and suits better than steamers. But if you only had to choose one, we'd suggest that you go for a steamer as they are more versatile and easier to use.
Conclusion:
Garment steamers are a must-have if you like your clothes to look neat and clean. They are also useful around the house to refresh furnishings. However, you must be careful while using them as most of them do spit out some water during steam-time. A bonus steamer that is worth mentioning is the OXA Smart Travel steamer. It falls under the budget category and performs fairly well.