Whether you're a casual crafter, school teacher, or business owner, chances are you've used and appreciated a good laminator in your time. Their ability to turn a fragile piece of paper into a nearly indestructible sheet of plastic that can be erased, washed, and stored forever is a huge blessing to all of us. Laminating machines have become very affordable in recent years, and you'll no longer have to trek to your local office supply shop to be able to enjoy all the perks that they offer. 
If you're in the market for a laminating machine of your own, there are a couple of factors to consider before taking the plunge. 
Size: There is a tremendous difference in sizes of laminating machines available. Some are small enough to be stored in a drawer or on a desk and are great for laminating and protecting personal photos, such as 5×7" prints or polaroids. Others are large enough to laminate huge sheets of paper such as blueprints, posters, and more. Obviously, there is a tradeoff between size and price that you'll also have to consider. While it may be nice to buy the largest laminator you can afford, you must also consider the size it will take up when not in use and how much extra money you'll spend on it compared with how much use you'll get out of it.

 

Warm Up Time: Nothing is more frustrating than sitting around and waiting for a machine to turn on so you can finally use it. Unfortunately, some laminating machines do take several minutes to heat up. More and more are featuring a quicker warm up time of 2 minutes or less, but this is not yet standard. If you'll be using the machine on a daily basis for larger projects, this may be less of a consideration for you as your working time will be a lot longer. However, for the occasional use of laminating 2 or 3 things, a 3+ minute warm up time can be very cumbersome.
Materials and Thicknesses: Different machines can accommodate different types of material (such as printer paper, photos, cardstock, etc.) and different thicknesses of laminating pouches. If you want a laminator to use for crafting purposes, such as for scrapbooking, you'll definitely want one that can accommodate thicker materials and a variety of pouch sizes and thicknesses. Certain laminators are suitable for use with photos, and others might ruin them. These specialized machines are usually slightly costlier. However, if you mainly intend to laminate regular paper, almost any laminating machine will do.

   
Still not sure which laminating machine to go with? Check out the list below for details on our top ten laminating machine picks for 2020!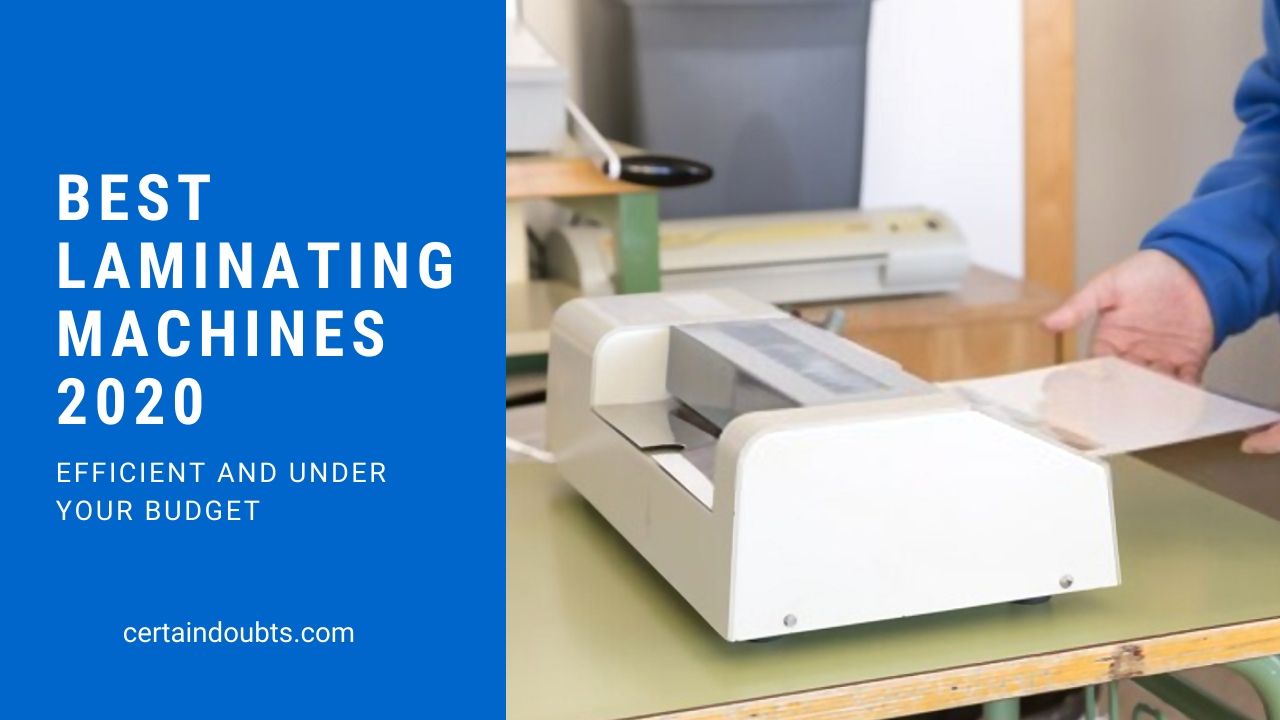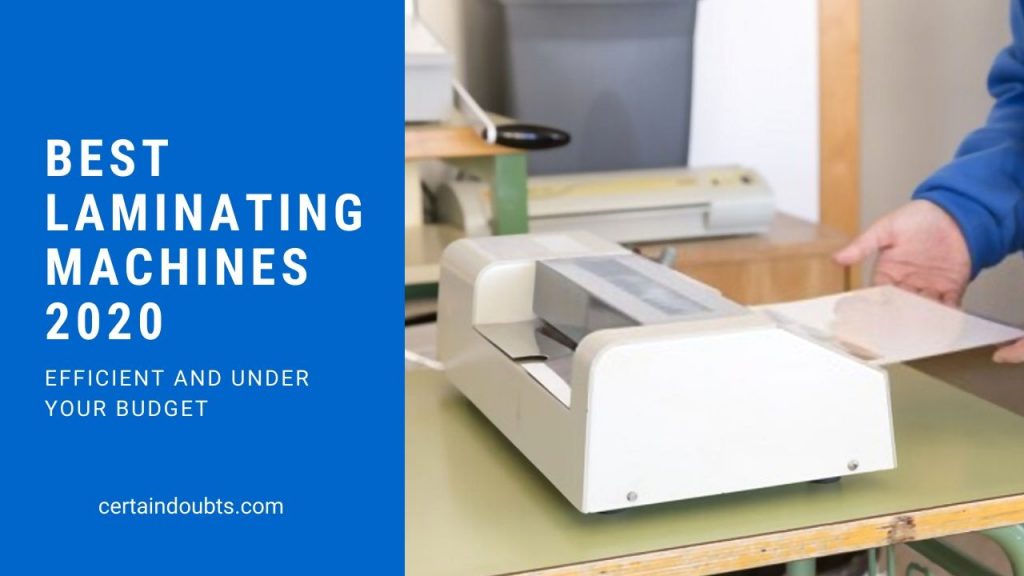 Top 10 Best Laminating Machines 2020
1. Scotch Thermal Laminator, 2 Roller System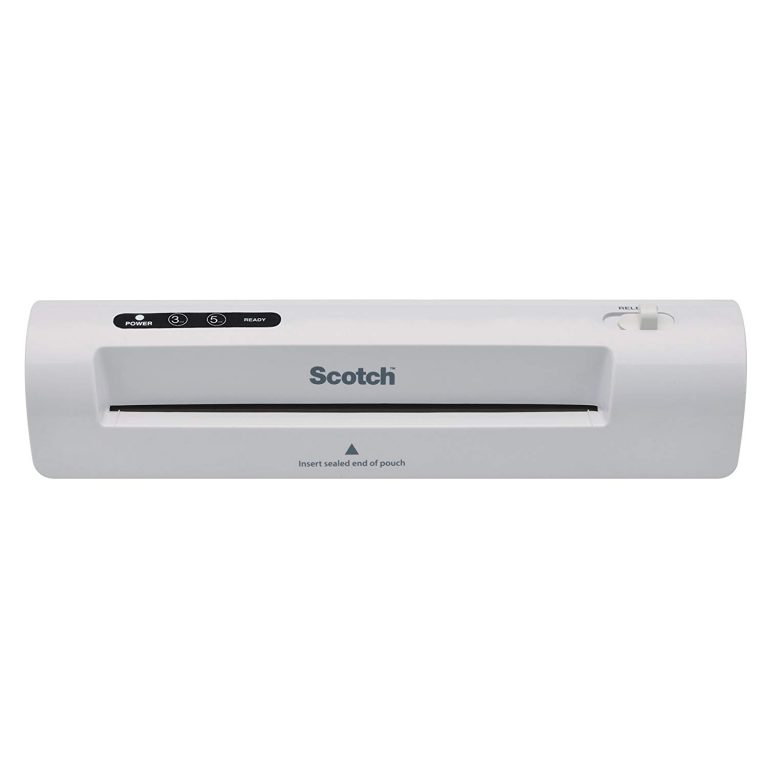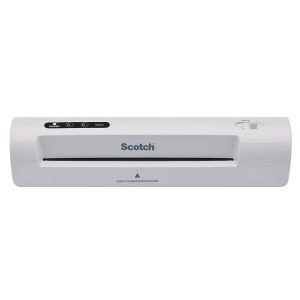 Looking to reinforce documents, make a reusable form, or protect memories, keepsakes, or recipes? Look no further than the Scotch Thermal Laminator with 2 Roller System. This laminator machine can accommodate things up to 9 inches wide, enough for most standard sheets of paper. With settings for both 3 and 5 mil pouch thicknesses, you're able to use a variety of options all in one compact machine.
A simple system only requires users to prep, place, insert, and seal their documents or keepsakes and machine does the rest. With warm up times ranging from 5-8 minutes, this is definitely not the fastest laminator on the market, but that shouldn't deter you from this great piece of equipment! The #1 Best Seller in laminators on Amazon, it is a tried and true classic from a trusted stationery and paper products brand. Compact enough to store away easily when not in use and weighing just 1 pound, this small but powerful machine makes a great laminator for moderate use. 

Pros
Two roller system
Can be used with photos
3 and 5 mil pouches
Cons
Not very wide
Long warm up times
2. Laminator Machine for A3/A4/A6, YE381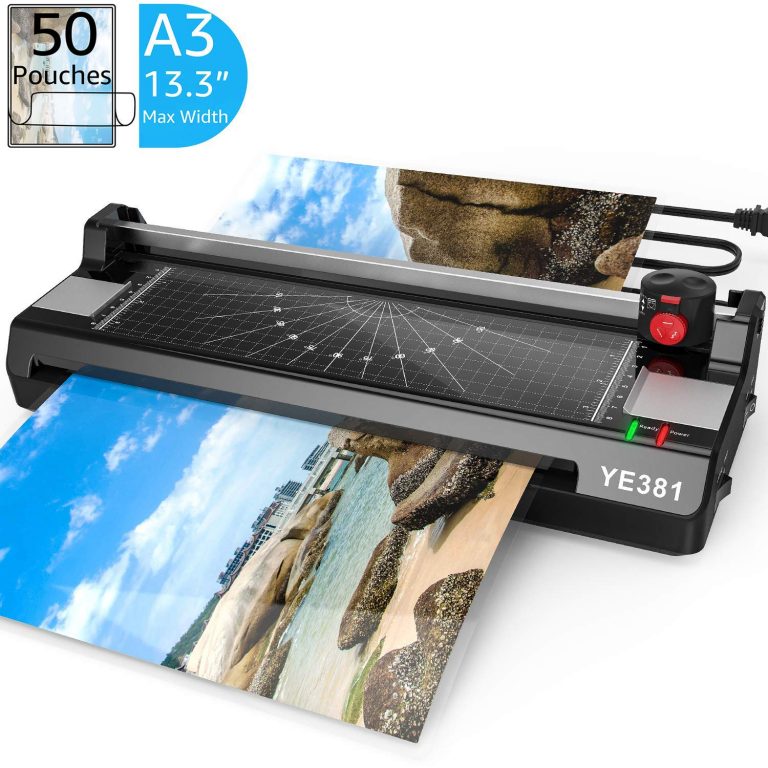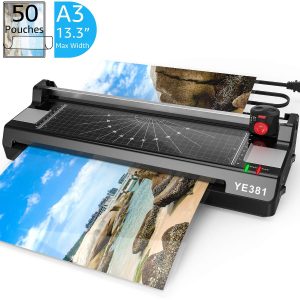 The #1 new release in laminators, the Laminator Machine for A3/A4/A6 YE381 is a much more advanced device with a multitude of functions, making it perfect for the serious crafter or hobbyist. All the bells and whistles do not detract from a spectacular performance in general, with fast lamination speeds and convenient anti-jamming features as well. The 3 in 1 paper trimmer can cut straight lines, perforations, and even waves! A handy corner rounder takes care of the sharp edges that laminated sheets are known for, which can both protect your little ones and keep your projects looking polished and professional. 
The unique ABS button on the back of the machine can be pressed in case of a paper jam, which will stop the lamination process and allow you to safely remove sheets without risking damage to your machines. This is especially great for larger projects which are notorious for frequent jams. This laminator machine also has the option of hot or cold laminating, great for sensitive papers or things that might be damaged by other high-heat models. While this laminator is basically 5 or more machines in one, the tradeoff is that it is slightly bulkier and a little heavier than some other options. 

Pros
Comes with pouches
Paper trimmer and corner rounder
Measuring surface on top
Hot and cold lamination
Cons
Medium warm up time
Heavy
3. A3 Laminator Machine, Rapid 1.5 Minute Warm-up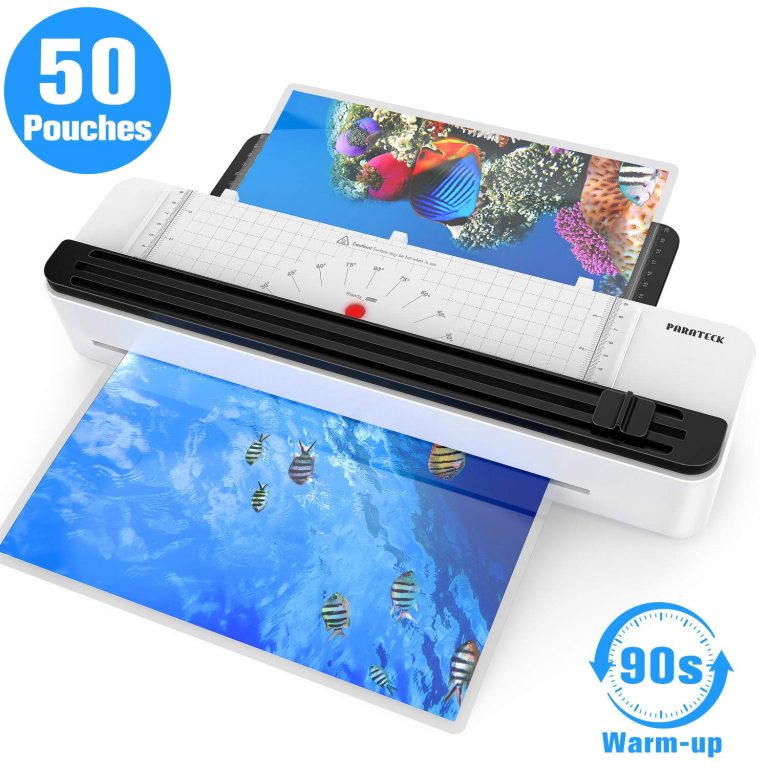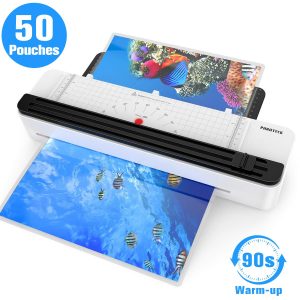 Another highly recommended multi-function lamination machine, the A3 Laminator Machine with Rapid 1.5 Minute Warm Up is a solid choice for those looking for a long-lasting, sturdy tool. The most obvious benefit of this model is the ultra-short warm up time of just 90 seconds. This means you can get crafting as soon as the urge strikes and not have to wait around for a slow machine to heat up. If you're a teacher who is short on time, some quick laminating work can easily be done during a break! Use the convenient measuring tools on top to make precise cuts without the need for another mat or ruler. 
The double roller system means a smoother, quieter operation and helps to ensure that sheets get inserted straight and stay straight. Its lamination speed is also super-fast, at up to 400mm/minute. In case of an unlikely jam, press the quick release button to easily remove the pouches without damaging the machine or your works in progress. Hot and cold laminating both increase your material options and help reduce wear and tear on the machine itself. 

Pros
Fast warm up
Paper trimmer and measuring board
Comes with pouches
Quick release button
Cold and hot lamination
Cons
Only two thicknesses supported
Heavy
Large
4. AmazonBasics Thermal Laminator Machine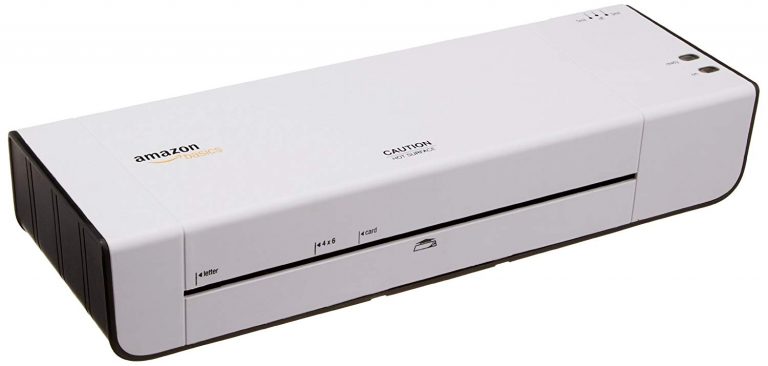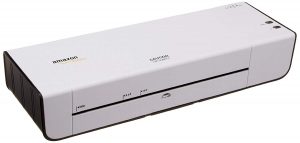 For a simple option that gets the job done, the Amazon Basics Thermal Laminator Machine is a great budget option. It can laminate documents up to 9 inches wide, which is enough to accommodate most standard sized letter and legal papers. It can either be used with 3 mil or 5 mil pouches, which are the standard for most machines. Its handy jam release lever allows you to clear a paper jam without ruining all of your queued pouches in the process.
Its warmup time is 4 minutes, which is not super-fast but is also not the slowest on our list. For most people's needs, this is an acceptable speed. The machine is very compact and can easily be stored in a drawer when not in use. Since it only weighs 2.6 pounds, portability will never be an issue! 

Pros
Two heat settings
Compact design
Jam release lever
Cons
Medium to long warm up time
Only works with 2 thicknesses
5. 5 in 1 Blusmart Laminator Set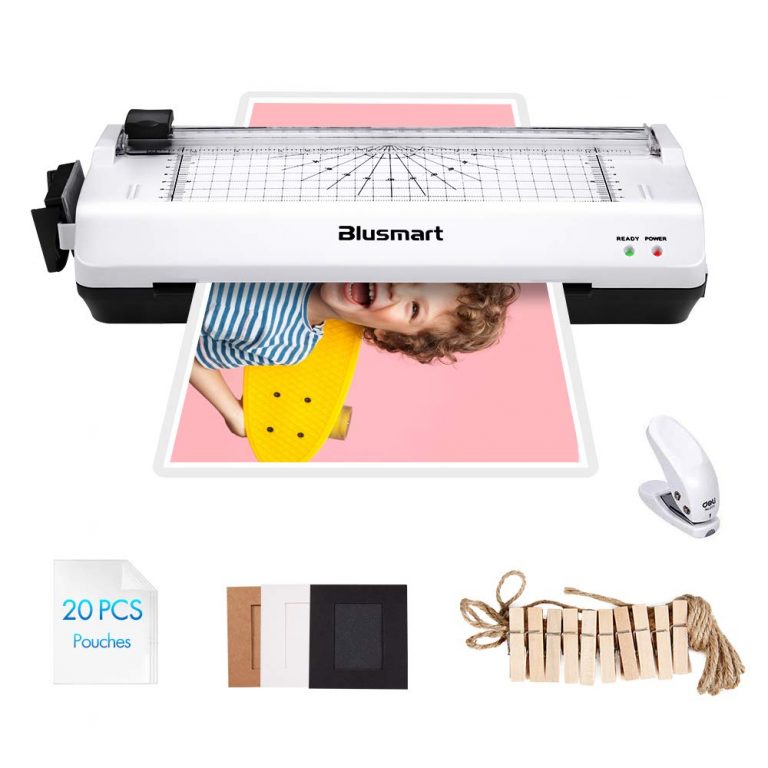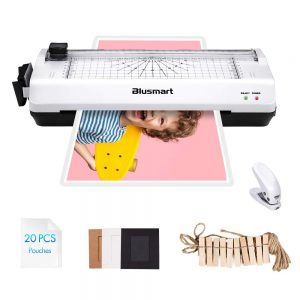 If you plan on using your new laminating machine for a wide variety of projects and documents, you'll need one that can handle anything you can throw at it. The 5 in 1 Blusmart Laminator Set definitely fits the bill! This machine is a laminator, corner rounder, and paper trimer and it comes with laminating pouches and photo frames to get you started. Its 3-5 minute warm up time is moderate, as is its laminating speed of 250mm per minute. However, it does feature both hot and cold lamination modes which allow users to protect a wider variety of materials without fear of ruining them. 
Its ABS button effectively resolves paper jams, and it also features a wider inlet than most competitor's lamination machines which makes it even less likely that jams will occur at all. The easy to handle paper trimmer has precise measuring lines which are perfect for cutting out custom sizes such as business or flash cards. Weighing in at under 2 pounds, this is a tiny machine that packs a big punch. 

Pros
Built in paper cutter
Comes with pouches
6. GBC Thermal Laminator Machine, Fusion 6000L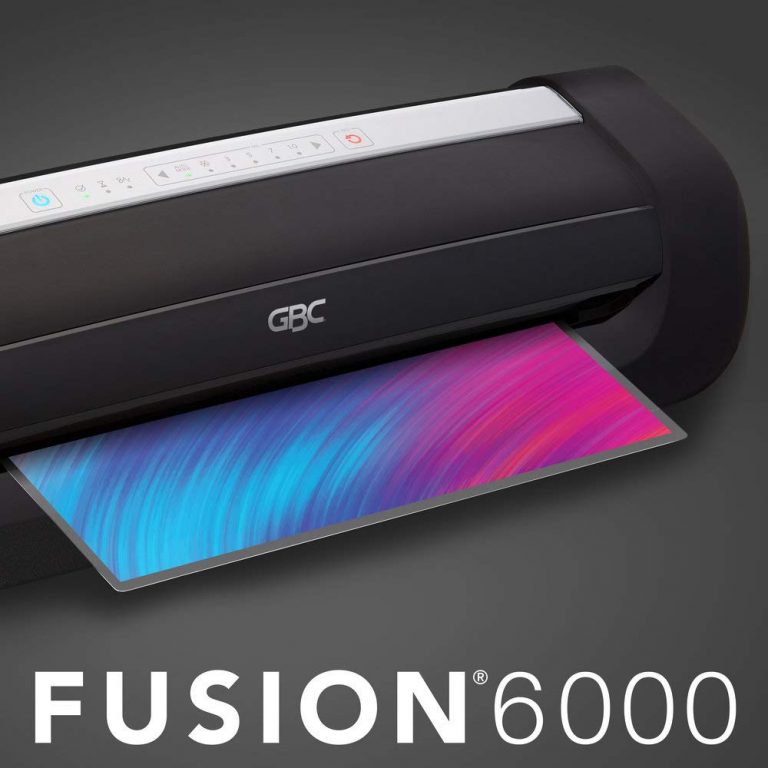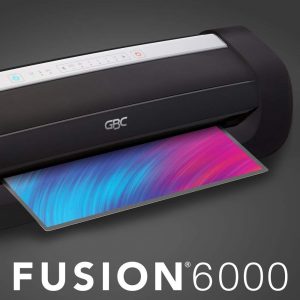 For a sleek device that works even harder than you, the GBC Thermal Laminator Machine Fusion 6000 L looks great and laminates even better. Designed for a highly productive workplace, this machine's lofty price might be more worth it to someone who is going to utilize all of its features very frequently. With an ultra-fast warm up time of 1 minute, it can be up and running at a moment's notice and is always ready to go. With a lamination speed of 47 inches per minute, it is by far the fastest machine on our list today.
The 12 inch laminating width is more than enough for almost any size laminating pouch. Smooth rollers keep your new project wrinkle-less, and can accommodate thicknesses of between 3 and 10 mil. It even auto-detect the thickness of your pouch and document to prevent common user errors! A fun inclusion is their unique EZUse Premium Speed Pouches, which seal along the longer side to reduce processing time by up to 22%! 

Pros
Accepts tons of sizes
Fast warm up large size
High production speed
7. Fellowes 5736601 Laminator Saturn3i 125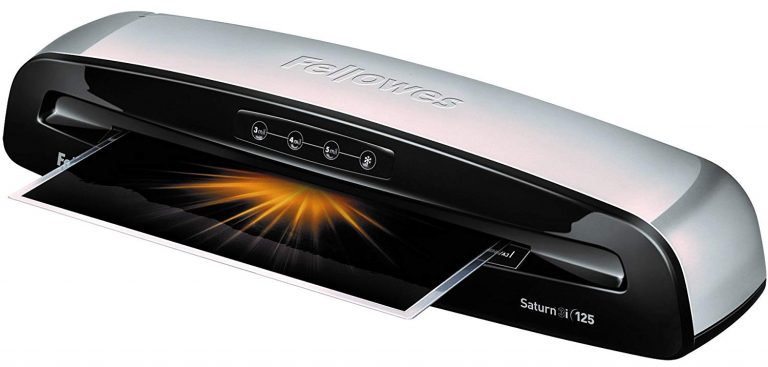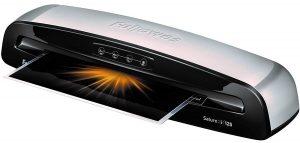 Another very quick laminator for fast-moving work environments, the Fellowes 5726601 Laminator in Saturn 3i features an extra-wide 12.5" entry which can handle almost any common document size. It laminates at 12 inches per minute, which is certainly not as fast as the GBC but still fast enough for just about anyone! 
Unfortunately, this machine does only accept 3 or 5 mil thick pouches, which somewhat limits its functionality. It does have some redeeming features, however, such as hot and cold laminating settings and an auto shutoff that both saves energy and prevents overheating. Its warm up is complete within 1 minute, making it a great choice for those who need their projects done ASAP. 

Pros
Wide entry
Jam release lever
Hot and cold lamination
Fast warm up
Cons
Only 3 or 5 mil thickness, expensive
8. 3M Laminator Kit With Every Size Laminating Pouch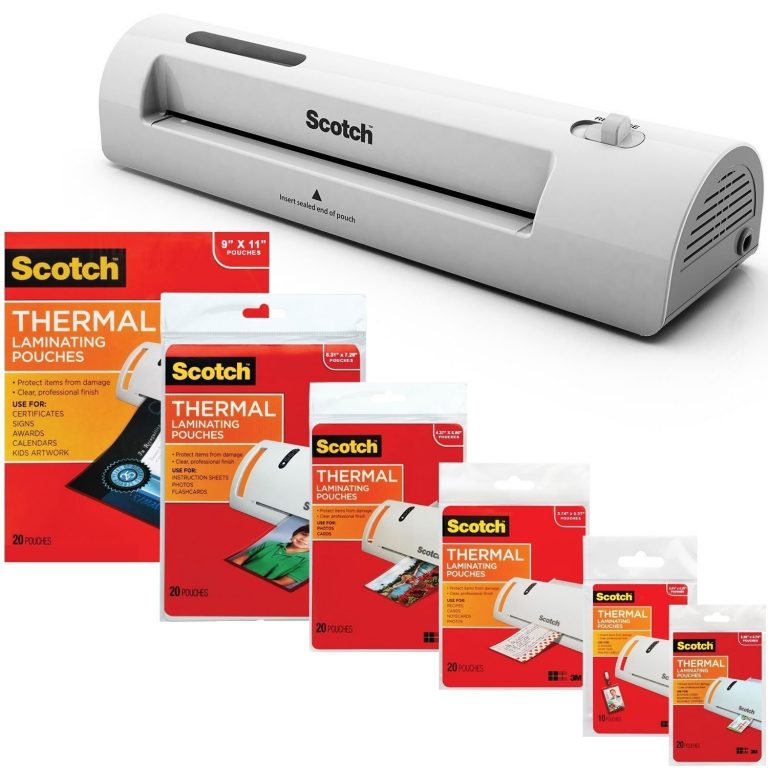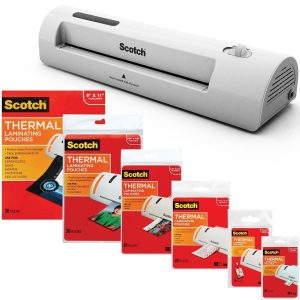 If you need a lot of options at the ready, check out the 3M Laminator Kit with Ever Size Laminating Pouch. As the name suggests, this kit comes with literally every size pouch offered by 3M, so you'll never be without one that fits your project. Designed to be a professional quality machine made compact for home use, this laminator can accommodate items up to 9 inches wide and 5 mil thick. While it may not be the most versatile option on our list, it certainly includes more than enough options for the average person. 
Coming highly recommended from online reviewers, this kit is a bit pricier but does end up being a deal when you consider all that it includes. For the everyday crafter, teacher, or office staff, the 3M Laminator Kit is an excellent choice. 

Pros
Includes lots of pouches to get started
Fits many sizes and widths
9. Swingline Laminator, Thermal, Inspire Plus Lamination Machine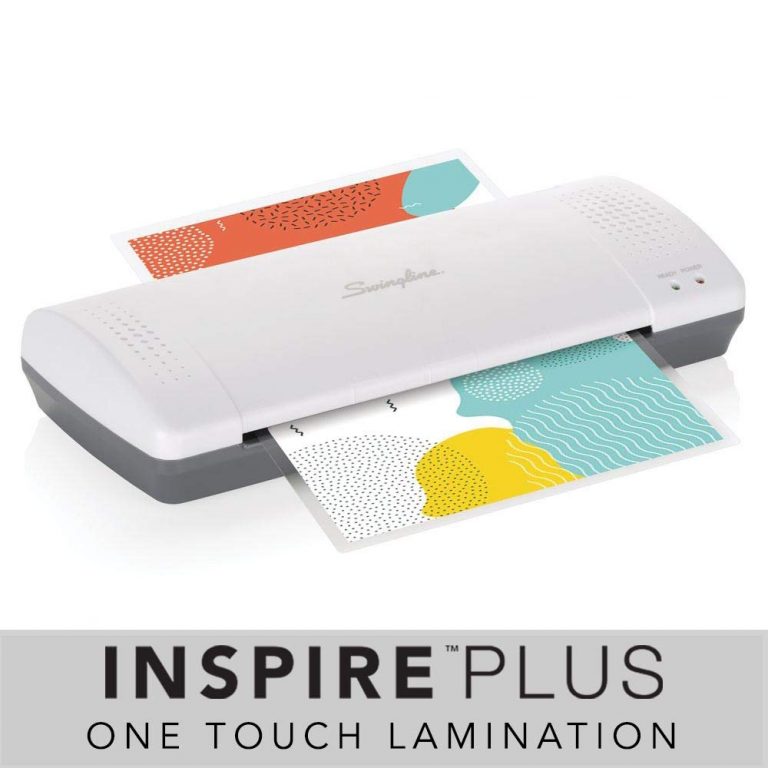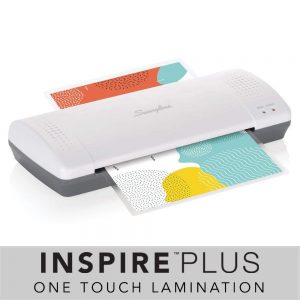 A very streamlined and relatively quick option for the serious home user, the Swingline Thermal Laminator Inspire Plus comes in both classic gray and a stylish and trendy pink color choices. Simple to start up, in 4 minutes the machine will notify users with a convenient ready indicator light that it has heated up. While this is a mid-range warmup time, it is certainly adequate for the majority of users. The warm up time is made up for in the quick lamination speed of 9 inches per minute. 
Like many other options on our list today, it also features a handy cold lamination setting. It works with pressure sensitive adhesive pouches to give you much more flexibility in what and how you laminate. It does have a bit of a larger footprint than most other comparable laminators, so if space is a consideration this might be an issue. However, it is very visually appealing and would look great on a desk or workspace! 

Pros
Affordable
Stylish
Easy to use
Cons
Moderate warm up time
Big
10. Toyuugo Laminator Machine, Portable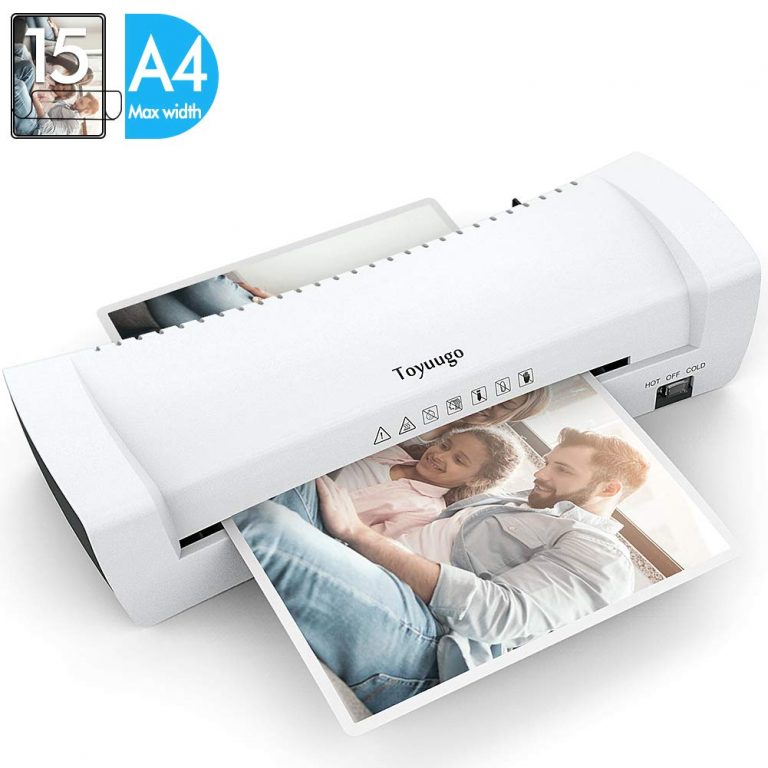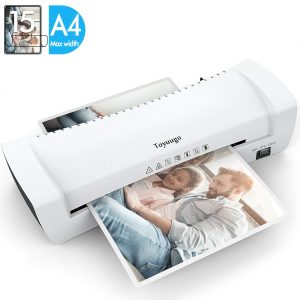 A compact choice for users taking their laminating machine to and from work, school, or other places, the Toyuugo Portable Laminator Machine is an excellent way to go. It features a hot and cold lamination system to give users the most flexibility in their materials and pouches. It is advertised as having a "no bubble" design and promises smooth and wrinkle-free sheets. 
This machine does, unfortunately, only support 30 consecutive minutes of work time. Longer than that and you'll have to turn it off to prevent melting or warping. While this may not be an issue for most people, if you are anticipating larger batched projects then it may not be the ideal option. It is, however, very affordably priced and also includes several pouches to get you started! 

Pros
Portable
No bubbles
Hot and cold system
ABS jam button
Cons
Only supports 30 continuous minutes of work time
By now, you should hopefully have a much better idea of which laminating machine you'll be adding you're your craft station in 2020. When deciding which one to purchase, remember to keep in mind the
size
of the machine as well as the size of the things you'll be laminating. A mismatch could mean that your new machine ends up being no good for you! Another consideration is the
warm up time
, which is unique to each laminating machine. A quicker warm up time is nice for smaller project batches, but isn't as big of a deal for larger laminating sessions. Lastly, the
materials and thicknesses
that your laminator can work with is one of the most often overlooked factors. If you intend to laminate photos,
be sure that your laminator is okay for use with photos
. Not all of them are, which could be disastrous! For even more information, the reviews and Q & A section under each listing is a great place to start. Happy laminating!