If you've decided to take the reins and start doing your own oil changes, you've probably felt overwhelmed by the sheer amount of motor oil options available. Even if you're a seasoned pro, so many new companies and formulations are constantly entering the market that it can be incredibly difficult to keep up.
Today we'll be discussing the 10 best synthetic motor oils of 2020. We chose to cover synthetics because, in spite of often being more expensive than their conventional counterparts, they offer much better oil life, fuel efficiency, and engine life. 
Before choosing a synthetic oil, it is important to understand the terminology that motor oil manufacturers use to describe the qualities of their oil. This will help you choose the best product for your specific vehicle performance. 
You'll often see motor oil formulations written as something like "5W-20". The number before the W, in this case 5, refers to the winter viscosity of the oil (in other words, how thick the oil becomes in colder temperatures. 
This number is especially important to pay attention to if you live in a climate that gets cold for a considerable portion of the year. The lower the first number is, the thinner the oil will be in the cold and the better it will flow. There are some tradeoffs to having slightly thinner oil, which we'll discuss down below. 
The second number (20, in the above example) is the warm weather viscosity of the oil. If the second number is higher, the oil is thicker in warmer weather. Of course, this number is important to people living in mainly hotter climates. However, the majority of the world lives in a zone that experiences both cold and warm temperatures to some degree throughout the year, so paying attention to both numbers, as well as the range between them, is important for everyone. 
What other factors influence which oil you should choose? Well, the type of vehicle you drive is probably the most important factor. Some oils are designed for diesel vehicles, some for motorcycles, others for normal cars and SUVs, and even some for recreational vehicles such as ATVs! 
Thankfully, most manufacturers provide a suggested range of oil weights in the owner's manual. Once you've determined what your needs are, keep on reading below for a detailed description of which synthetic motor oil is best for you!
Top 10 Best Synthetic Motor Oils 2020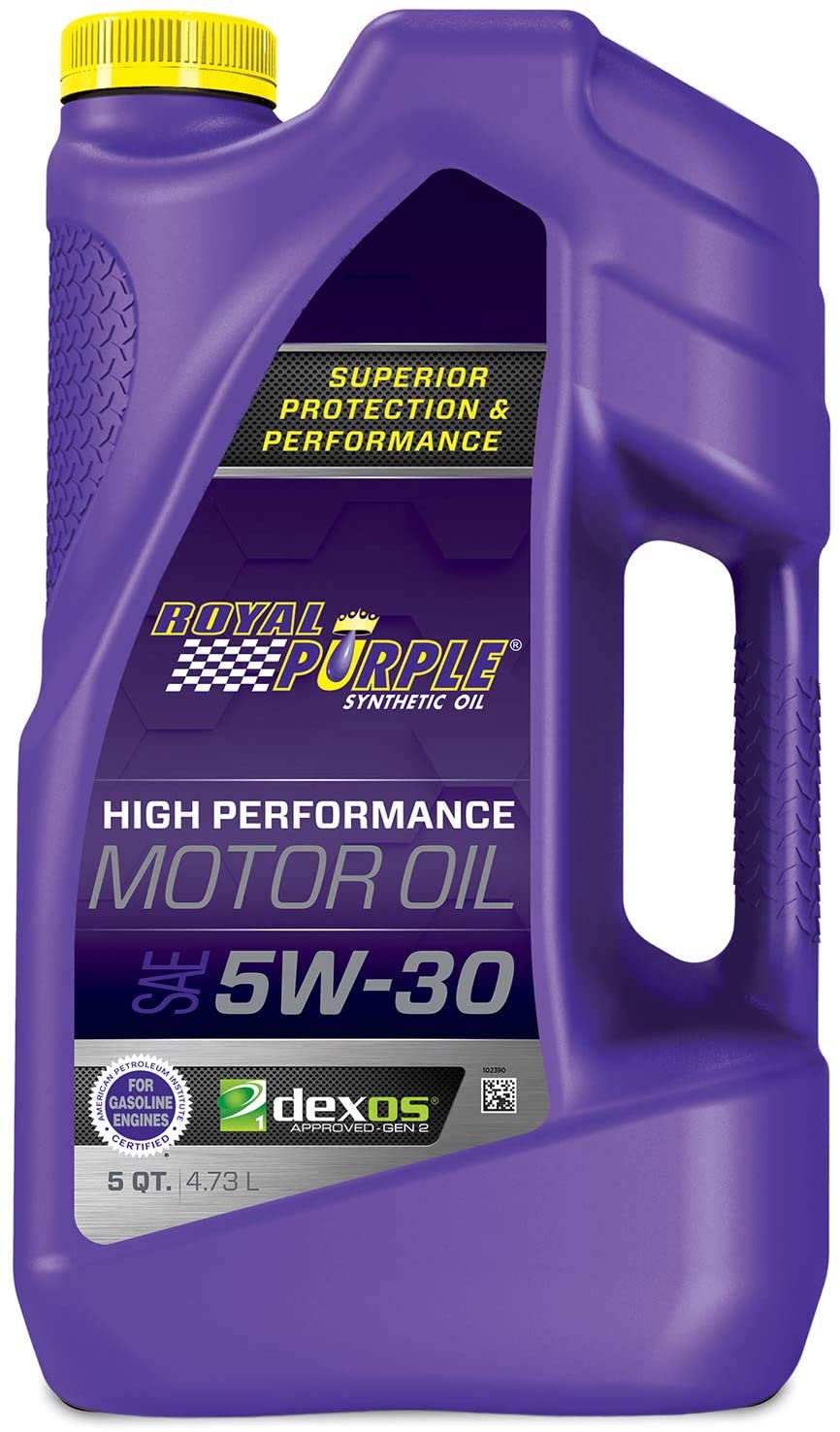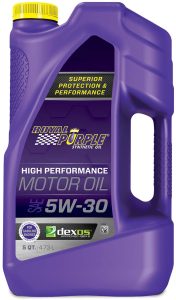 Pros: Good for cold weather, increased fuel efficiency, protects catalytic emissions system, good ethanol fuel compatibility, USA-based company
Cons: Needs time to work in a used engine, not good for first oil changes
A lesser-known name in the motor oi industry, Royal Purple is a Texas-based company that strives to develop high-performance synthetic oils for a variety of industrial and private applications. Their 51530 High Performance motor oil is a fantastic option for people who live in all sorts of climates. 
Specifically designed for high performance, this API-licensed motor oil will make a noticeable difference in your vehicle according to countless reviewers. Something special about Royal Purple motor oils is that they are both fluid and lubricant, making them the superior choice for better wear protection as well as fuel efficiency. 
It is critical to find an oil that strikes a good balance between being viscous enough to lubricate your engine and also thin enough to allow components the room to move in a frictionless environment. With the Royal Purple High Performance synthetic oil, you'll appreciate better fuel economy and less engine wear and tear. Another great bonus is that it has improved compatibility with ethanol-containing fuel, which is becoming increasingly more popular. 
Royal Purple recommends waiting a few oil change cycles to run this oil in new vehicles, as well as changing the oil more frequently for the first few cycles in older vehicles. The natural solvent properties of synthetic oil will clean the engine and dissolve old oil deposits over time, saving you money and hassle in the long run.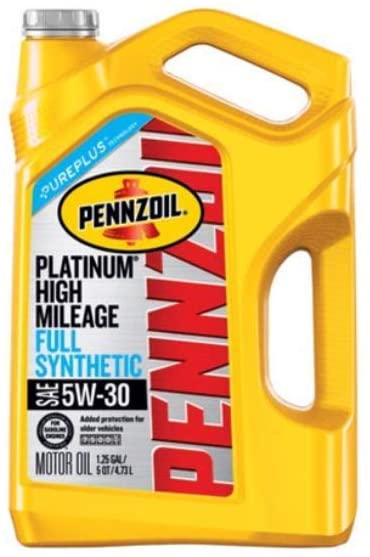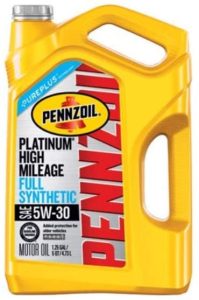 Pros: Designed for high mileage vehicles, conditions seals to reduce oil leaks, cleans old deposits, improved piston mobility, can be mixed with other synthetic oils and mineral oils
Cons: Not for European cars
Higher mileage vehicles need a lot of special considerations, especially when they've exceeded all manufacturer warranties and guarantees. In these cases, it falls even more so on the shoulders of the owner to make sure that they're taking the best possible care of their vehicle to prolong its life even further. 
Pennzoil's Platinum High Mileage Full Synthetic oil is specially designed for vehicles with over 75,000 miles. They have several industry-backed studies showing just how much better your vehicle can perform when utilizing this scientifically crafted formula. For example, they found that the average car can drive an extra 550 miles when using Pennzoil Platinum!
It is also a superior choice for people who live in harsh climates, whether hot or cold. It flows faster in the cold and has less of a tendency to evaporate in the heat. It even cleans pistons up to 50% cleaner than industry standards require, so no matter how much leftover oil debris is clogging up your engine, Pennzoil Platinum High Mileage has got you covered.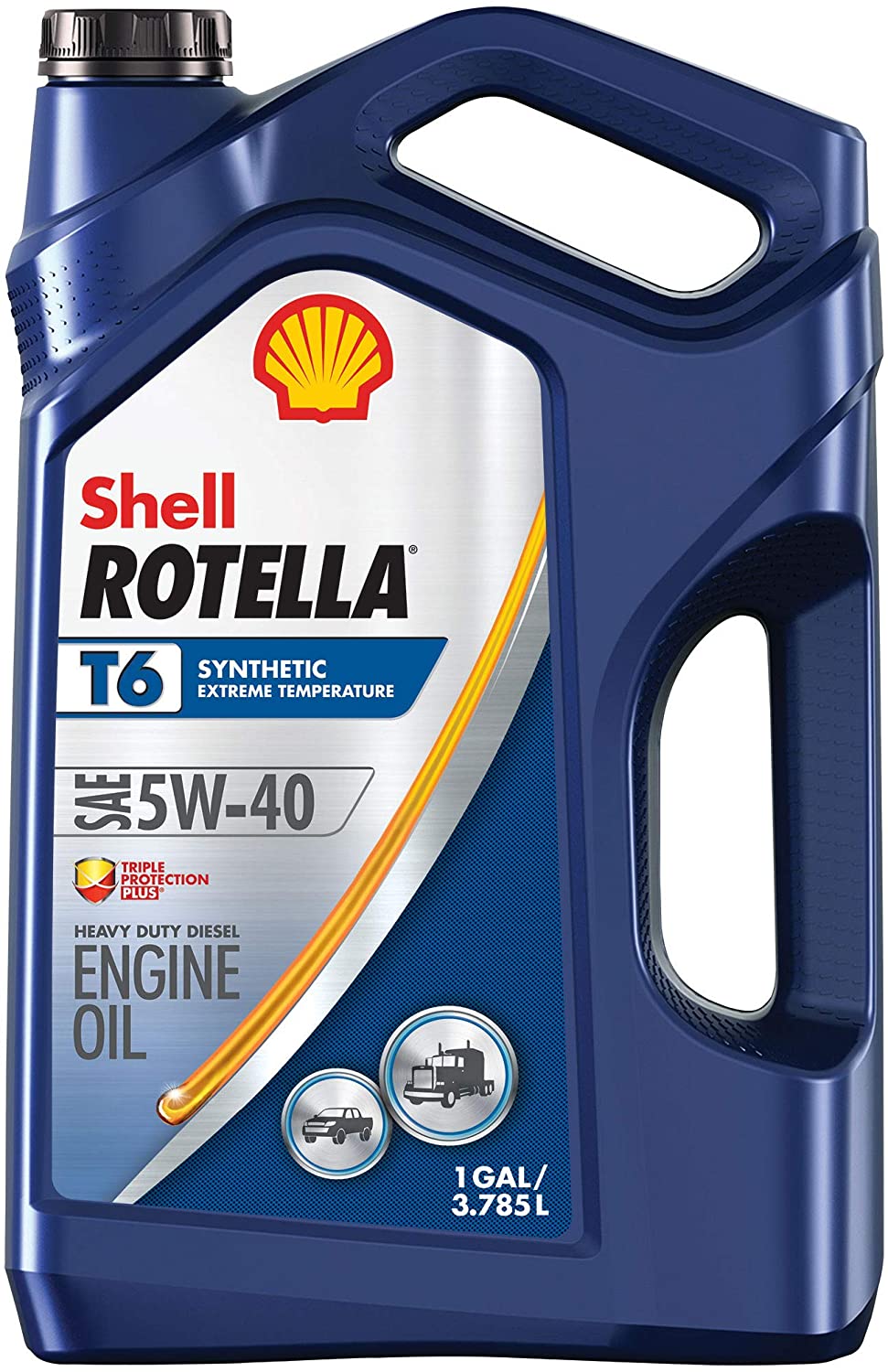 Pros: Designed for diesel engines, better fuel economy than comparable oils, protects well against wear and tear, compatible with emissions systems, performs well in the heat
Cons: Diesel only, not for standard gasoline engines
Diesel engines have very unique operating needs, and you're probably familiar with these if you drive or have driven a diesel vehicle. Maintenance and fuel economy are persistent issues with diesel engines, so utilizing a performance oil to help maximize your engine's longevity (and your wallet's longevity!) is of the utmost importance. 
Shell Rotella T6 Full Synthetic 5W-40 Diesel Engine Oil is my top recommendation for those with diesel vehicles. It has better fuel economy than comparable oils by up to 1.5% and does this without compromising on engine protection. In fact, it protects against engine wear by a significantly higher amount than older generation oils. 
Using specially formulated dispersal additives, this oil controls deposits and protects against soot and other pesky contaminants. It is even compatible with emissions systems and help keep the vehicle within emission standards. It also as incredible performance at high temperatures, which is a must-have for long haul drivers or those driving in harsh climate zones.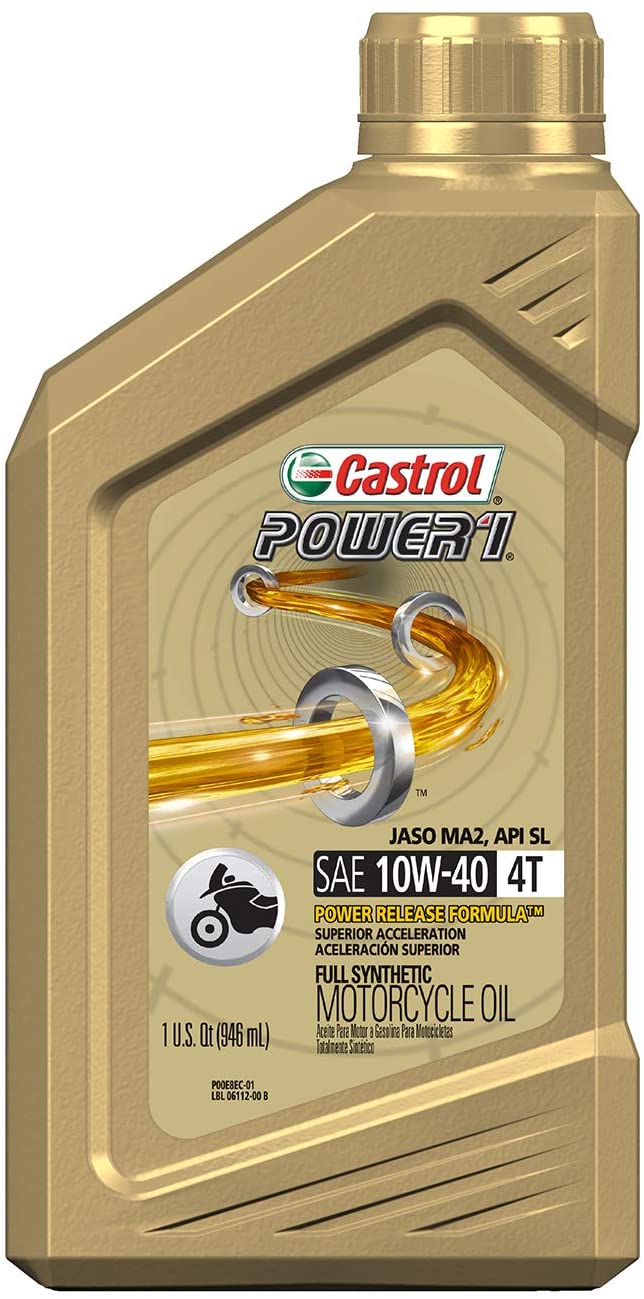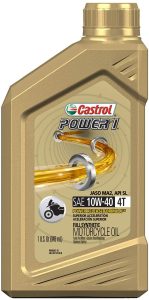 Pros: 4-stroke and V-twin motorcycles, designed for advanced acceleration control, minimizes internal engine friction
Cons: Motorcycle-specific, only certain types of motorcycles, no recreational vehicles
Whether you drive a motorcycle just for fun or as your main mode of transportation, you need a reliable motor oil to keep your engine running smoothly. Primary concerns among motorcycle operators are the ability to accelerate and change gears smoothly. Without the right motor oil, this may not happen, and your bike's longevity can also be affected. 
Castrol Oil has been in the motorcycle oil business long enough to know that not all oils are created equally. The 06112 Power 1 4T oil is designed specifically to meet the needs of 4-stroke engines and also works for V-twins as well. 
This oil has "race proven" additives that will keep your bike running smoothly and protect the engine components. This full synthetic option has been the first choice of racing drivers for decades and are used exclusively by the Honda MotoGP racing team.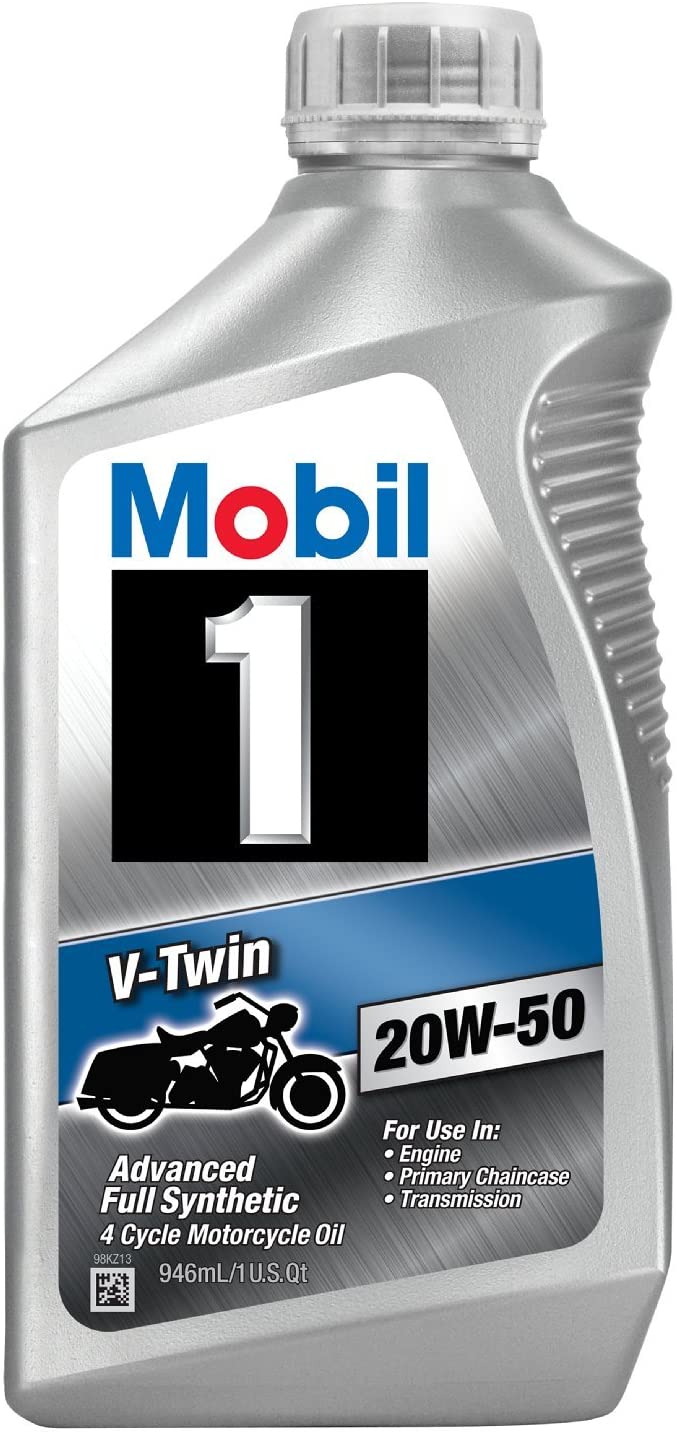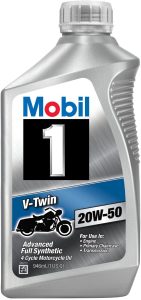 Pros: V-twin compatible, works with wet-clutch engines, good for idling in hot temperatures, great for high-revving engines
Cons: Motorcycle specific, better for warmer temperatures
Mobil 1 is the undisputed crowd favorite when it comes to motorcycle motor oils. With tons of options to choose from and a variety of ratings and formulations, there is something out there for everyone. 
The Mobil 1 96936 20W-50 is a v-twin compatible synthetic motor oil that is designed to work well with wet-clutch engines. A longtime favorite amongst bikers, this oil stands up to the intense workload of a high-revving engine easily. 
It is ideal for users in warmer climates, as it has an SAE rating of 20W-50 and will hold up to high heat use. This is a great feature for touring bikers who spend a lot of time idling in traffic when engines can heat up rapidly. Since v-twin specific oil can be hard to come by, it's good to know that you're choosing one designed to meet all of your needs.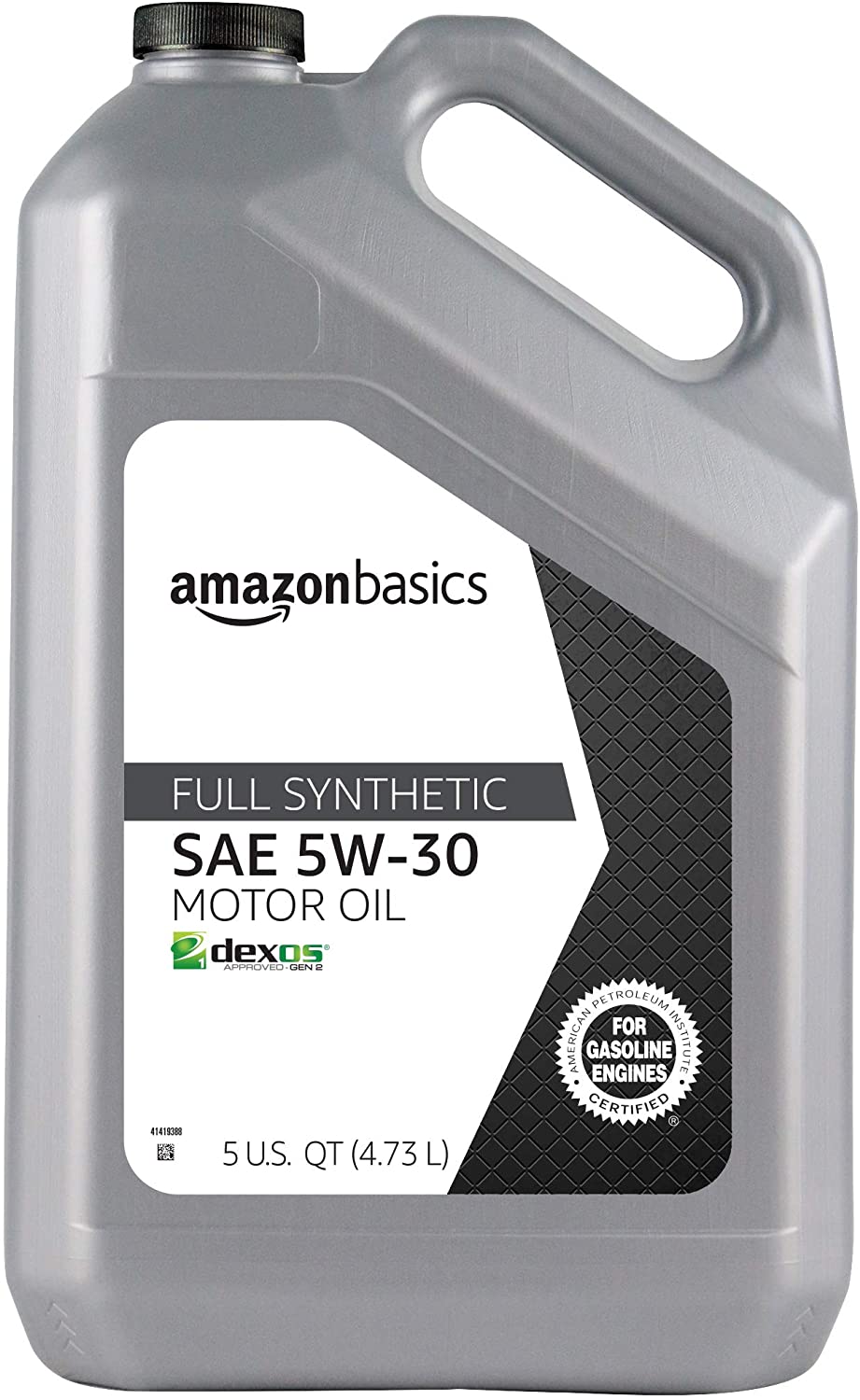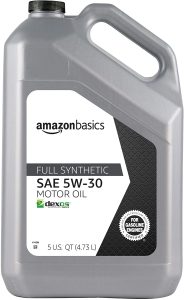 Pros: Affordable for a full synthetic oil
Cons: No lab results provided by company
If you're not picky about branding or statistics, look no further than the Amazon Basics Full Synthetic Motor Oil. A 5W-30 oil is pretty middle-of-the-road as far as oil ratings go, so this one is definitely formulated for mass appeal.
Produced by Warren Distribution like several other name-brand motor oils, you can count on the quality of Amazon Basic's oil to meet your needs. The reviews are overwhelmingly positive, and for someone without high-performance or other specific needs this is a great option for an affordable, full synthetic oil.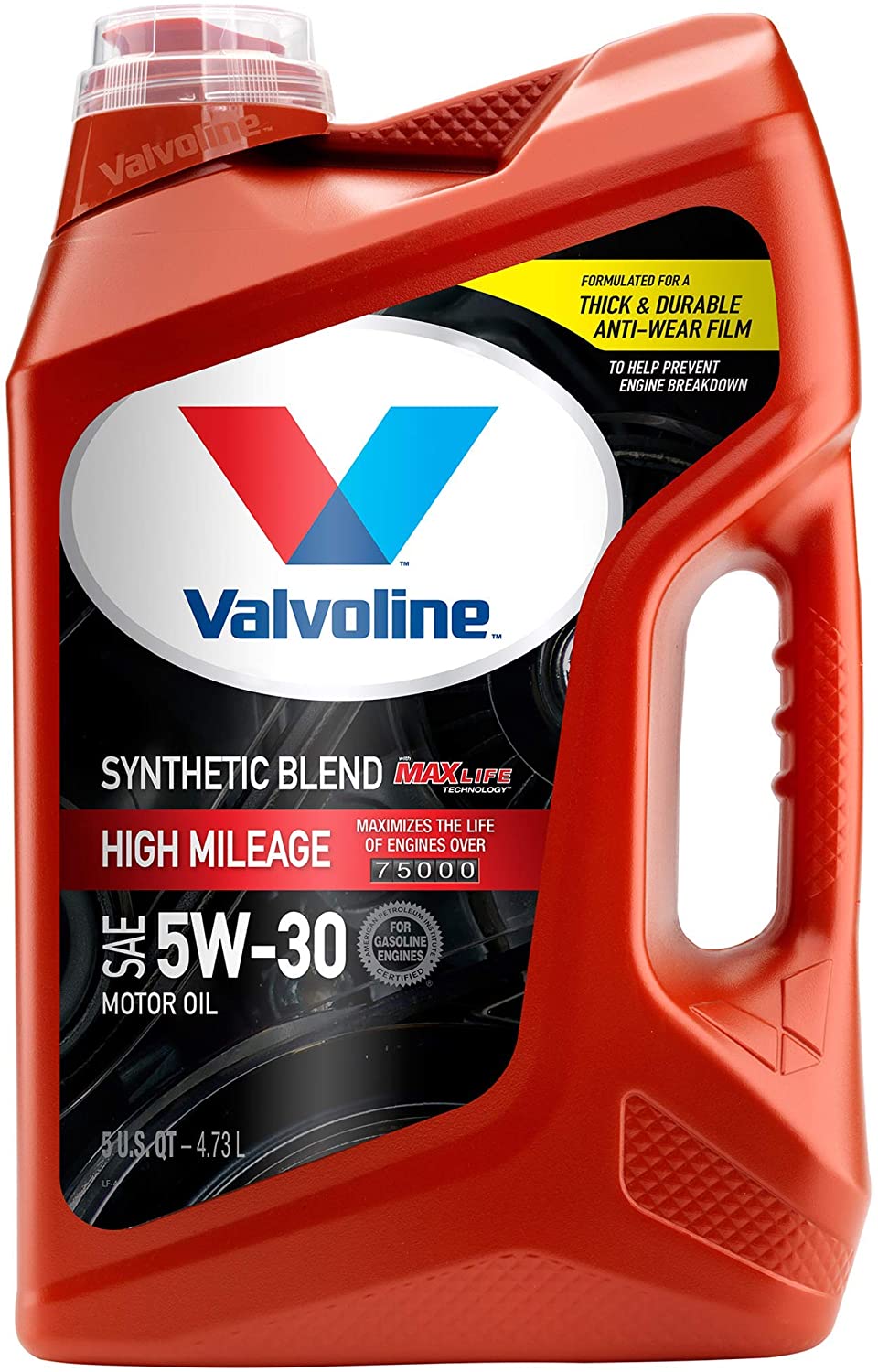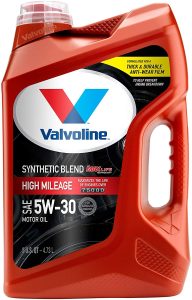 Pros: Affordable, high mileage blend, conditions seals to repair leaks, works well with older engines, resistant to oil breakdown and sludge formation
Cons: Not full synthetic
If you don't fall into any of the above categories and are just looking for a strong, all-purpose option, Valvoline High Mileage motor oil is a great fit for you. While it is marketed as a high mileage oil, it works well in any age of vehicle and will keep your engine clean and pristine for the long haul. 
Unfortunately it is not a full synthetic oil, unlike the rest of the options on our list today. This means that there are some mineral oil components as well, but the formulation is ideal for those switching over to an eventual full synthetic as it will help ease the transition. 
This oil helps out older engines by conditioning the internal seals to prevent breakdown in the material. This means that you'll have a much lesser chance of oil leaks and your engine parts will last longer without replacement. It also keeps older engines running well by breaking up oil deposits and cleaning out sludge.
Antioxidant technology will keep the oil from breaking down too quickly, which in turn keeps it flowing smoothly and reduces the risk of clogs and deposits forming.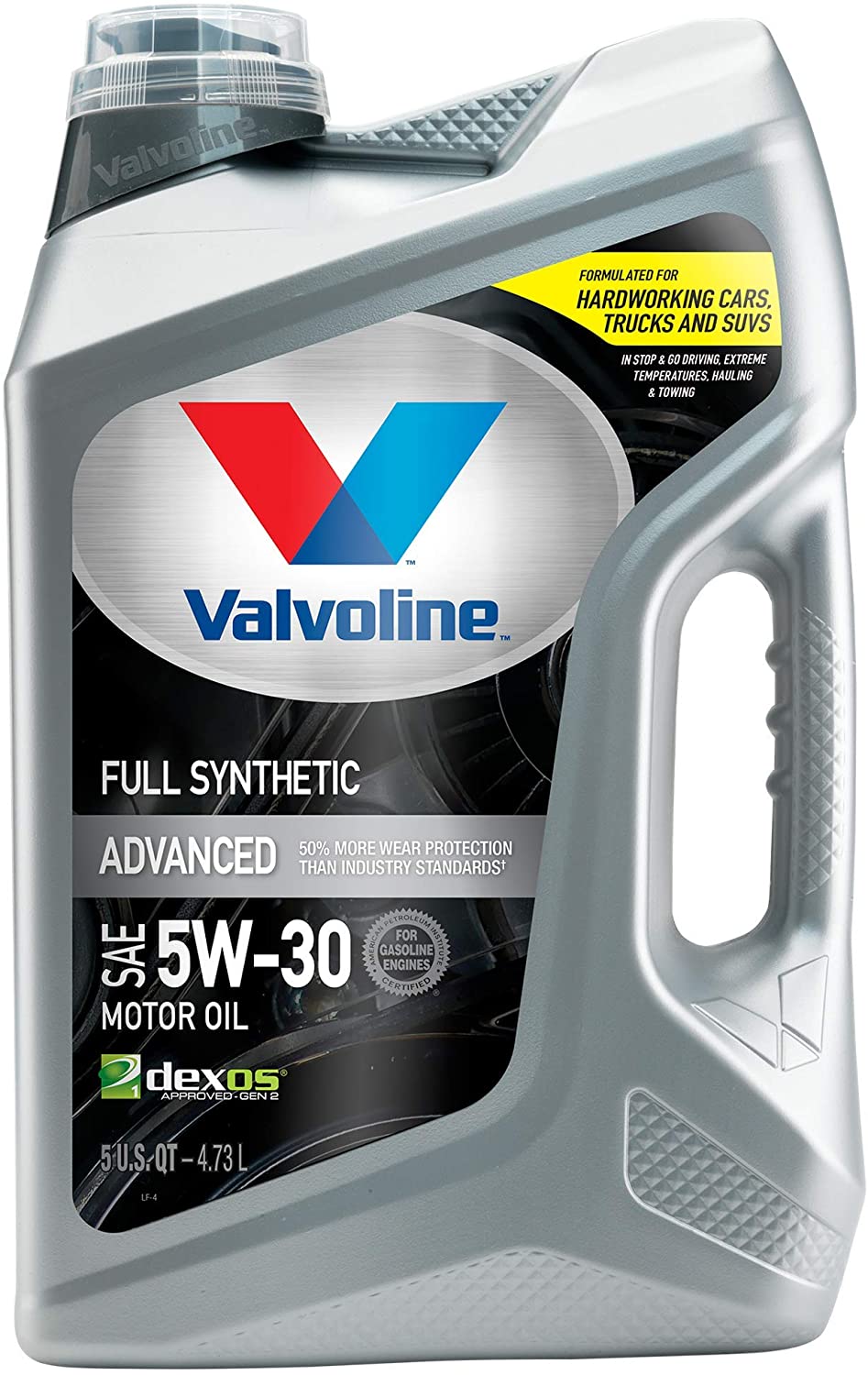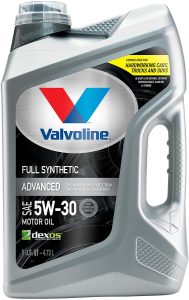 Pros: Strong, all-purpose option, keeps engine clean, great temperature range, maintains optimal fuel efficiency, compatible with all synthetic and conventional oil
Cons: Not as ideal for high mileage vehicles
Another very strong all-purpose motor oil, Valvoline's Advanced Full Synthetic 5W-30 is an affordable yet premium formulation designed to keep your vehicle running smoothly for a long time. While not as ideal for older vehicles as some of our other options, as it does not have specific seal conditioning features, it will still work well with vehicles of any age. 
I recommend this oil as a lifelong choice for any owner of a compatible vehicle. It will help you maintain engine cleanliness throughout the life of the vehicle and will keep sludge and deposits to a minimum. While all synthetic oils act have engine cleaning properties, this one offers up to 50% more wear protection than required by industry standards.
This is a smaller detail, but I appreciate the bottle's smart design. No one likes the hassle of dealing with a big, glugging bottle of oil, so it's nice that this one features a precision spout and an "anti-glug" tube to keep things from getting too messy. It's also compatible with all major synthetic and conventional oils, making it a nice low-maintenance transition in case you're in the process of switching brands or oil types. 
Pros: Strong engine cleaning properties, full synthetic, cleans pistons, great fuel economy enhancer
Cons: Does not condition older seals, not for European cars or extreme performance
If your engine needs a bit of a reset, consider opting for a motor oil that has an enhanced ability to clean. Pennzoil's Platinum Full Synthetic 5W-20 oil is highly recommended for those with suspected oil deposits or sludge buildup. It has been shown to greatly enhance engine performance and keep things deposit-free. 
Pennzoil's Platinum series oils have been extensively studied and often exceed industry standards and requirements. They've even been shown to help drivers get up to an extra 550 miles per year, which is very impressive. 
They also perform very well in both hot and cold temperature extremes. When studied, it was found that Pennzoil Platinum oils flowed faster in the cold and evaporated slower in the heat. If you live or travel to anywhere with frequent temperature extremes, having this level of performance is a must. 
Sadly, this oil is not the best for older vehicles as it does not condition seals. Having older seals that aren't properly conditioned can lead to leaks over time. It is also not designed for high-performance or European cars.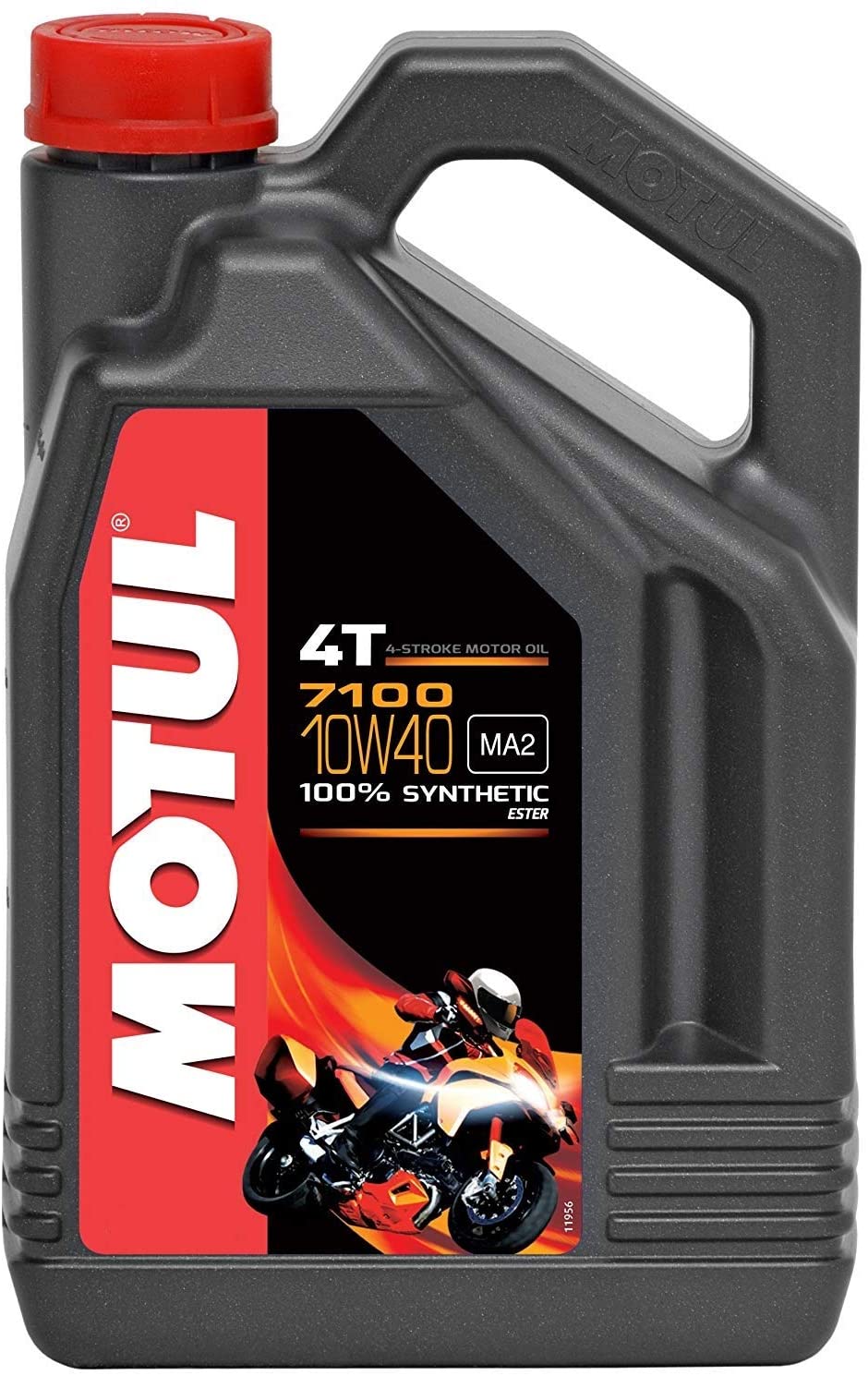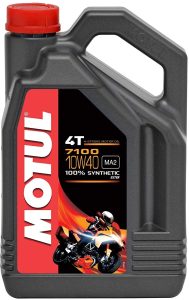 Pros: Works with 4-stroke motorcycles with catalytic converters, ester technology, specially designed extreme pressure formula, anti-wear additives
Cons: Pricey, only for specific motorcycles
Motul actually developed the first full synthetic motor oil over 50 years ago and has since been a pioneer in an industry that is moving increasingly away from conventional oil. Their 104092 Synthetic Engine Oil is designed for a very specific category of motorcycles: 4-stroke with catalytic converters. 
Motorcycle engine oil can be a finicky thing, so it is good to know that you're opting for a brand that literally invented modern engine oil. This 100% synthetic ester-based oil works for dry or wet clutch as well as those with or without an integrated gearbox. It has low volatility and low friction, resulting in a smoother ride and a longer oil life. This oil is also great for reducing engine wear while maintaining maximum power output. 
Conclusion
Hopefully this article has cleared up some of the confusion surrounding the plethora of synthetic oil options on the market today. After determining the suggested oil weight range provided by the manufacturer of your vehicle, be sure to ask yourself the following questions:
How does this oil weight fit in with the climate where I currently live?
Is this oil designed for the current level of wear-and-tear that my vehicle has?
How well will my vehicle perform and meet my needs with an oil of this viscosity?
After this short questionnaire and referencing the reviews above, you should be well on your way to purchasing your next synthetic motor oil!