Whether you take your vehicle to a mechanic or perform your own maintenance, you've probably heard varying advice regarding which oil filter to use. As with most products, almost everyone has a different opinion as to which one is best. 
When choosing an oil filter for yourself, there are a few important factors to consider. Not all oil filters are created equally, and not all of them will work with every car manufacturer or oil type. 
Filtration media refers to the material that is actually doing the dirty work- filtering the oil. There are two main types of filtration media: cellulose and synthetic fiber. Cellulose is a plant fiber (typically wood) and has been the popular choice for filtration media for quite some time. It is inexpensive and does a pretty good job at filtering. 
Synthetic media, on the other hand, is a newer material that does a much better job. It has consistent pore size, meaning that the holes in between microscopic strands of material are similar in size. This allows the micron size, or the smallest particle that it can filter out, be calculated more precisely. It also does not absorb water or break down due to high temperatures or chemical degradation, unlike cellulose. It is often found in many "high performance" oil filters. 
An anti-drainback valve is a critical feature of any oil filter. When the engine is turned off, oil is prompted by gravity to return to the lowest point in the system that it flows through. In this case, it could mean unfiltered oil or accumulated debris re-entering the engine. This is obviously not what we want, which is why an anti-drainback valve is so important. Another reason is that they keep the oil filter full at all times, helping you avoid a potentially damaging "dry start". Typically made of silicone or rubber, these valves close to prevent the backwards flow of oil out of the filter. 
Body construction and material of the oil filter itself are also important to consider. As expected, more durable (and often expensive) materials tend to perform better and last longer. They hold up to much more wear and tear over time, making them a solid investment for someone looking for better engine longevity. As with many purchases, saving money in the short term does not necessarily mean you'll save money in the long term. Skimping on filter material or quality today could mean expensive maintenance down the line. 
Vehicle compatibility isn't typically a huge issue, but it does bear mentioning. It isn't ideal to invest a lot of time deciding on an oil filter only to find out that it isn't compatible with the make and model of your vehicle. Most car manuals will have filter compatibility listed just as they would with oil weight compatibility. If in doubt, you can call the dealership, manufacturer, or a trusted mechanic to get the best brand or type recommendation. 
Oil type compatibility is another detail that is worth mentioning. Again, you wouldn't want to do extensive research on an oil filter that won't even work with the oil you use. Many modern oil filters work with both synthetic and conventional oil, but some only work with one or the other. Be sure to double check before finalizing any purchases. 
Top 10 Best Oil Filters 2020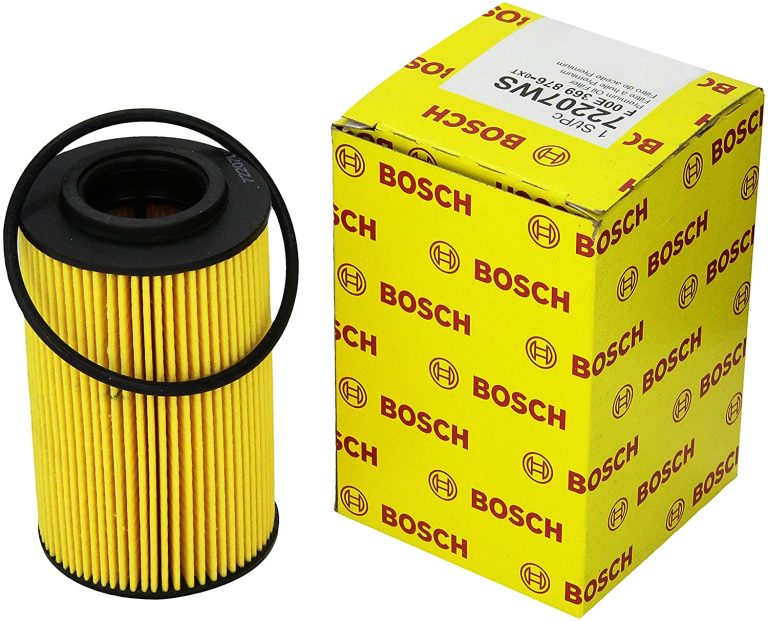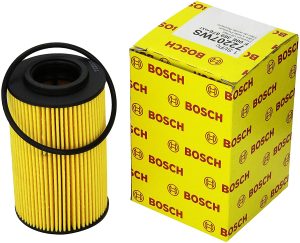 Pros: Steel baseplates prevent warping and leaks, anti-drainback valve, easy removal
Cons: Cellulose media not as effective as synthetic, somewhat expensive
A trusted household name across the hardware spectrum, Bosch has been known to produce high-quality products and has a great reputation in the industry. Their 772207WS Workshop Engine Oil Filter is a solid, if slightly pricey, option. 
Recommended for use with Castrol brand motor oil (as with all Bosch filters), this engine oil filter uses a proprietary media formulation that screens out an impressive 97.5% of contaminants that would otherwise go on to harm your engine. Its strong steel baseplates mean that it won't wear out easily. They are also resistant to warping under high heat and prevent the system from leaking. 
The anti-drainback valve is made of silicone, a highly durable material, even under high temperatures. It forms a tight seal with the to ensure that clean oil is flowing as soon as you start your vehicle. Their great "high lubricity" gasket forms a tight seal that keeps the unit in place but doesn't make it difficult to remove if needed.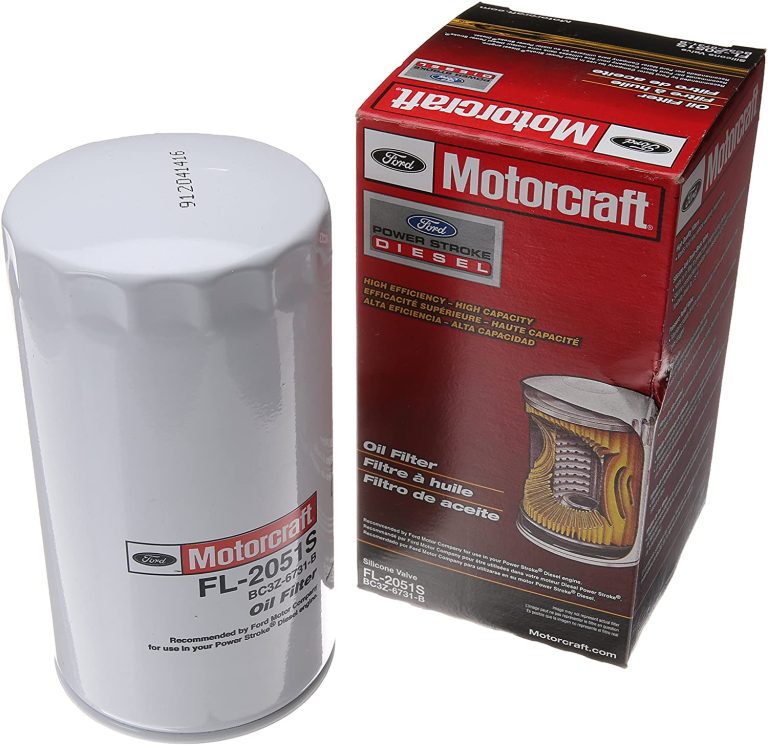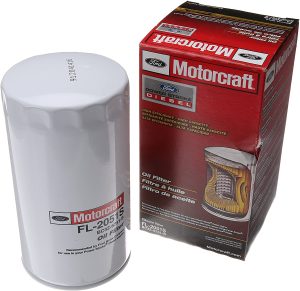 Pros: Silicone anti-drainback valve, pressure relief valve, steel case
Cons: Slightly pricey, unspecified filter media
Backed by Ford Motor Company, Motorcraft's filters are extremely popular and high quality products. Their FL2051S Oil Filter is compatible with many Ford diesel engines and is the number one choice amongst many truck owners. 
Something that makes this filter stand out is that it has an incorporated pressure relief valve, unlike many competing options. This helps to reduce the chance that unfiltered or contaminated oil re-enters the engine in the event of a malfunction with the filter. It is also a benefit in colder temperatures when oil is much thicker and doesn't flow properly, especially when the vehicle is just warming up or if the filter is clogged. 
Its steel body is ironed for a snug fit, and it even has a rust-resistant coating. The center tube is also made of strong steel and is perforated to help avoid collapse. The silicone anti-drainback valve is much more durable than nitrile or natural rubber and is less likely to become brittle with aging or temperature changes.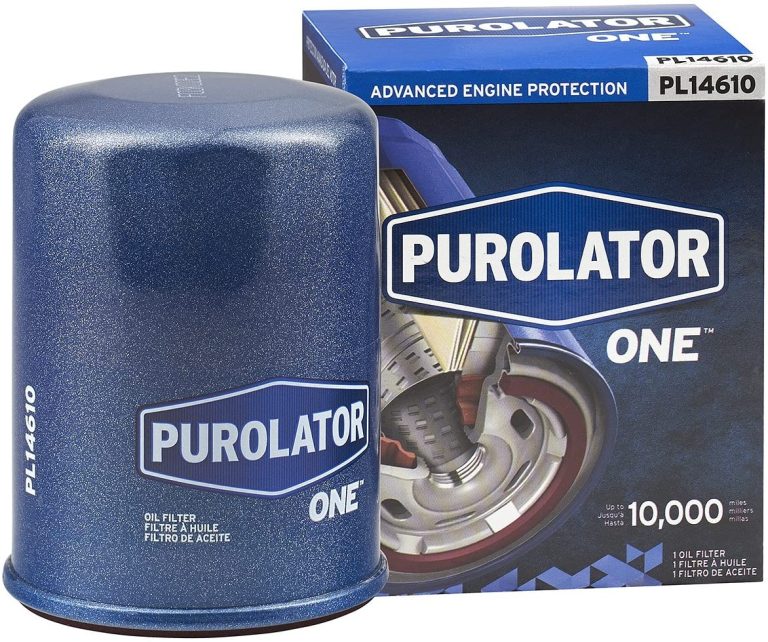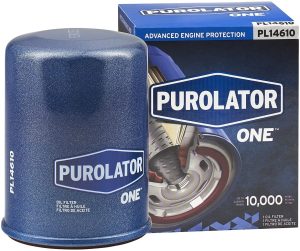 Pros: Up to 99% dirt removal, synthetic filter media, silicone anti-drainback valve, PTFE coated gasket
Cons: Best with synthetic oil, not for extreme climates or frequent towing and hauling
Purolator manufactures a wide range of motor oil filters, each with their own special features and lifestyles with which they align. The Purolator PL14610 is ideal for most everyday users, especially those who use full synthetic oil. It uses a very high quality high density synthetic blend media that is able to filter out up to 99% of dirt particles, which is amazing. It does work best with full synthetic oil, so users of conventional oil may not get these results. 
Its silicone anti-drainback valve is superior to traditional rubber or nitrile ones as it won't become brittle over time and is much more wear and temperature resistant. I personally love the PTFE-coated gasket. It has a nice, high quality feel, repels water, and is very resistant to high temperatures. It makes changing out the oil filter easy when the time comes and keeps everything securely attached in the meantime. 
A step up from standard Purolator oil filters, the PurolatorONE is a great option for those looking for a more secure fit and enhanced filtering ability.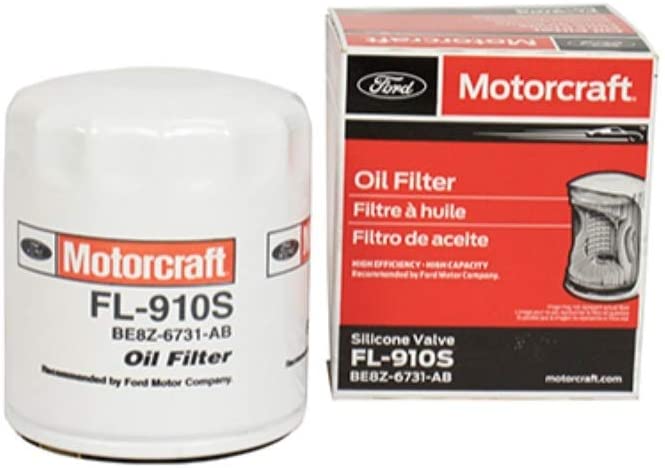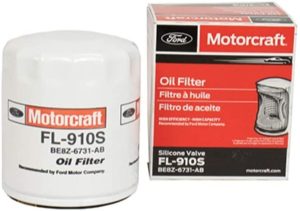 Pros: Pressure relief valve, ironed steel case, highly efficient filter media, backed by Ford, affordable
Cons: Filter media not listed
Motorcraft is widely considered to be a "factory replacement" oil filter for many Ford Motor Company vehicles. As such, it has a high reputation to uphold. The Motorcraft FL-910S is similar to the previously mentioned FL2051S except that it works in traditional gasoline engines instead of diesel. 
Like its diesel counterpart, I really appreciate that this model includes a pressure relief valve. Unfortunately, so many other options on the market have excluded this crucial feature. It minimizes the potential for contaminated oil to flow back into the engine. It also ensures that the oil chamber remains full at all times. This is incredibly important, especially in the colder months, where oil needs to warm up in order to flow. 
Its silicone anti-drainback valve is higher quality than some of the cheaper rubber or nitrile oil filters on the market. Also, its steel body means that it is resistant to warping and won't collapse easily under pressure. Unfortunately, Motorcraft doesn't list the filter media that this oil filter uses.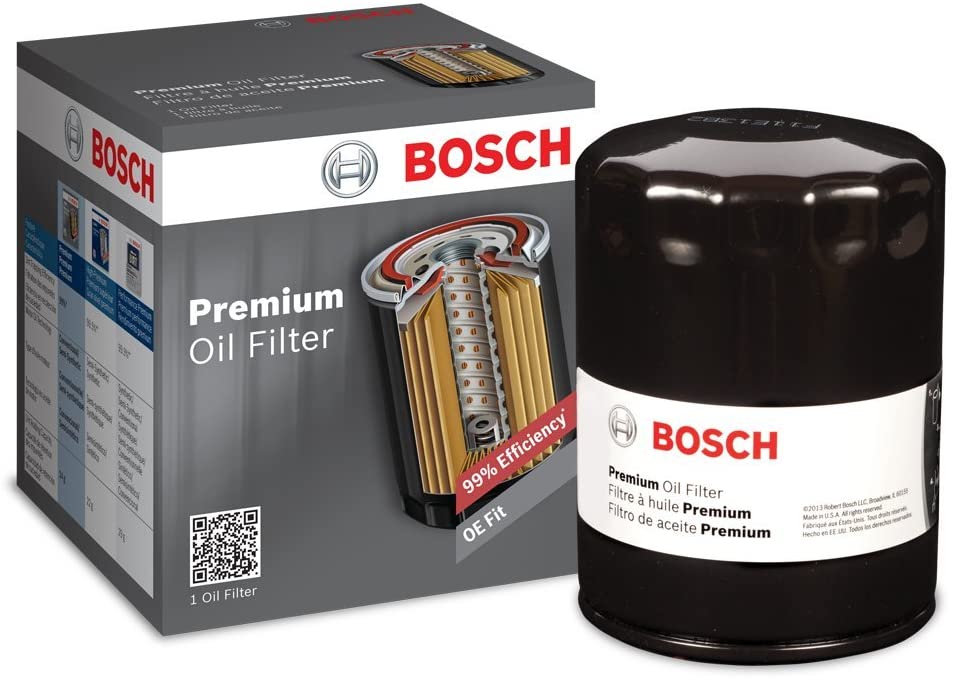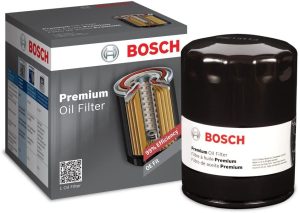 Pros: Advanced Filtech media technology, strong steel base plates to prevent warping, silicone anti-drainback valve
Cons: Only for certain Acura, Honda, and Nissan models
Another well-established Bosch filter, the 3323 Premium Filtech Oil Filter uses a blend of natural and synthetic filter media to provide enhanced oil filtration and protect your engine against wear and tear. 
Bosch's filter material even has a significantly larger area than many competitors, in some case up to 42% larger! It is also up to 30% thicker than other filters, meaning it has a much better chance of catching finer particles and keeping your oil cleaner for a longer time period. Bosch reports that the filter media can be up to 99.8% efficient, which is very impressive. 
The body of the filter is constructed exceptionally well, and its strong steel base plates protect the unit from warping or buckling under heat and pressure. The anti-drainback valve is made of silicone, which won't become brittle or dry over time. Bosch's filters meet all OEM requirements, so you can rest assured that your product has been made to the highest standards. 
Pros: Up to 99.6% efficacy, multi-pass efficiency, synthetic blend media, huge contaminant holding capacity, high pressure resistance, silicone anti-drainback valve
Cons: Best results with Mobil 1 oils, conventional oils will have less contaminant capture efficacy
The Mobil 1 M1-110 Extended Performance Oil Filter is a fantastic choice for those looking to get a lot out of their motor oil filter. While not strictly necessary for the everyday commuter, this filter will provide a noticeably enhanced oil life, fuel economy, and more. Reaching up to 99.6% filtering efficiency, this product is truly a powerhouse. 
The synthetic fiber blend media keeps things cost effective while also providing maximum filtering capacity. This filter has an enormous contaminant holding capacity of up to 28 grams, which is more than twice that of competing filters. What this means to consumers is a much longer filter life and many fewer changes over time. 
It withstands up to nine times the standard operating pressure to provide exceptional protection from breaks or ruptures. Its silicone anti-drainback valve is top of the line and, while it can be used with any oil, users will get the best results using Mobil 1 synthetics.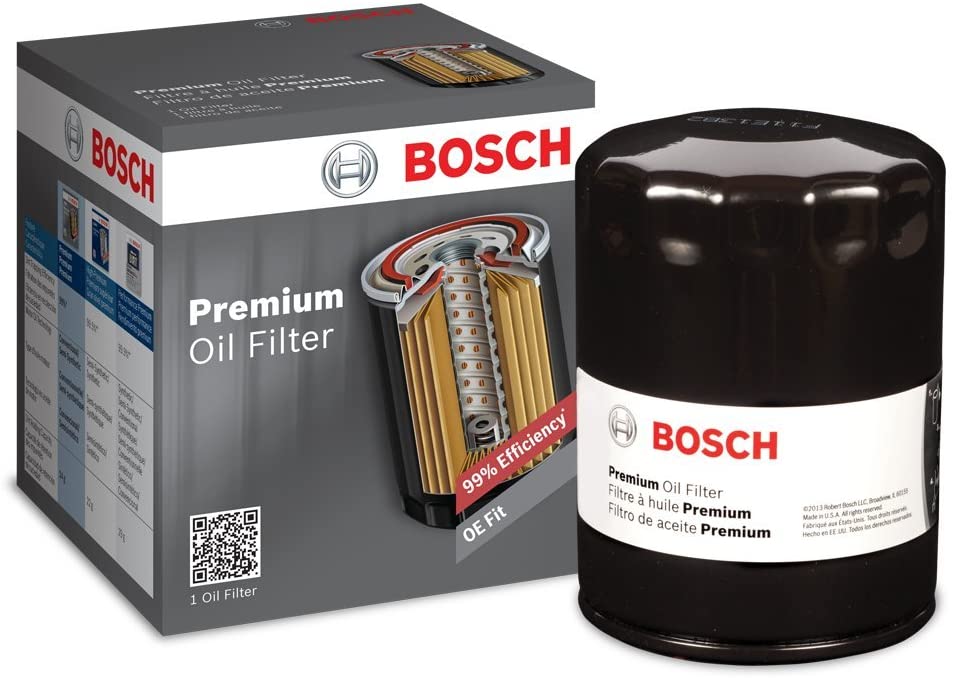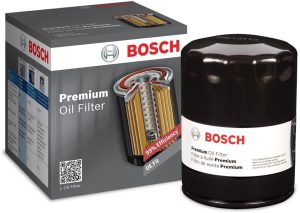 Pros: High lubricity gasket design keeps things sealed tightly and can be removed easily, strong base plates and steel housings, high glass content filtering media, up to 99% efficacy
Cons: Only for use in certain Audi, Ford, Lexus, and Lincoln models, nitrile gasket
Similar to the Bosch 3323 Oil Filter, the 3330 Premium Filtech Oil Filter displays tremendous oil filtering efficiency and superior construction to make an overall great product. Its filtration media has a high glass content, meaning it is more resistant to chemical breakdown, withstands higher temperatures, and has a consistent particle size. These all contribute to its high filtering efficiency of up to 99%!
The high lubricity gasket design maintains a tight seal between the body of the filter and your engine, although I do wish that it wasn't made of nitrile which is prone to becoming brittle over time. The filter works well with all oil types and features an easy to use spin-on design.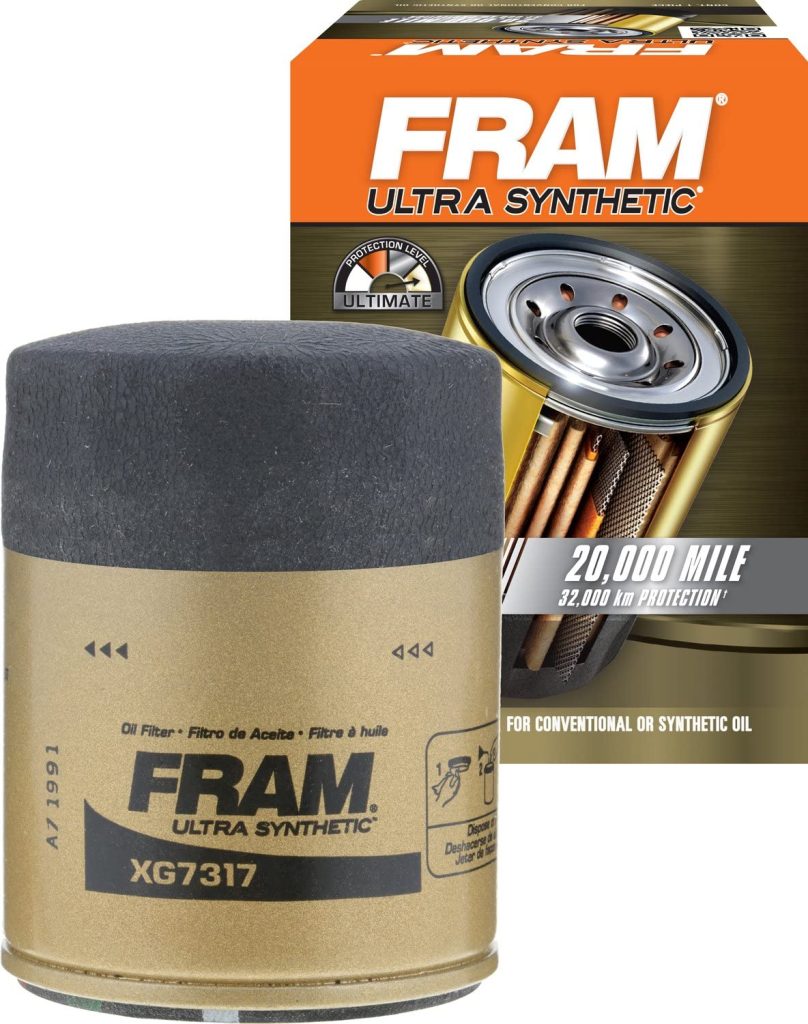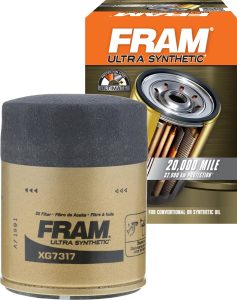 Pros: Dual layered synthetic media traps particles much better than single layer, SureGrip makes changing filters easy, 99%+ dirt removal efficiency, glass fiber reinforced nylon relief valve
Cons: Only worth it if using full synthetic oil
FRAM is another brand that has a great reputation in the world of oil filter products. They manufacture different lines of oil filters specifically designed to meet the needs of a certain type of consumer. The FRAM XG7317 Ultra Synthetic Spin-On Oil Filter is for those looking to get the absolute most out of their full synthetic motor oil. It has truly been designed to the highest specifications and thoughtfully made to extend the oil life of any full synthetic even farther. 
This filter employs a dual layered synthetic media, giving it twice the opportunity to trap harmful particles. These two layers are then reinforced by strong metal screen traps to hold in larger particles and further extend the life of the filter itself.
It has a creatively designed precision coil spring with a glass-fiber-reinforced relief valve to keep things from backflowing into the engine. The SureGrip coating on the outside of the body of the filter makes it super easy to change and reduces slipping significantly. Unfortunately, this filter really only makes sense for users of full synthetic oil.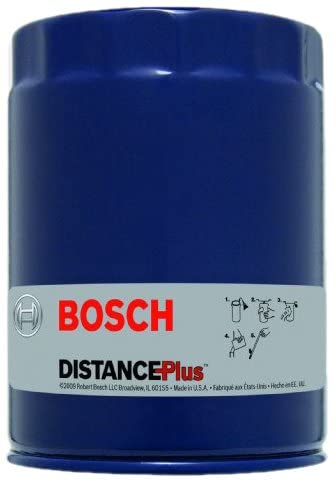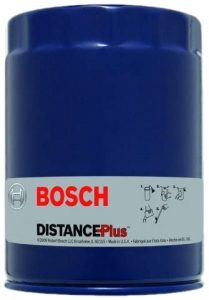 Pros: Synthetic fiber media enhances filter and oil life, reduced engine wear, heavy duty case increases durability and burst resistance, steel plates are up to twice as burst resistant, silicone anti-drainback valve
Cons: Might be overkill for some
By far one of the heaviest duty options on our list today, the Bosch D3330 Distance Plus High Performance Oil Filter is the "big brother" of the previously mentioned 3330. This is a filter that is built to last and to give you the most prolonged oil life possible. 
Using a synthetic fiber media instead of a blend or natural media means that this filter is up to 99.9% effective at removing dirt! In fact, it has a 300% greater capacity than other filter media. In the long run, this means less engine wear for your vehicle. Its heavy duty steel body is resistant to bursting, and its steel plates are twice as strong as other models. In my opinion, this filter is well worth the money, especially considering that the price differential between it and some lower grade models is negligible. That being said, it may be overkill for some users.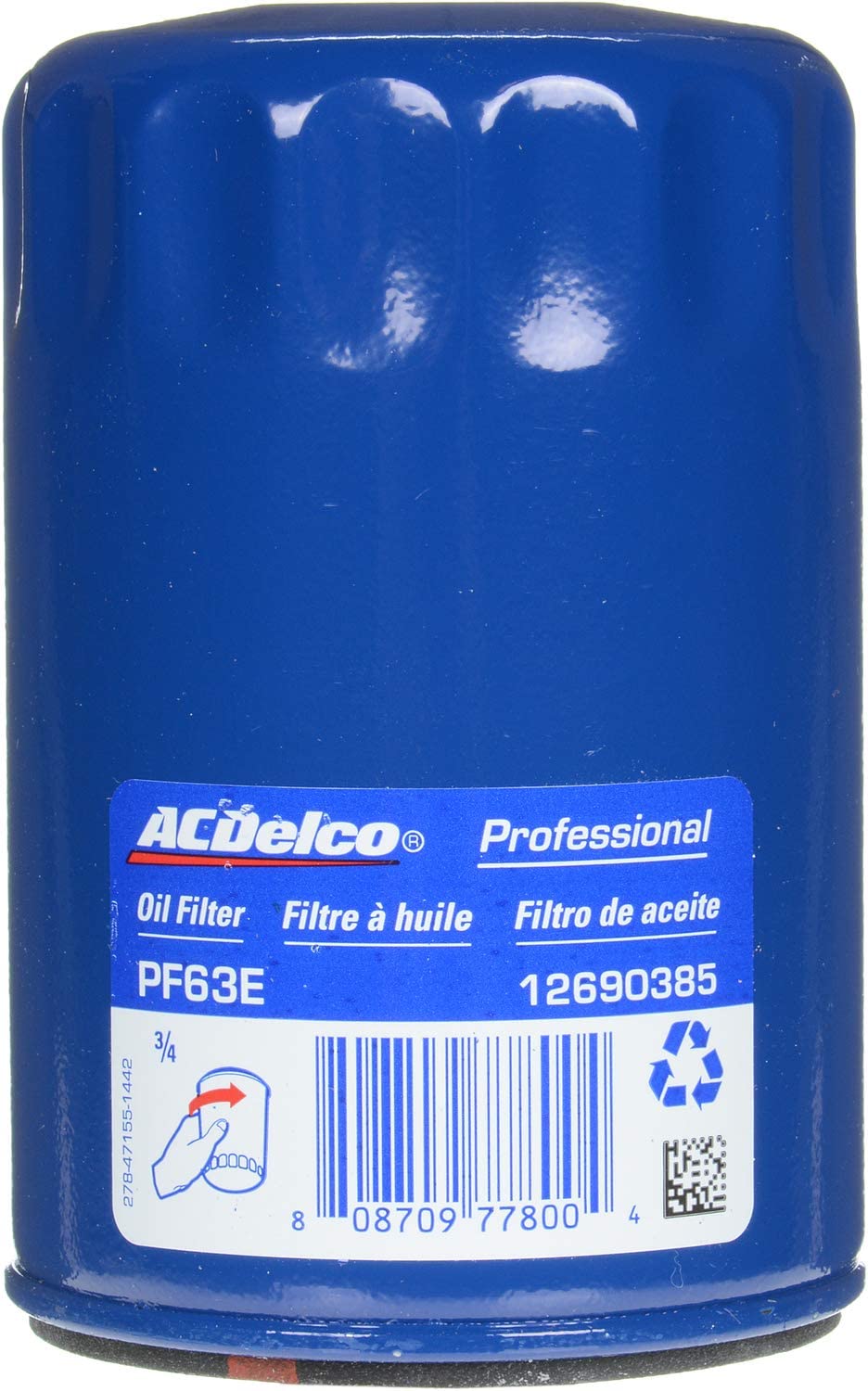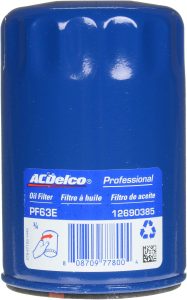 Pros: Heavy duty, very environmentally friendly, small, great filtration capacity
Cons: Non-metallic cartridge, mainly for GM vehicles but can fit others
One of my personal favorites, the ACDelco PF63E Professional Engine Oil Filter is pretty unique. For one, it is environmentally friendly, which is something you don't see a lot on the fuel industry. Several of its components can be crushed after use to remove the oil and then be recycled into fuel themselves! 
Although it is small, it has a great filtration capacity and actually has 10 times more open area in the core of the unit for improved oil flow. The lubricity gasket makes changing filters a breeze, and the smaller size is less of a hassle to deal with. 
Conclusion
If you don't have mechanic-level knowledge of oil filters or the engine parts surrounding them, choosing one can seem overwhelming. Be sure to keep in mind your car's manufacturer and select a filter that is compatible with your make and model. Consult the owner's manual for recommendations or more information. Don't forget to make note of which oil type your chosen filter is compatible with, as they are not a one-size-fits-all system. 
Remember that you often get what you pay for, and cutting corners on body construction materials can mean a shorter oil life, worse fuel economy, and more. The same often goes for filtration media, as some are rated for much smaller micron sizes than others. Last but not least, please choose a filter with a high-quality anti-drainback valve to save yourself from some costly repairs.