Want a more efficient system for receiving visitors? In this blog, we tell you about our favorite wireless doorbells and help you to understand how to choose the most suitable one for yourself.
The tech industry has witnessed a colossal coup in the past decade. From phones to keyboards to Bluetooth speakers, the number of gizmos which have gone wireless, are countless. Doorbells too, have ditched the cord. Though it has been two decades since wireless doorbells first became available in the market, it has gained traction very recently.
Doorbells are generally overpassed, unless they stop working completely. While traditional doorbells may only notify you when someone is at the door, wireless doorbells offer a lot more.
In case you're not aware, wireless doorbells come with increased hearing ranges, multiple receivers, and useful smart features such as video monitors, motion sensors, mobile apps, volume control, numerous chimes, and night vision. The best part? Installation is a piece of cake. There are no wires involved since most of them are Wi-Fi enabled. This means that you yourself can fix the doorbell without much effort.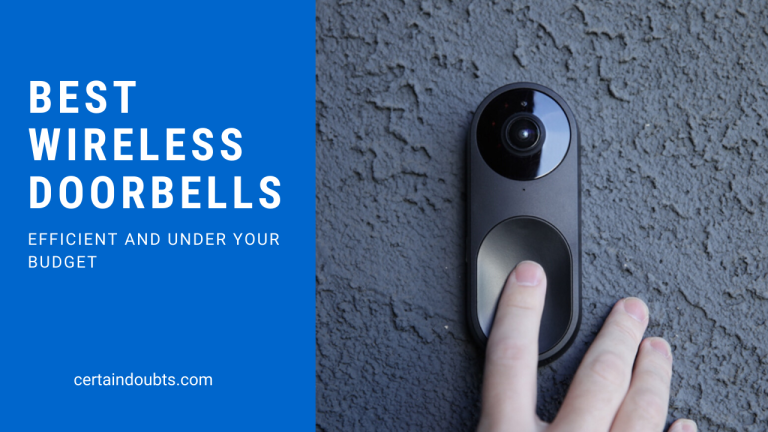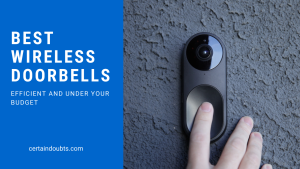 The Best Wireless Doorbells:
We've gone out and picked out our favorite wireless doorbells after thorough research so you wont have to sweat it anymore. Here's the list –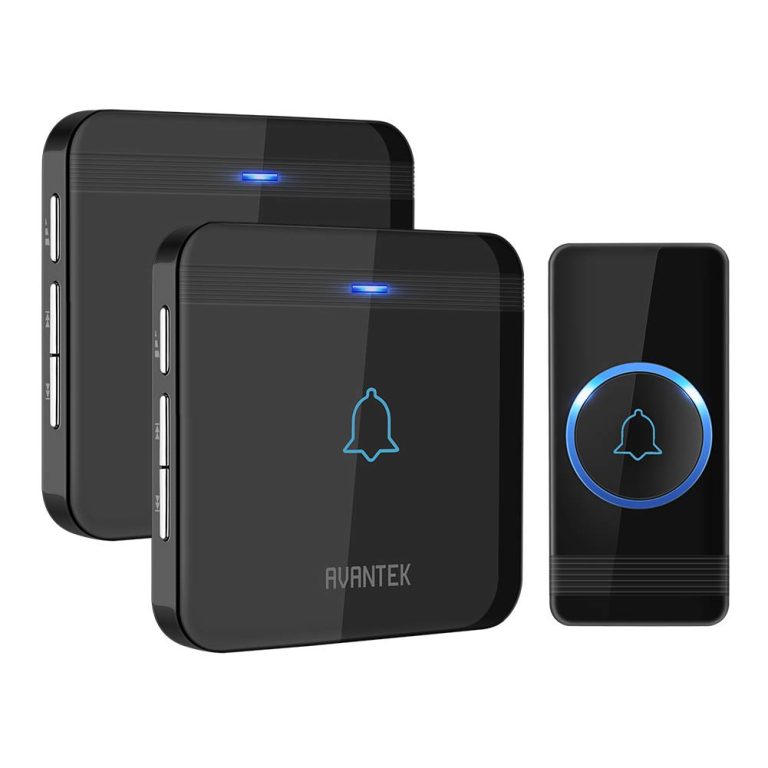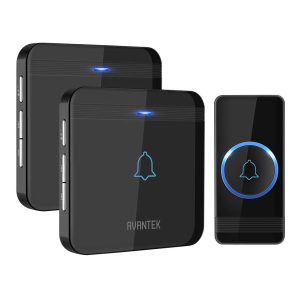 One of the most top-rated wireless doorbells, the Avantek D-3B kit boasts of an operating range of 1300 feet so you'll never miss a doorbell again. It comes with 52 different melodies, 5 adjustable volume levels, 2 sets of receivers that can be plugged into a power outlet directly, LED indicators, lithium batteries (> 3 years' lifespan), and chime storage to save your previous settings. This wireless doorbell is super easy to install and includes 2 screws, 2 anchors, 1 key, and 1 adhesive patch in the package. You can also buy an extra RB-1 receiver for a better coverage. As far as weatherproofing is concerned, the Avantek D-3B is both, dustproof and waterproof, and can work in harsh weather conditions in temperatures ranging from -4∞F to 140∞F. To boot, you get a lifetime warranty with a 45-day money-back guarantee.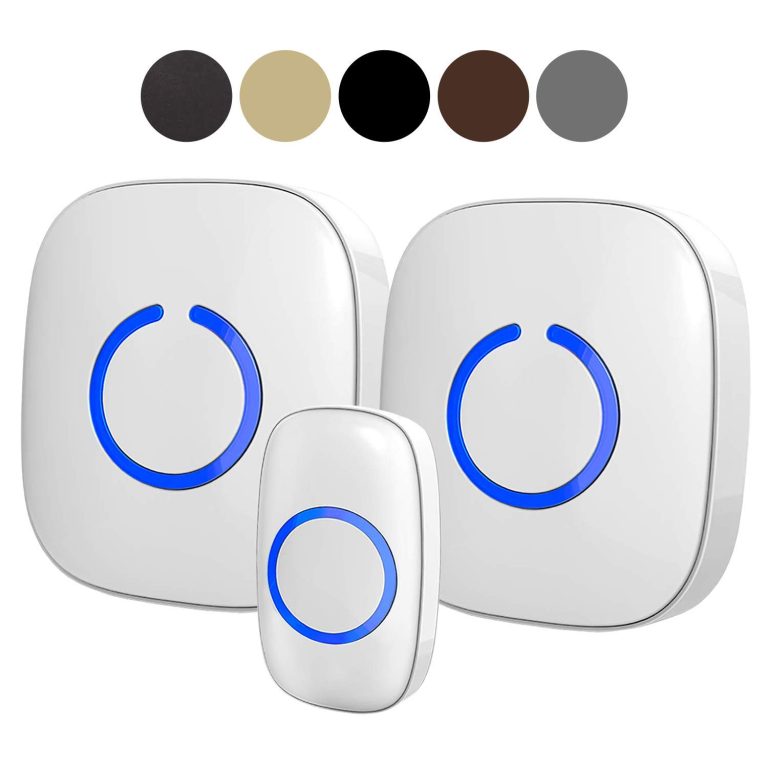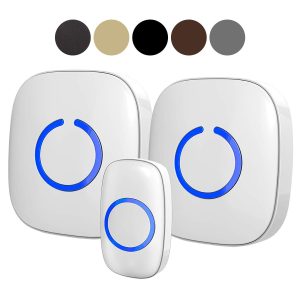 Slightly cheaper than the Avantek model, the SadoTech CXR model is available in 8 different colors and is supplemented with 2 plugin receivers, 50 chimes, 4 adjustable volume levels, 1 push button (weatherproof), and an operating range of 500-feet in an enclosed space and up to 1000-feet in an open space. Additionally, you can also purchase extra mini sensors, waterproof push button, extra receivers, and door sensors. This wireless doorbell is sufficient if you live in a two-storey apartment and want to be able to hear the doorbell ring from all the areas, including the basement.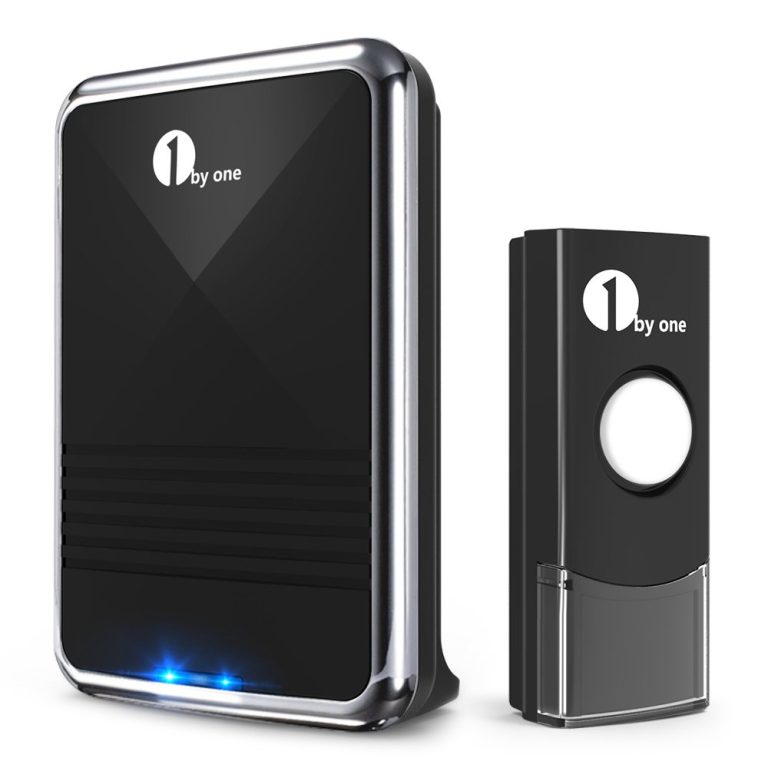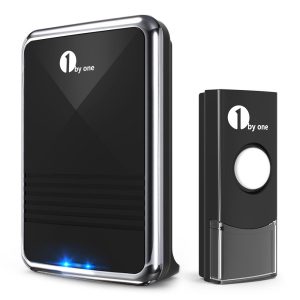 If you're on a tight budget, you must check out the 1ByOne Easy Chime wireless doorbell. Though this product is low-priced, it functions quite efficiently. It offers an operating range of up to 500 feet, LED flash lights, 36 chimes, and 6 levels of volume (adjustable). You also get 3 alert modes namely sound, LED flash, and sound & LED flash. A feature that we really appreciate is that you're allowed to pair additional receivers with the push buttons (up to 5). The best part? This doorbell doesn't require any batteries to run. You can simply affix the push button by means of an adhesive tape, plug the receiver into a power output and voila! In case you're wondering, the 1ByOne Easy Chime is rated IP44 waterproof.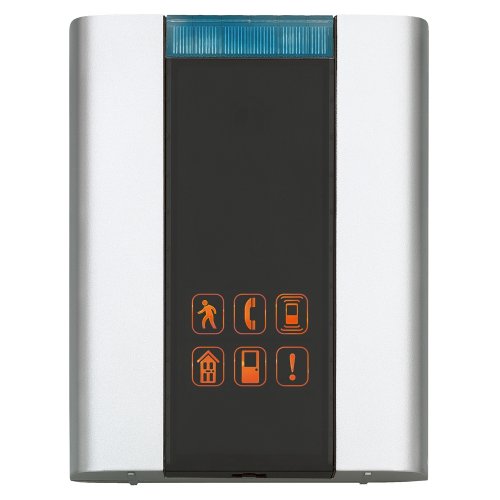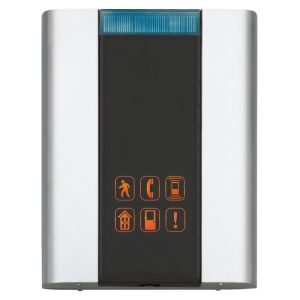 This wireless doorbell model is a hybrid between a doorbell and a security system in that comes with several motion detectors/door contacts which alert you (by means of a video monitor) in case of any movement close to the transmitter. You get 6 pleasant chimes, 6 visual alert icons, self-learning code system to get rid of false alarms, adjustable volume levels, and an operating range of 450 feet. These do run on CR2 lithium batteries which you may need to replace once in a year. To add, you get a warranty of up to one year in case anything goes wrong.
We'd also like you to check out the 9 series model by the same brand, i.e. Honeywell. It comes with features such as downloadable MP3 for chimes, sleep mode & mute to avoid disturbance, 8 high quality chimes, and a portable/wall mount option for installing the doorbell. What we love about this wireless doorbell is that it also sports an illuminated halo (7 custom alert colors) for easy registration of finger-press, LED strobe lights, supports pairing of up to 6 push buttons, and a battery life of about 5 years.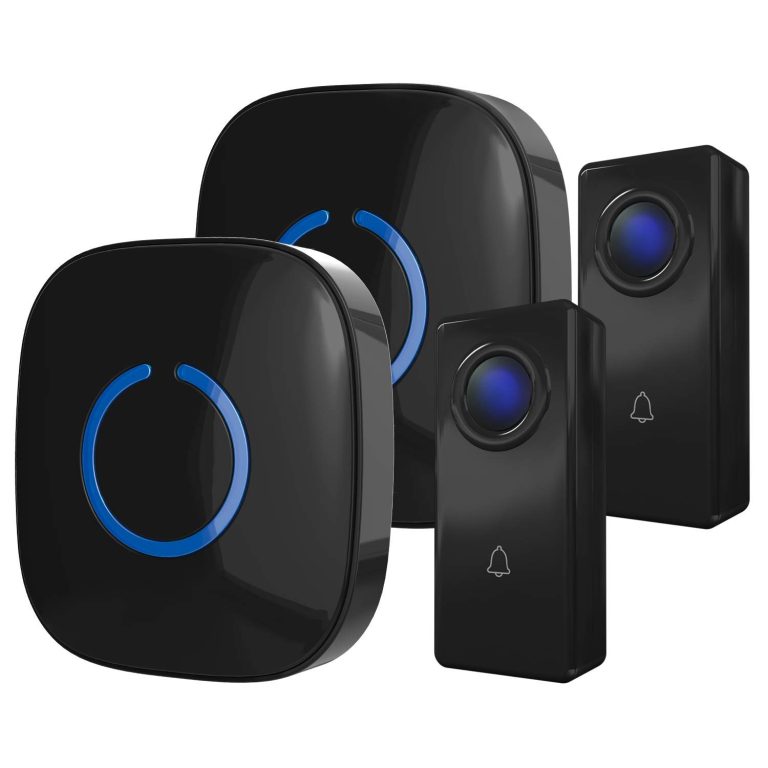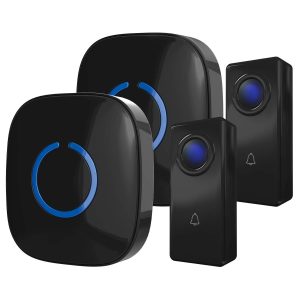 Another well-rated chime kit from the house of SadoTech, this model comes with more than 50 sounds and ringtones, volume adjustment, 500-ft operating range, and plug-in facility (no batteries). What's more? It can pair with up to 20 extra receivers, motion/door sensors, and transmitters that you can buy and customize as per your need. You can either get the base set that comes with 2 sets of transmitters and receivers or go for add-ons such as extra push-buttons, receivers, and on door sensors. The Crosspoint wireless doorbell is available in two colors namely, black and white, and is completely waterproof for that extra protection.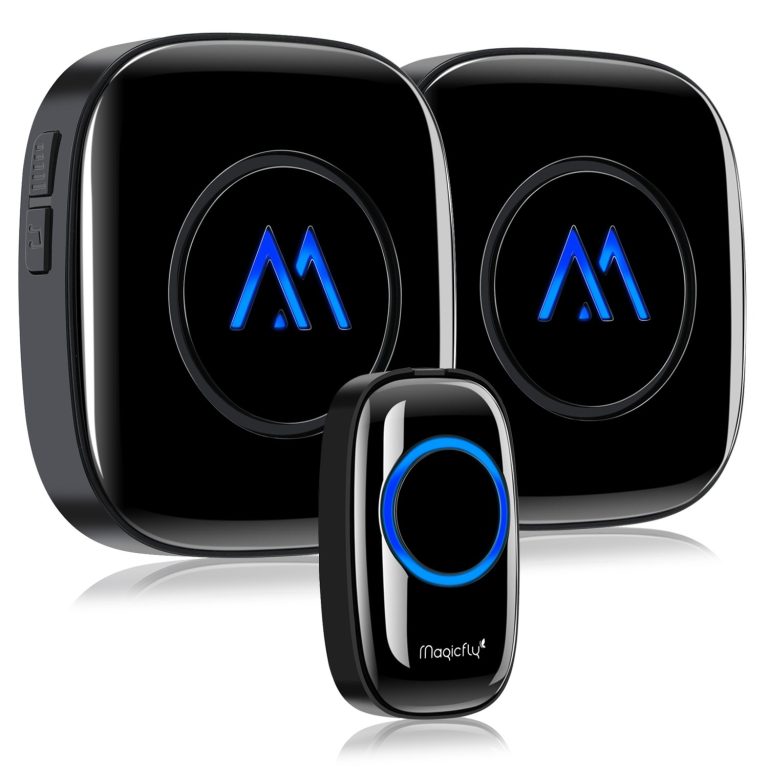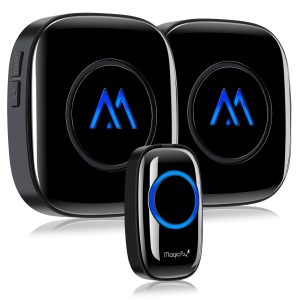 This product by magicfly is slightly more expensive compared to the ones mentioned above. However, it is totally worth spending those extra bucks given the quality and the features. To tell you in brief, this model boasts of an operating range of up to 700 feet, 52 melodies, 4 volume levels (adjustable), a simple DIY installation using screws and double-side adhesives, and IP33 waterproof. The best part about its receiver is that they don't need batteries to perform. Instead, you can plug it into a power outlet. To boot, it already comes with 2 sets of transmitters and 2 sets of receivers which is good enough even for a relatively bigger house.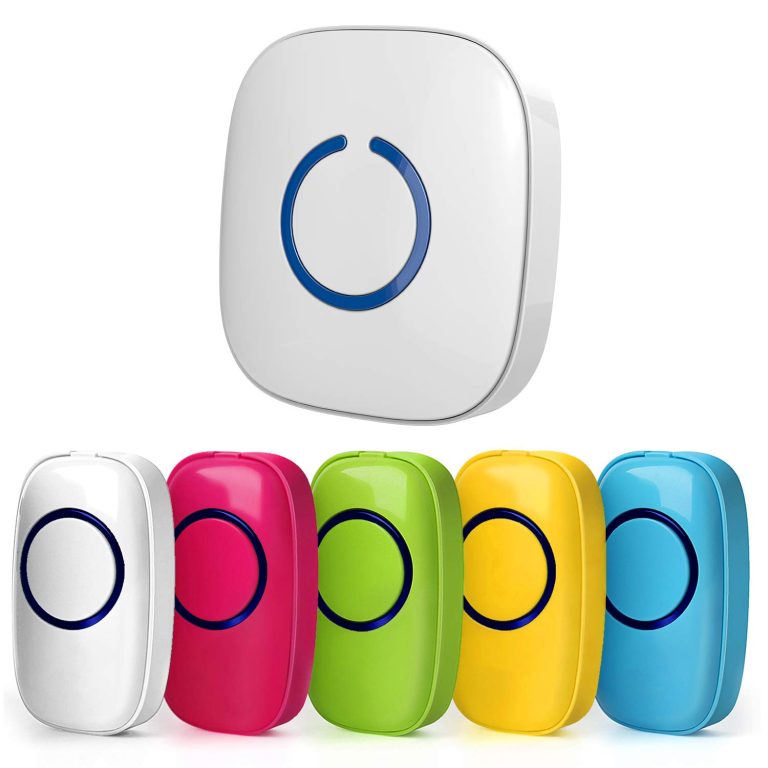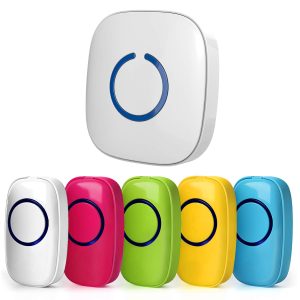 Available in as many as 14 vibrant colors, this reasonably priced wireless doorbell offers a range of more than 500 feet with a rated IP33 weatherproof transmitter to stand up against harsh weather conditions. Furthermore, its receivers can simply be plugged-in, without needing any batteries to operate. Plus, you can choose from over 50 chimes to suit your tastes. The volume of these chimes can be adjusted using 4 different volume levels. This model is ideal for those who live in a small condo as it comes with only 1 set of transmitter and receiver.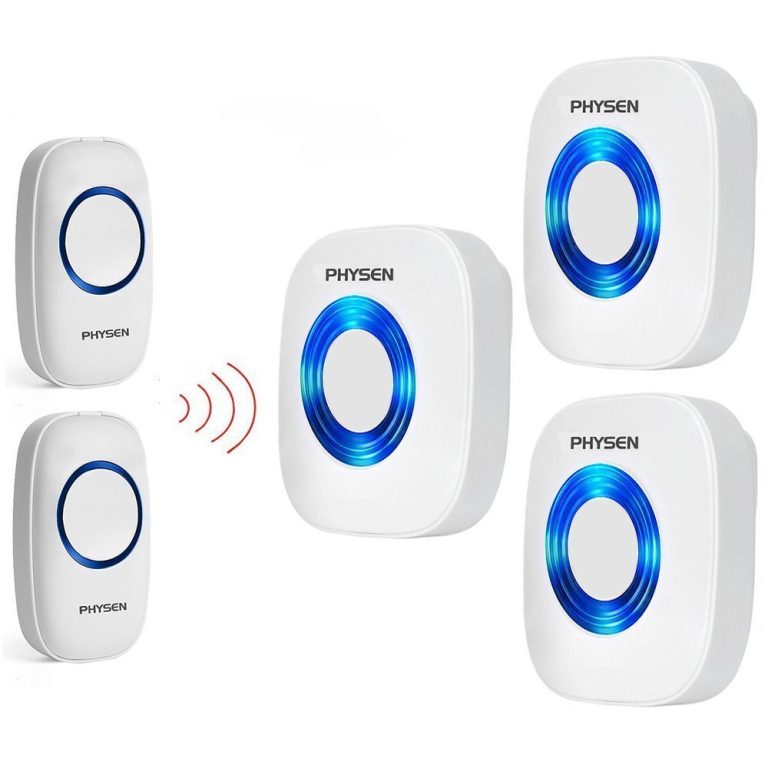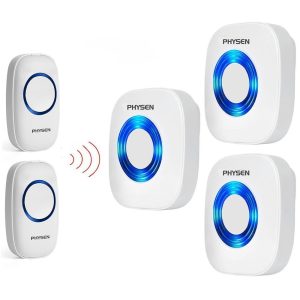 The Physen Model CW is yet another popular product in the wireless doorbell category, and for good reason. This kit comes with 2 transmitters and 3 plug-in receivers while offering a hearing range of up to 1000-feet. You also get 52 chimes supplemented with 4 adjustable volume levels. What we really like is that you can set a different tune for each receiver. Another aspect that we love is that this model offers flash alerts and portability, thereby allowing an elderly member or immobile patient to buzz other family members in case of an emergency requirement. The Physen CW is not only easy to install but also weatherproof.
Let's have a look at some of the important factors to consider when buying a wireless doorbell.
Buyer's Guide:
When you go out to shop for a wireless doorbell, you'll notice that the options are endless. Hence, it can be quite perplexing to decide which is the most suitable one for you. But don't worry! We've put together a detailed buyer's guide that covers all the aspects one must keep in mind when making a selection:
Chime Choices & Volume –
A doorbell chime is how you will be alerted that you have a visitor. If you are stuck with only one sound that you dislike, you would be mad each time you had a guest. This can get quite annoying in the long run, so even though it may seem like just another frill, but is actually quite important to look into.
Some wireless doorbells offer multiple chimes while many others also give you more customization options such as recording your own voice and downloading your favorite songs.
However, if you're satisfied with only a few basic sounds, you can look for a wireless doorbell that offers just that.
Speaking of sounds, we often tend to overlook an important factor, i.e., volume control. If you're a light sleeper or have a baby in the house, you may want to go for a wireless doorbell that allows you to adjust the volume level so that you remain undisturbed.
Hearing Range –
The hearing or the operation range refers to the farthest distance up to which the radio signals can reach. In simple words, how the maximum distance from where you can hear the doorbell within the premises of your house, open areas, or a commercial property. Wireless doorbell manufacturers offer a transmission range of anywhere between 100 feet to 1000 feet.
If you live in a small condo or a studio apartment, a wireless doorbell with 100-150 feet range should be good enough whereas if you live in a big house with a backyard, you may want to go for a doorbell that can transmit sound between 300-600 feet. Wireless doorbells with about 1000 feet range are ideal for open spaces and commercial buildings.
Keep in mind that the claimed range may not be accurate as the transmission is affected by obstructions such as brick walls. It is best to deduct 25%-30% from the range quoted by the manufacturer to obtain an exact figure.
Smart Features –
Usually, we ask our readers to keep away from unnecessary frills as it increases the overall cost of the product. However, in case of wireless doorbells, we would suggest that you go all out because the bells and whistles that usually come with this product are seldom futile.
Few of the most useful smart features are mobile app connectivity, motion sensors, infrared lights, video monitors, self-learning frequency code facility, flash signals, and intercoms.
Let's glance through these features in detail –
Mobile app connectivity: You must check how quickly and efficiently can the mobile app of a particular doorbell manufacturer can perform the claimed functions. These functions include visitor alert, visit recordings, audio communication, and camera viewing.
Motion sensors: This particular feature takes the security level up by one notch. It notifies you whenever there is someone too close to your door by means of lights.
Infrared Lights: Infrared lights assist guests to locate where the push button is. There are also LED lights which indicate whether the doorbell has been pressed correctly. 
Video Monitors: I can't even count the number of times I've avoided guests whenever they have come over unannounced. Video monitors allow you to see who is at the door before you decide to let them in.
Self-Learning Frequency Code Capability: As you may already know, wireless doorbells send radio frequency signals to the receiver so as to alert you in case of a visitor. Its important to remember that you buy one that comes with self-learning frequency code facility; otherwise, your doorbell could ring even when its your neighbor who actually has guests over.
Flash signals: Many a time, we could be jamming to our favorite songs, binge-watching our favorite TV show, using the mixer-grinder in the house, or be surrounded by all sorts of noises in the office. This would make it slightly difficult to hear the doorbell, especially if you're in a far-reaching corner. It is also possible that we have a hearing-impaired family member. Enter flash signals/alerts. These lights go off along with the doorbell to get your attention when the sound cannot.
Battery –
Wireless doorbells come without any cable hassles. Therefore, majority of them use either rechargeable or disposable batteries (AA/AAA) to run. Some others can be straightaway plugged into a power outlet.
In our opinion, it is best to go for a doorbell with rechargeable (lithium) batteries as unlike wired doorbells, wireless doorbells can consume a lot of battery power given their added features. Furthermore, running to a hardware store to get new batteries can be a pain in the neck.
Weatherproof –
A weatherproof wireless doorbell would retain functionality even when the elements aren't in its favor. These elements include rain, snow, and temperature fluctuations. If you live in harsh weather conditions or have your doorbell exposed to such weather, make sure that you go for a wireless doorbell that is both, water and heat resistant.
Ease of Installation –
Broadly speaking, wireless doorbells are far easier to install compared to hard-wired doorbells. However, you must still check whether the shortlisted wireless doorbell comes with clear instructions and tools to install the push buttons. Most push buttons can be installed just by means of a single screw or double sided tape. All other components including the receiver should be easy to install too.
Components –
Components refer to the various parts of a wireless doorbell namely the push button (I.e. the transmitter) and the speaker (receiver). With the most basic wireless doorbells, you'll often get just one set of the aforementioned components.
However, having multiple sets of the components has certain benefits. If you have more than one push button, you can install it in far-reaching places such as the backdoor. Extra receivers aid in getting a better coverage, so that you have no trouble hearing the doorbell. Sometimes, it is also possible to set a different chime for each receiver; that way you know where your visitor is.
Design –
Style and design should be considered carefully; otherwise, the wireless doorbell may look completely out of place in your home. Depending upon the décor/style of your home, you must buy one that complements the same.
Conclusion:
Wireless doorbell is the way to go, and there is one for everyone. Make sure that you keep all the buying guide aspects in mind while shopping for it.
We hope that you found our list of the best wireless doorbells useful. In case of any other query regarding this category, please do get in touch with us and we shall try our best to resolve your problem.