Until recently, the ways in which people secure their homes have not really changed all that much. A strong door, a lock or two, and maybe a peephole or a window; these have all done their best to keep us safe for centuries. But now, in the age of technology and "smart homes", these old standbys simply don't cut it.
If you're ready to get serious about home security in the modern age, consider investing in a smart lock. These handy tools are, as the name suggests, "smarter" than a traditional lock and can offer so much more. Some replace your door's existing locking mechanism while others add on to it. Many pair with smartphone apps or smart home systems that you may already have, like Amazon's Alexa, Google Home Assistant, Nest, and more.
Before installing a smart lock in your home, there are a few questions you need to ask yourself:
What do I want the device to do? There are a wide variety of products on the market that do vastly different things. Some are as simple as being a touchscreen keycode lock whereas others provide detailed entry access logs and can be opened with a fingerprint.
What are my technical skills? Some locks are simple plug-and-play devices, but others are notorious for being complex to install and use. The more complex options may offer more features, but the frustration may be too great of a hurdle for some people to use them at all.
What is my budget? Some smart locks don't cost much more than a standard, high-quality deadbolt lock while others may cost as much as the smartphone they're designed to work with. How much do you need to spend in order to get the results you would like?
Follow along for an in-depth, expert analysis of some of the top smart lock options on the market to help you find out which one works best for you!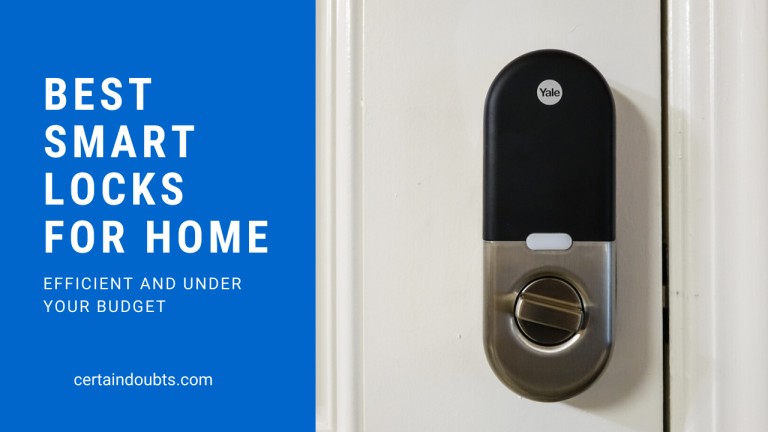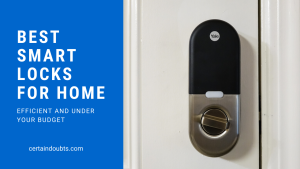 Best Home Smart Locks For Available In 2020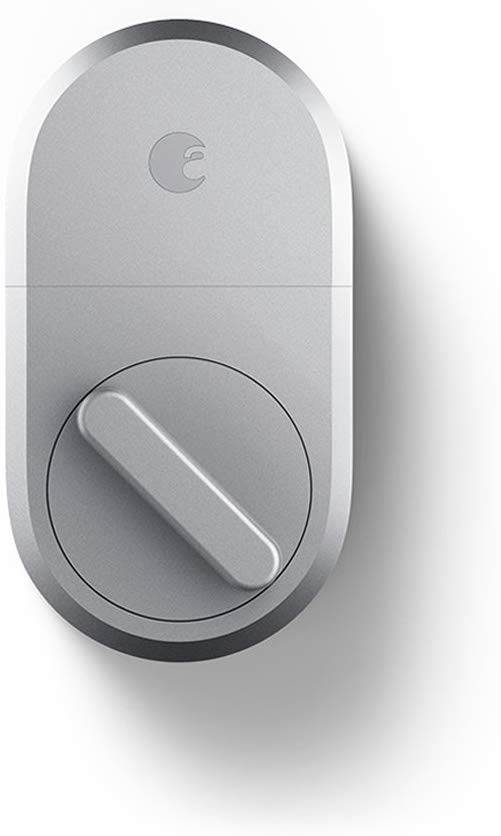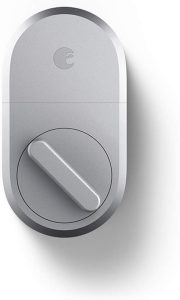 Available in a stylish stainless-steel silver and a sleek black color, the August Smart lock is a great choice for someone looking to add a basic yet powerful smart lock to their home. It can work with an Amazon Alexa home system and can connect to WiFi, but you'll need to purchase additional hardware separately. If you have another smart home system such as Google Assistant or SimpliSafe, it can also pair with those. Great for owners of short term rentals, it can sync with Airbnb and HomeAway to provide keyless entry to your guests very conveniently and without you having to be there in person. No panicked calls about lost keys!
The August Smart Lock works with the deadbolt already in your door, making installation that much simpler. You can continue to keep and use the keys you already have, so there is no need to transition every household member over to a digital key if you don't want to. You can use the lock's app to send digital keys to anyone you'd like, and it allows you to program their access time to be as long (or short) as you need. August's Door Sense technology notifies you when the door is locked or unlocked, perfect for keeping track of entries (especially unwanted ones). It can also be programmed to lock or unlock automatically upon your arrival or departure. Incredibly easy to install, in just 10 minutes you can have it up and running. At just under $90, this smart lock is a great bargain and perfect for someone who wants an option without too many confusing features that still works great.
Also check out best garage door openers.
Similar to the previous option, the August Smart Lock Pro is slightly more advanced bundled with the WiFi Connect Bridge, enabling users to experience the full range of its functionality. Utilizing 3rd generation technology, the Smart Lock Pro allows you to monitor your doorstep activity 24/7. The peace of mind that comes with knowing who comes and goes during the day and night is a major selling point for many.
It also comes in classic silver and black color choices, so it's sure to match your front door seamlessly. Featuring a sleeker look than the standard model, it takes up less space and has a slightly cleaner appearance. Although the WiFi bridge is required for use, it easily plugs in to any outlet in your home, making "installation" a breeze. The locking unit itself can also be installed in under 10 minutes, and has many of the same features as the standard model such as Alexa capability, keyless entry, remote access, auto lock and unlock, and Door Sense technology. It also works with the deadbolt you already have, so no pesky drilling into your door frame is required.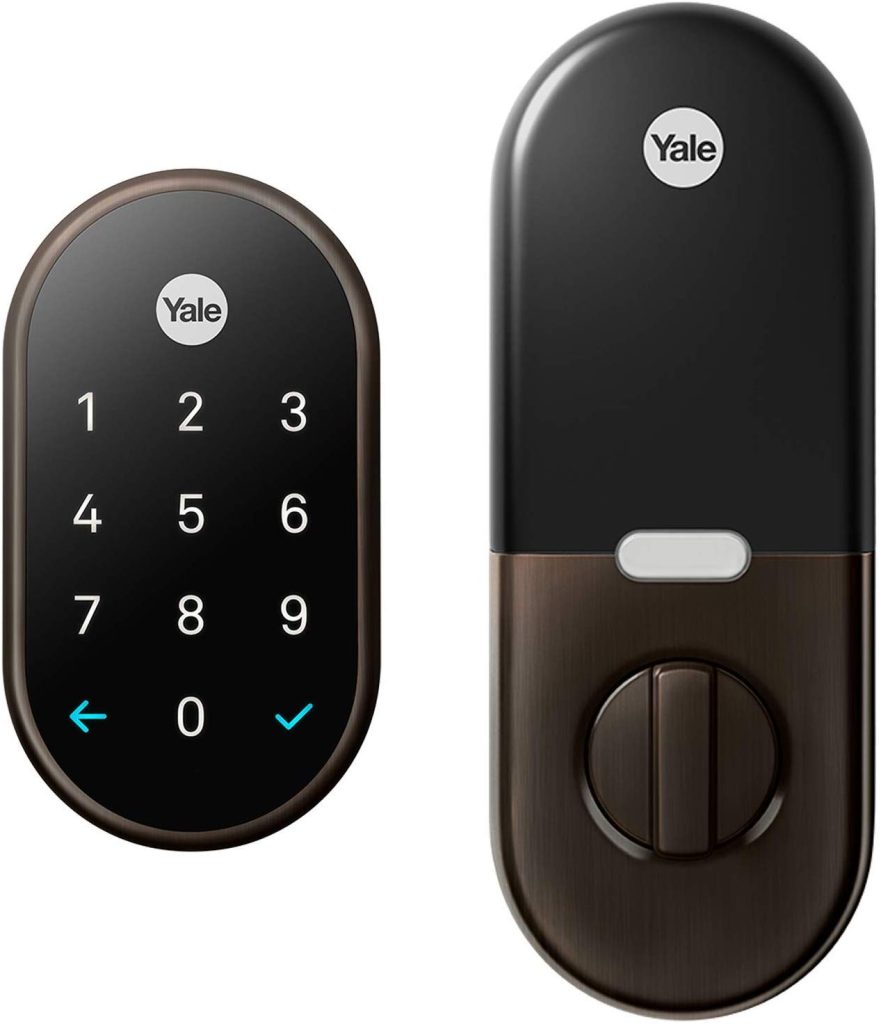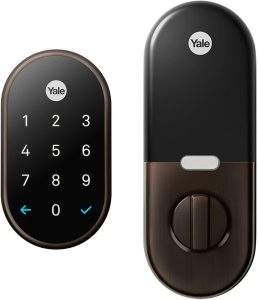 The Google x Yale Nest Connect Lock replaces your existing deadbolt, so it is more of a hardware option than the previous two. It comes in oil rubbed bronze, polished brass, and satin nickel. This smart lock is tamper proof, and will alert you if anyone attempts it. It also alerts users when its battery gets low. Since it does replace your deadbolt lock, if it loses power you will be unable to unlock your door. However, you can quickly charge the lock by using a 9 volt battery.
This smart lock pairs with the Nest app and can integrate with your existing Nest smart home system, if you have one. It allows you to create unique passcodes for just about anyone, and is the first keypad option we'll be discussing today. This makes it great for people in your family who don't use smartphones, as they will still be able to enter. Google Assistant also works with the lock to allow you to remotely lock, unlock, and check the status of your door. At around $250, it is a pricier option but is well-worth the cost, especially if you'll be adding it to your already-Google Nest enabled home.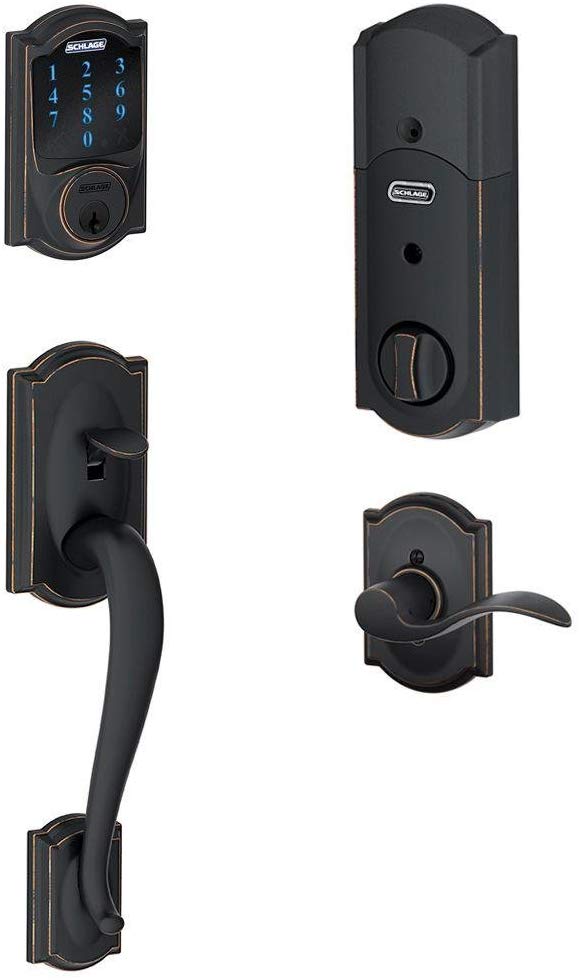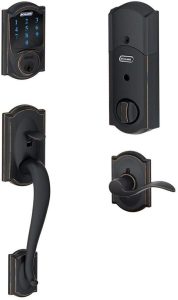 A more traditional looking door handle type lock, the Schlage Z-Wave Connect Camelot uses a touchscreen keypad and can integrate with smart home devices to allow voice control options, a pretty unique feature that makes hands-free opening a breeze! Users can create up to 30 unique access codes. Available in aged bronze, satin nickel, and bright chrome, this unit is a handle and deadbolt system and replaces your door's entire existing hardware setup.
Featuring three alert modes including activity, tamper attempt, and forced entry, this smart lock is great for those looking to really enhance security in their home. In fact, it actually is rated Ansi Grade 1, meaning it has achieved the highest level of durability and security on the market. At $275, it is the priciest option we'll be covering today but is certainly a solid investment for consumers who want to get serious about security. It fits most standard doors but is not a good option for larger or thicker ones. However, it does work well with most pre-drilled holes, so installation is not too difficult.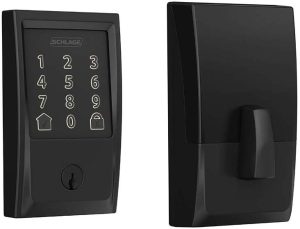 For just $205 alone or $240 when bundled with the 3rd generation Echo Dot, the Schlage Encode Smart WiFi Deadbolt is an absolutely fantastic option if you're looking for an all-in-one, self-contained smart lock system. It actually features built-in WiFi and no additional units are required for use, unlike just about any other option on the market. It works with the Schlage app to help you create up to 100 unique passcodes, all with customizable access! This means you can allow someone in for a day, a week, a year, or even just a few hours with ease.
If utilized with Alexa, this smart lock can actually order its own batteries when levels get low via Amazon Dash. Voice control unlocking means you can still the door when your hands are full, and the built in alarm can sense security breaches. Installation requires just a simple screwdriver, and it is covered by a lifetime mechanical warranty so you can feel secure in your purchase.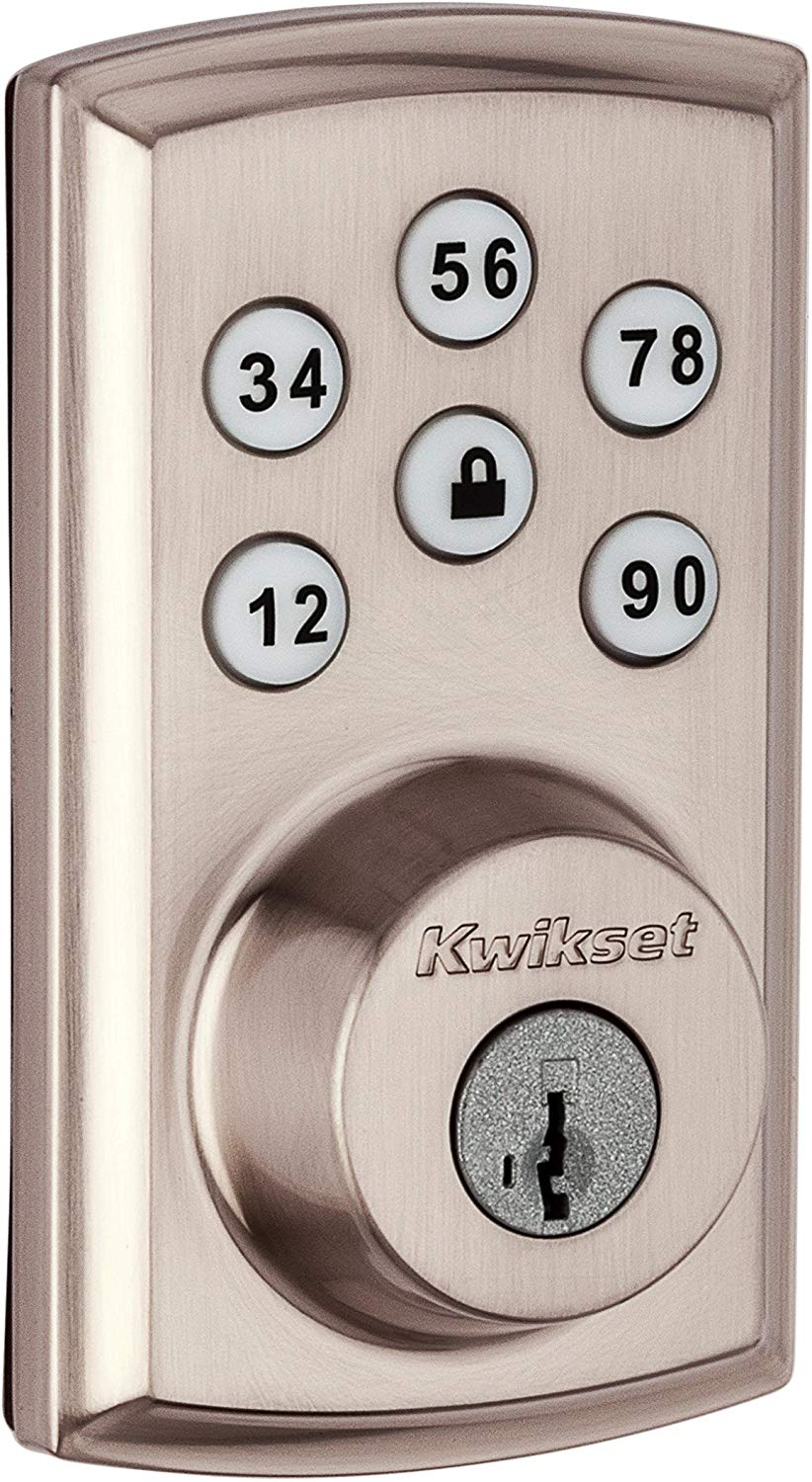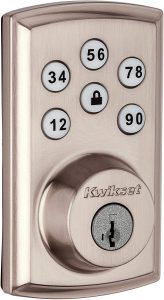 The Kwikset SmartCode is unique in that it can actually turn on your home's heat or air conditioning automatically upon your arrival! How great is that? It is very flexible in its connection options and its Z-Wave technology allows it to communicate with most major home security and automation systems incredibly easily. Without the limitations some other models and brands place on their locks communication systems, consumers can be confident that, no matter what type their currently use, the Kwikset SmartCode will work with them.
Allowing users to program up to 30 different access codes, it can also notify you when the door is locked or unlocked. At just $100, it is a super affordable option that comes with a lifetime mechanical warranty and a one-year electronics warranty, so you know that the company stands behind their products.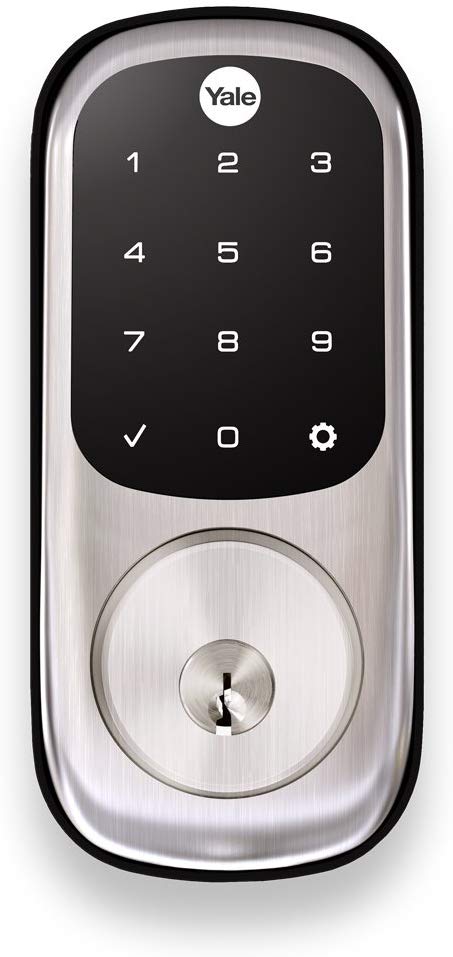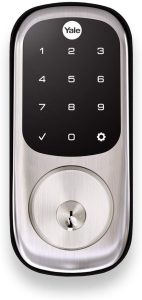 Similar to the Kwikset SmartCode, the Yale Assure Lock uses Z-Wave technology that gives it the flexibility to communicate with a much wider variety of home automation and security systems. Whether you currently use Alexa, Ring, SmartThings, Wink, Vera, Honeywell, Iris, or others, the Yale Assure Lock can seamlessly integrate and save you the hassle and cost of purchasing a whole new system.
This smart lock features a backlit keypad and can also be used with a physical key or an app to secure your home. Its voice-guided assistance makes it super easy to work with, and the keypad's privacy mode protects you from unwanted visitors. At $200, it's a great investment if you are looking to add to your homes automated systems easily and painlessly.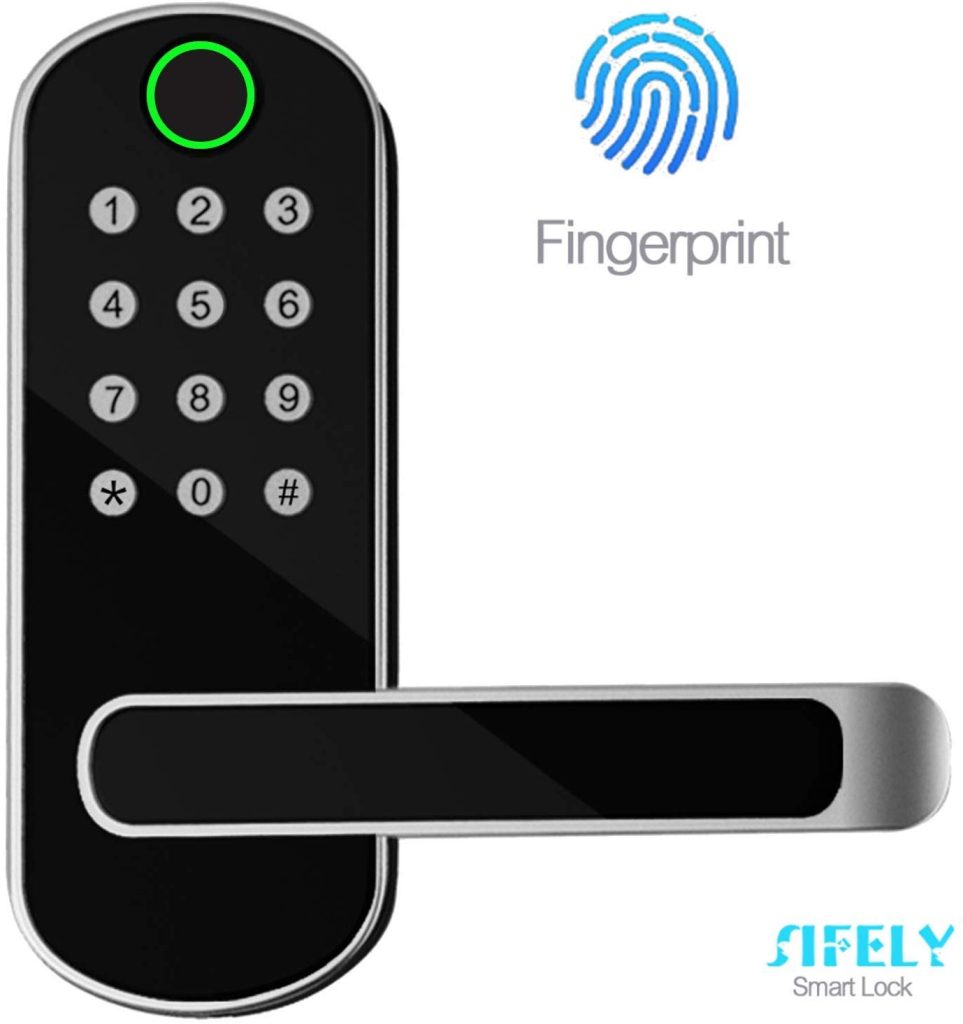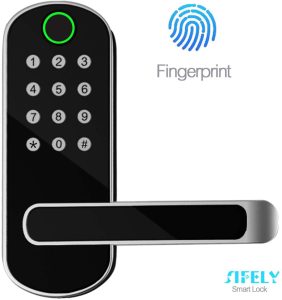 The Sifely Keyless Entry Door Lock is the only fingerprint-capable smart lock on our list. Although it is only available in one color option, it is still a sleek and modern looking lock. Also, at just $120, it is incredibly affordable (especially considering the fingerprint reader!). This lock in particular is great for short term rental owners such as Airbnb hosts. It can be unlocked with your personal fingerprint, and then an access code can be shared remotely with guests. It can also be unlocked with a fob, smartphone, or regular key.
Installation requires only a screwdriver, and the lock is reversible so it can be used on either left or right facing doors. If you have a Sifely WiFi gateway, the two devices can be easily paired so that you can lock and unlock from any location. The ability to check real-time access logs is great for keeping an accurate record of who's been in your home, an especially important feature for rental property owners.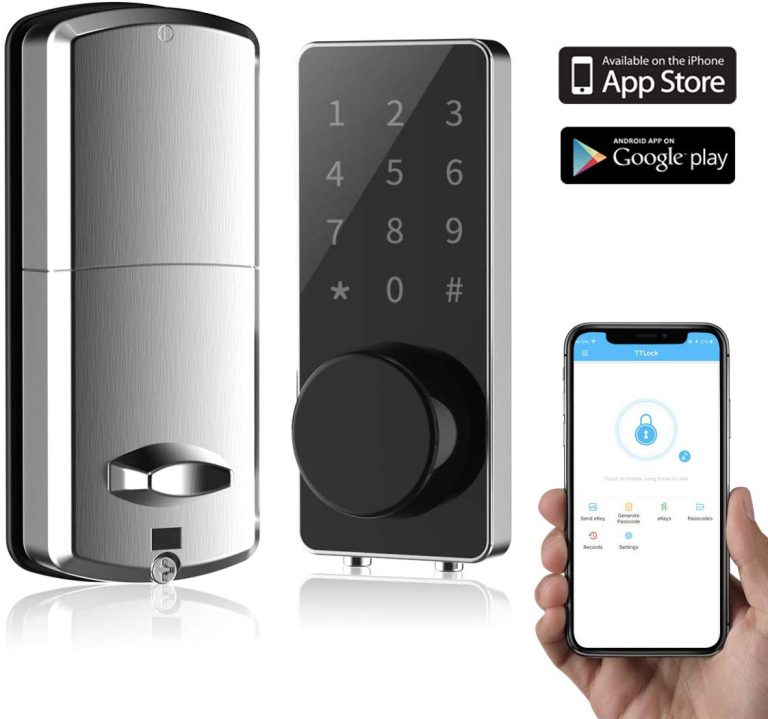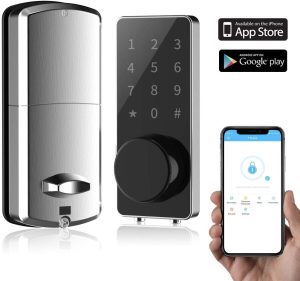 The Keyless Entry Smart Lock features a streamlined, smartphone-like appearance and replaces your current deadbolt lock. It can be installed using a simple screwdriver, allowing you to enjoy your new lock in a matter of minutes. This lock has no keyhole, making it a much safer option because it cannot be picked, and a copy of a key cannot be used.
This smart lock uses a touchpad that features anti-peep technology, so an unwanted intruder lurking over your shoulder won't be able to spy on you entering your code! It can also be unlocked via Bluetooth using the company's app, which also allows you to check access records and create codes with customizable access. For $120, this smart lock is a really solid and secure option. It also has 12 months of free replacement, so you can feel extra secure in your purchase.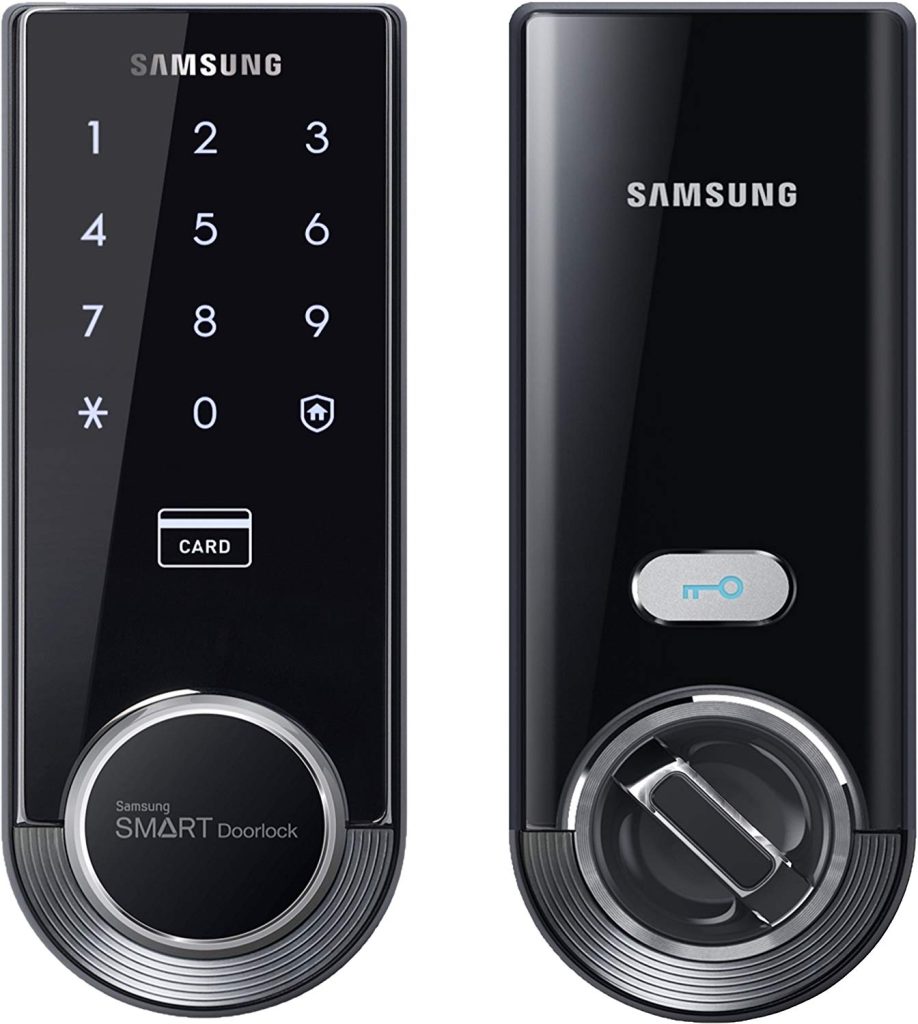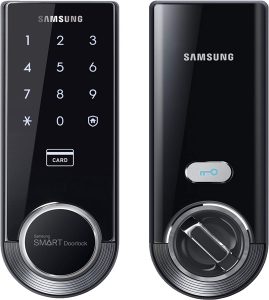 Finally, the Samsung Digital Door Lock is another touchpad smart lock that replaces the deadbolt you already have. Unlike the other models, it features tamper and fire alarms, going above and beyond expectations to provide a truly encompassing home security experience. While it does use 1st generation technology and is not quite as advanced as some models, it still allows programming of up to 71 unique codes and requires to drilling to install.
With no keyhole, the Samsung Digital Door Lock is pick proof as well as bump proof. It also auto-locks behind you, so you don't have to be constantly wondering if you remembered or not. Its anti-tampering lock out feature will deter intruders and keep your home safe and sound. At $180, this smart lock is a fantastic option for people looking for a no-frills, extra-secure deadbolt replacement.
If you need more help deciding which smart lock to purchase, be sure to check out the Amazon listings above which feature customer reviews and even more product specs. Before deciding which option to go with, be sure to:
Make sure it fits your door. Some locks are limited in the size of door that they can attach to. If you have a non-standard door size, be sure to read the product specs carefully to make sure you're purchasing something you can actually use.
Check that it is compatible with your phone and home system. Most devices pair with either Android or iOS, but always double check. Also, many smart locks require an existing smart home device to fully work. If you don't have one, you may not get the full functionality you had hoped for. Tip: You can often purchase a bundle with the smart lock and smart home system to save money.
Understand how the lock is installed. As mentioned above, some locks are simpler to use than others. Be sure you have the skills required to install your new smart lock. If not, most companies offer an expert installation for an additional fee.